Cecil Isbell​
NFL All-Decade Team: 1930s
Official NFL All-Pro Team (11-man team, chosen 1931-42): 1941, '42
Associated Press All-Pro Team (chosen since 1940): 1940
Pro All-Star Game Selection (game played 1938-42): 1938, '41, '42
Isbell received more laurels over his brief five-year career than just about any NFL player over a similar timeframe. He was more decorated in that time than Sammy Baugh, a contemporary who was voted the 14th greatest player in NFL history in a poll conducted in 2011.
Playing left halfback in Curly Lambeau's Notre Dame Box offense, Isbell's greatest gift was his passing, but the position also required him to be a good runner and blocker. In addition, he had to double on defense in football's one-platoon era.
In time, Isbell succeeded future Pro Football Hall of Famer Arnie Herber as the Packers' primary passer, but until his final season he also was one of the team's principal ball carriers. In fact, his rookie year, Isbell finished fourth in the NFL in rushing and fifth in passing.
By the eighth game of that season, he had made such an impression on Chicago Bears coach George Halas that Halas declared Isbell was better than Herber. "Arnie Herber is just a passer," said Halas. "… But this Isbell is a passer, kicker, runner and a line bucker… Green Bay's attack is three times more potent now than it has been in recent years and the answer is Isbell."
In 1939, his second season, Isbell was a major contributor as the Packers won their fifth NFL championship. He led them in rushing with 407 yards and was second to Herber in passing with 749 yards.
Had Isbell not cut his career short, he almost certainly would be in the Pro Football Hall of Fame today and maybe in the conversation with Baugh as one of the greatest backs of the NFL's Iron Man Era.
In 1948, before his final season as coach of the Packers, Lambeau picked an all-time Packers team and Isbell was one of his four backs, along with Red Dunn, Verne Lewellen and Clarke Hinkle. In a 1949 radio interview, the great Don Hutson ranked Isbell ahead of Herber among the greatest passers of his time. Whereas Herber might have thrown the deep ball better than any of his contemporaries, Isbell threw a softer pass and was generally more accurate.
Once the Packers cut ties with Herber following the 1940 season, Isbell led the NFL in passing the next two years.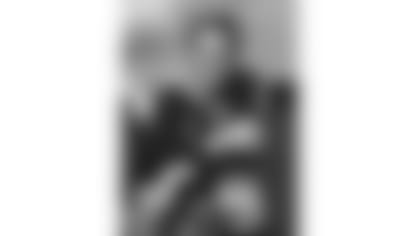 Far more telling, in 1942, he became the first player in NFL history to surpass 2,000 yards passing in a single season. His 2,021 yards were almost 500 more than Baugh had ever thrown for at that point. Isbell also owned the NFL record for most touchdown passes in a career with 59. Baugh was second with 56 even though he had played one more season.
Isbell's 24 touchdown passes in a season also set a league record – Baugh ranked second with 16 – as did his 23-game streak for throwing at least one TD pass. That streak stood as the league record until 1958, when Johnny Unitas broke it. It stood as the Packers' record until Brett Favre surpassed it in 2003.
When it came to all-pro recognition, Isbell also topped Baugh by a razor-thin margin. Baugh entered the NFL in 1937, a year ahead of Isbell, and was a consensus all-pro as a rookie. Over the next five seasons, Baugh and Isbell each made eight all-pro teams; Isbell made second team on 11 compared to Baugh's nine.
"Isbell was a master at any range – short, medium or long," Lambeau, the Packers' co-founder and longtime coach, said in 1945 when asked to name the greatest passer ever. "He could throw soft passes, bullet ones or feathery lobs. He's the best with Sid Luckman of the Bears a close second and Sammy Baugh a long third."
Isbell was the Packers' first-round pick, the seventh overall choice, in the 1938 NFL draft.
Lambeau chose him even though Isbell had dislocated his left shoulder in his first collegiate game at Purdue and had to wear a nearly six-inch chain loosely attached to his non-throwing shoulder for the remainder of his career. The chain was connected to two leather straps, one around his chest and the other around his arm, and prevented him from extending his left arm above his shoulder. While the contraption might have affected Isbell's ability to play defense, it never seemed to hurt his throwing or running.
Before joining the Packers in 1938, Isbell was chosen the most valuable player of the College All-Star Game. He led the All-Stars to a 28-16 victory over Baugh's Washington Redskins.
With the Packers, Isbell played in 54 games, starting 23, including 20 at left halfback. He played his last pro game at age 27 and was named backfield coach at Purdue on July 15, 1943. Isbell said he had witnessed Lambeau get rid of numerous aging stars and didn't want it to happen to him.
Isbell served as Purdue's head coach from 1944 to 1946 and as head coach of the Baltimore Colts of the All-America Football Conference from 1947 to 1949. He spent three seasons as an assistant in the NFL, including 1950 and '51 working under Lambeau with the Chicago Cardinals.
Born July 11, 1915, in Houston, Texas. Given name Cecil Frank Isbell. Died June 23, 1985, at age 69.