Dave Robinson
Height: 6'3"; Weight: 245
College: Penn State, 1960-62
Inducted Pro Football Hall of Fame: 2013
NFL All-Decade Team: 1960s
Associated Press All-Pro Team (chosen since 1940): 1966, '67, '69
Other years selected to an all-pro first team: 1968
Pro Bowl Selection (game played since 1950): 1966, '67, '69
Packers 50th Anniversary Team: 1969
Packers All-Modern Era Team: 1976
Press-Gazette All-Century Team: 1999
In some respects, Dave Robinson was the precursor of Lawrence Taylor, the outside linebacker by which all others in the NFL are measured still today. Both stood 6-foot-3, weighed roughly 240 pounds and ran the 40-yard dash in close to 4.6 seconds.
However, they filled entirely different roles. Taylor, who played for the New York Giants from 1981 to 1993, attacked the line of scrimmage and arguably was the greatest pass rusher ever to play outside linebacker. Robinson's job was to hold the point of attack and few, if any, ever did it better.
The strength of Robinson's game was jamming tight ends at the line and nullifying them as blockers and receivers. And he did it to the best, including future Pro Football Hall of Famers John Mackey and Mike Ditka.
From 1965 to 1969 after Robinson had taken over as the Packers' starting left linebacker, Mackey averaged 2.9 receptions and a mere 26 yards in eight games against them. Ditka, in six games from 1965 to 1972 when he went head-to-head against Robinson, averaged 1.5 catches and 14 yards per game.
In the 1960s, tight ends typically lined up to the right and Robinson was virtually a one-man fortress against the run, as well. When the Packers won three straight NFL titles from 1965 to 1967, they faced a future Pro Football Hall of Fame running back nine times. Only Gale Sayers in 1967 ran for more than 100 yards against them. In seven postseason games during that span, only Don Perkins of Dallas in 1966 rushed for more than 57 yards against the Packers.
Big plays? Robinson made those, too.
In 1965, the Packers faced the Baltimore Colts in a do-or-die game the second-to-last week of the season. With less than a minute to play in the first half, the Colts had the ball at the Packers' 2-yard line and were poised to take the lead when Robinson leaped high in the air, intercepted a pass and returned it 87 yards, resulting in a 14-point swing.
A year later in the NFL title game, Dallas was trailing the Packers, 34-27, but had possession at the Green Bay 2 with 45 seconds remaining and a chance to force overtime. Robinson charged quarterback Don Meredith as he rolled right, collared him high and caused him to throw a pop-fly interception.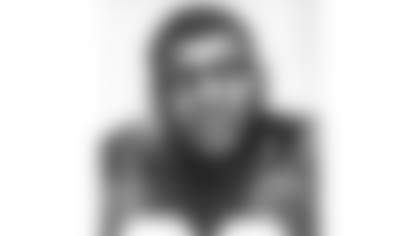 In 1967, the Packers faced the Los Angeles Rams in a conference championship and were home underdogs. The Rams jumped ahead, 7-0, and had a chance to expand their lead with a 24-yard field goal. Robinson blocked the kick in what turned-out-to-be a 28-7 victory, and the Packers advanced to what became known as the Ice Bowl.
Robinson was so good that Dave Hanner, a former defensive tackle and defensive coach during the Vince Lombardi era, once said, "I know people think I'm crazy, but if you had to pick between (Ray) Nitschke and Dave Robinson, I'd take Dave Robinson."
Robinson was inducted into the Pro Football Hall of Fame in 2013.
"Comparing him to Lawrence Taylor is a pretty accurate way of explaining how good Dave was," said Raymond Berry, a Pro Football Hall of Fame receiver who played against Robinson and later a Super Bowl finalist as a head coach in New England when Taylor was playing. "Those two guys were as good as it gets."
The Packers selected Robinson in the first round of the 1963 NFL Draft. He also was drafted in the third round by the San Diego Chargers of the American Football League, but signed with the Packers on Dec. 29, 1962, immediately following Penn State's appearance in the Gator Bowl.
Robinson was a backup as a rookie until an injury to Nitschke on Thanksgiving Day created an opening for him to start at right linebacker. Robinson remained on the right side in 1964, but started only three games and was inconsistent due in part to a knee injury that required surgery at the end of the season.
In 1965, Robinson took over as the starting left linebacker and remained there for five years before missing 10 games in 1970 with a torn Achilles tendon.
In 10 years with the Packers, Robinson played in 127 games, started 103 and intercepted 21 passes. He also started in nine postseason games, including all eight when the Packers won their three straight NFL titles under Lombardi. Following the 1967 season, he was named outstanding lineman in the Pro Bowl.
On Jan. 30, 1973, Robinson was traded to Washington for an undisclosed future draft choice that turned out to be a second-round pick in 1975. Three weeks earlier, Robinson had announced his intention to retire, but he wound up playing two seasons in Washington.
Born May 3, 1941, in Mount Holly, N.J. Given name Richard David Robinson.