Gary Knafelc​
Height: 6'4"; Weight: 217
College: Colorado, 1951-53
Knafelc made four of the most memorable catches in Packers history and also transformed himself from a neat-and-tidy split end into a down-and-dirty tight end under Vince Lombardi.
Between 1955 and 1959, Knafelc won four games for the Packers, three with fourth-quarter touchdown receptions and a fourth with a big play that set up the winning score.
In 1955, he caught an 18-yard pass from Tobin Rote with 20 seconds left to give the then struggling Packers a stunning 20-17 victory over three-time Western Conference champion Detroit and set off a wild celebration at old City Stadium. A year later, Knafelc caught a 38-yard pass before being knocked out of bounds at the 1-yard line to set the stage for Rote to score on a quarterback sneak with 1:05 remaining as the Packers beat the Chicago Cardinals, 24-21, at Comiskey Park.
On Sept. 29, 1957, in the first game at what is now Lambeau Field, Knafelc's 6-yard reception from Babe Parilli with 8:21 to go allowed the Packers to christen what was originally named Green Bay City Stadium with a 21-17 victory over their archrival Chicago Bears. In the third game of the 1959 season, Knafelc caught a game-winning, 21-yard touchdown pass from Lamar McHan with 11:44 remaining, lifting the Packers to a 21-20 victory over San Francisco and allowing Lombardi to start his first season as coach with a 3-0 record.
That was the year Knafelc, who was known more for his sure hands than his blocking, moved to right end, a more physically demanding position. On Lombardi's famous power sweep, which was almost always run to the right side, the tight end, as Knafelc's new position soon became known, split nine feet from the right tackle and was responsible for executing the key block that determined whether the halfback would cut inside or go outside.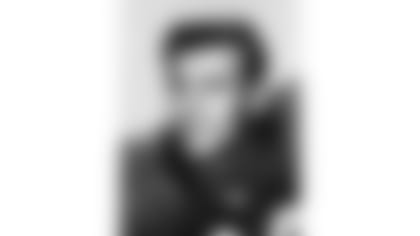 Knafelc held the starting tight end job for two years and then backed up Ron Kramer when the Packers won NFL championships in 1961 and '62.
"(W)hile he doesn't have Ron's bull strength in blocking, going for that ball or running with it, he has great hands and has made some sensational catches in his eight years with this club," Lombardi wrote of Knafelc in his book, Run to Daylight.
The Packers signed Knafelc as a free agent on Oct. 4, 1954, two games into the season. Drafted in the second round that year by the Chicago Cardinals, Knafelc pulled a hamstring in the College All-Star Game, played in the team's opener and was waived on Sept. 28.
He was the Packers' starting left end, usually lining up in a split position, in 1955 and '56 then played in a total of nine games in 1957 and '58, sustaining knee injuries both seasons. In 1959, Lombardi told Knafelc he was moving him to right end in their first meeting. Knafelc won the job in training camp over veteran Steve Meilinger and Kramer, who reported to camp 17 days before the opener after spending more than a year in the Air Force, and finished with 27 catches, only five less than team leader Boyd Dowler, for a 14.2 average.
Knafelc played in 90 games for the Packers through the 1962 season and caught 134 passes for 1,930 yards, a 14.4 average, with 21 touchdowns. He announced his retirement on Aug. 8, 1963, more than three weeks into training camp, but soon changed his mind and played in 10 games that year for San Francisco.
Before the 1964 season, after Knafelc had retired for good as an NFL player, he accepted Lombardi's invitation to become the Packers' public address announcer and performed the duty through the 2004 season. Knafelc also played a part in the 1963 Hollywood movie, Palm Springs Weekend, under the name Gary Kincaid.
Born Jan. 2, 1932, in Pueblo, Colo. Given name Gary Lee Knafelc.