Paul "Tiny" Engebretsen​
College: Northwestern, 1929-31
Once described as ponderously built, which belied his nickname, Engebretsen was a steady, versatile lineman and dependable placekicker during his eight seasons with the Packers.
Over that time, the Packers never used fewer than five kickers in a season. While job-sharing was the norm, Engebretsen was their primary field-goal kicker when the Packers won NFL championships in 1936 and '39.
The Green Bay Press-Gazette once wrote: "Engebretsen is one of the most cold-blooded and nerveless athletes ever to play with the Packers. In a tight game with three points vitally needed from the field, there are few men the fans would rather see attempt a placement."
In 1936, Engebretsen delivered on an 18-yard, late-fourth-quarter field goal as the Packers improved to 4-1 and handed Detroit its first loss of the season, 20-18. In the title game that year, Engebretsen nailed an extra point. In 1939, he booted a 29-yard field goal and two extra points as the Packers beat the New York Giants, 27-0, in the NFL Championship Game.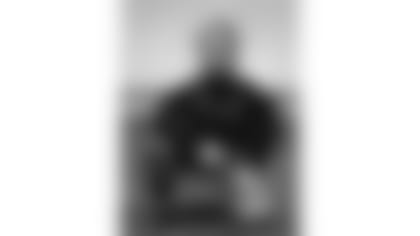 In 1938, when the Packers won the Western Division by a game, Engebretsen kicked a 20-yard field goal with less than a minute left as the Packers edged the Chicago Cardinals, 24-22. The Packers lost to the Giants in the championship, but Engebretsen contributed a 15-yard field goal.
In regular-season games over the course of his Packers career, Engebretsen scored 85 points on 14 field goals and 43 extra points. His 18 extra points when the Packers won the title in 1939 led the league.
"Tiny was the biggest man on our team and one of the strongest," former teammate Herm Schneidman told Packer Plus in 2006. "A big, tough farm kid from Iowa who anchored our line. There weren't too many 240-, 250-pound linemen in the NFL back then, and Tiny wasn't a big hunk of lard out there. He was an athlete with quick feet."
Lambeau announced on Oct. 30, 1934, that he had acquired Engebretsen from Brooklyn in a trade for end Tom Nash, who had been loaned to the Dodgers two years earlier but remained Packers property.
Engebretsen had played with four teams in his first two-plus seasons. As a rookie in 1932, he appeared in 14 games for the NFL champion Chicago Bears. In 1933, he played with Pittsburgh and the Cardinals. In 1934, he started the season with Brooklyn.
Engebretsen retired following the season opener in 1941 and subsequently did some scouting for the Packers. In his eight seasons with them, he played in 64 games, starting 26, all at guard.
Born July 27, 1910, in Chariton, Iowa. Given name Paul Joseph Engebretsen. Died March 31, 1979, at age 68.