Tony Canadeo​
Height: 5'11"; Weight: 190
College: Gonzaga, 1938-40
Inducted Pro Football Hall of Fame: 1974
NFL All-Decade Team: 1940s
Associated Press All-Pro Team (chosen since 1940): 1943
Other years selected to an all-pro first team: 1949
Packers All-Time Team: 1957
Packers All-Iron Man Era Team: 1976
Nicknamed the "Gray Ghost of Gonzaga," Canadeo was a scrappy, punishing runner and the third in NFL history to surpass 1,000 yards rushing in a season. Canadeo cracked the barrier in 1949 on a 2-10 team when he rushed for 1,052 yards in 208 attempts, a 5.1 average. He was 30 years old at the time and durable as ever. Canadeo played until he was 33 and didn't miss a game in his final seven seasons.
Canadeo played during a transitional period in Packers history and had to adapt to playing on a losing team and in a new offense, as well as to NFL rule changes that allowed for more frequent substitution and dramatically reduced the number of two-way players.
Over his final five seasons, the Packers never had a winning record. In 1947, Curly Lambeau abandoned his Notre Dame Box offense and installed the wing-T, which meant his halfbacks no longer needed to be as versatile as they were under the old system. Once the league approved unlimited substitution in 1950, Canadeo and others could focus on playing either offense or defense.
As a young player, Canadeo was a dual threat as a runner and passer, a dangerous kickoff and punt returner, a ball-hawking safety and even a capable punter. In 1943, for example, he took over from Cecil Isbell as the Packers' primary passer and also led the team in rushing with 489 yards, good for a 5.2 average per carry. By 1950, Canadeo was moved to fullback to take advantage of his blocking skills.
Through it all, he was revered by teammates for being a fierce competitor and spirited leader. "Tony was all desire," former teammate Bob Forte once said.
Canadeo rushed for 4,197 yards, the Packers' career record when he retired, and accounted for 8,667 total yards, which included rushing, passing, receiving and return totals. He also intercepted nine passes.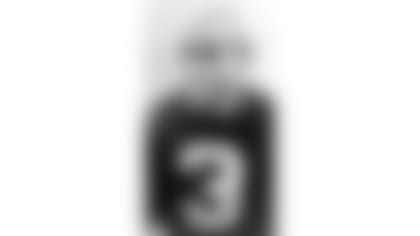 Although there was never an official ceremony, Canadeo's No. 3 was the second number retired by the Packers after Don Hutson's. A committee of fans, not the team, honored him with Tony Canadeo Day on Nov. 23, 1952, when the Packers played the Dallas Texans at old City Stadium.
In 1974, Canadeo was inducted into the Pro Football Hall of Fame as a senior nominee.
"He was a slasher," said Aldo Forte, one of Canadeo's teammates in 1947 and later an assistant coach for 16 years with the Detroit Lions. "He was the type who broke tackles. He wasn't elusive like a Barry Sanders. But he was a hard runner. A cut-back runner. He'd find his holes. If there were any seams in the line, he knew how to pick it out."
Canadeo was selected in the ninth round of the 1941 NFL draft after playing at Gonzaga, a school that dropped football a year later. Canadeo was inducted into the Army in December 1943, played three games while on furlough in 1944 when the Packers won the NFL championship, and missed the entire 1945 season.
Canadeo returned to the Packers' fold in May 1946. Over his 11-year career, he played in 116 games and started 79, 67 at left halfback.
He was elected to the Packers' board of directors on March 7, 1955, and served until he became a director emeritus on Aug. 18, 1999. One of Vince Lombardi's closest friends and confidants, Canadeo was a member of the executive committee from April 28, 1958, until May 26, 1993, a span which included Lombardi's nine seasons as coach. From May 3, 1982, to June 5, 1989, Canadeo was vice president. He relinquished the office after reaching the mandatory retirement age of 70, although he remained an at-large member of the committee.
In all, Canadeo spent 55 years as a player and active board member, one of the longest associations of anyone ever connected to the franchise. He also was a network analyst for Packers television broadcasts from 1959 to 1967.
Born May 5, 1919, in Chicago. Given name Anthony Robert Canadeo. Died Nov. 29, 2003, at age 84.