My great uncle was Cecil Isbell and he held several records that lasted for decades. I always wondered why his number wasn't retired like Don Hutson's?
Longevity was the biggest difference between Isbell and Hutson. As good as your uncle was, he played only five years. Hutson played 11 seasons. And their team records reflected the difference when Hutson's number was retired by the Packers in 1951. Hutson held 20 and Isbell, nine, not counting the record they shared for shortest touchdown pass, four inches, that was later expunged from the record books.
To be honest, I don't think your uncle's number (17) should be retired by the Packers over several other great players from the Curly Lambeau and Vince Lombardi eras. He just had too short a career.
That said, one could build a case for voting your uncle into the Pro Football Hall of Fame, now that Terrell Davis and Tony Boselli have been inducted in the past seven years based on careers that were essentially built over only four and five seasons, respectively. Previously, the standard-bearers for a short career were Ernie Nevers and Gale Sayers, who each enjoyed five brilliant ones. And, clearly, that was a much higher standard than what it is now.
While I don't believe that Isbell was as deserving of Hall of Fame recognition as Nevers and Sayers, I do think he has better credentials than Davis and Boselli. Here's my reasoning: Isbell's career unfolded almost simultaneously with Sammy Baugh's and was statistically more impressive. In turn, when the NFL enlisted what it called "a panel of experts" to choose the 100 greatest players of all time in 2011, Baugh ranked 14th.
Here's the Baugh-Isbell statistical comparison through Isbell's final season. Isbell played from 1938-42, whereas Baugh's first season was 1937. Baugh was a tailback in a single-wing offense; Isbell played left halfback in a Notre Dame Box.
In 1942, Isbell became the first player in NFL history to surpass 2,000 yards passing in a single season. His 2,021 yards were almost 500 more than Baugh had thrown for in his best season. Isbell also owned the NFL record for most touchdown passes in a career with 59. Baugh was second with 56, despite playing in eight more games.
Isbell's 24 touchdown passes in 1942 also were a league record – Baugh ranked second that year with a career-high 16 – as was his 23-game streak for throwing at least one TD pass. That streak stood as the NFL record until 1958 when Johnny Unitas broke it. It stood as the Packers' record until Brett Favre surpassed it in 2003.
When it came to all-pro recognition, Isbell also bettered Baugh by a razor-thin margin. Baugh was a consensus all-pro as a rookie in 1937. Over the next five seasons, he and Isbell each made eight all-pro teams; Isbell was second team on 11 compared to Baugh's nine.
As a qualifier, here, I want to make it clear that I consider Verne Lewellen the most deserving Packer not in the Hall of Fame. He dominated the league in the 1920s and early '30s like few other players in the history of the game.
In the case of Isbell, it's not as clearcut. When he played there was hot debate over whom was better: Isbell, Baugh or the Bears' T-formation quarterback Sid Luckman. There was disagreement as to whether Isbell or his predecessor, Arnie Herber, was the better passer. There also were those who posed the question: Did Hutson make Isbell or did Isbell make Hutson?
Hutson claimed Isbell was the best of the bunch. "Isbell really got the ball out in front of you all the time," Hutson said in 1943. "His ability to lead his receiver was remarkable."
Joe Williams, one of the most well-connected sportswriters of his time, wrote a column six days a week for 34 years for The New York World-Telegram & The Sun, as well as its predecessors. In 1942, when Isbell was having his best season, Williams interviewed New York Giants all-time great Mel Hein, who played from 1931-45, on the subject and wrote an in-depth piece comparing the game's three best passers. Hein called Baugh "the one-man team" and gave him the edge over Isbell and Luckman. Hein said Isbell threw better on the move and a better deep ball, but that he benefited greatly from Hutson, whereas Baugh "can pass to anybody."
Offering yet a third opinion in 1945, Philadelphia's future Hall of Fame coach Greasy Neale told legendary sportswriter Grantland Rice that he'd take Luckman over Baugh and Hutson combined.
For a Green Bay Packers Yearbook story in 2008, I interviewed the late Bob Carroll, widely respected pro football historian and founder of the Pro Football Researchers Association, on Isbell's Hall of Fame credentials, and he wasn't sold on him. "(Isbell) played only five years and of those five, only two were very outstanding and they were war years," Carroll told me.
However, when one goes back now and researches newspapers in NFL cities from Isbell's first two, three years and what coaches and players had to say about him – something Carroll only had limited access to at the time – it leaves a far different impression. What Carroll didn't seem to realize was that Isbell had as big of an impact as a runner when he first broke into the league and was sharing passing duties with Herber.
Once described by the Green Bay Press-Gazette as a "do-everything" halfback, as well as a "swivel-hipped" runner, Isbell finished fifth in the NFL in passing but also fourth in rushing with a league-best 5.2 average as a rookie. His 1,104 total yards ranked second in the league. Baugh was not a runner. While Isbell rushed for 1,122 yards over his first three seasons, Baugh gained 97 those years.
If there had been a rookie of the year award at the time, Isbell almost certainly would have won it, especially after outplaying Pittsburgh's first choice in the 1938 draft and the league's leading rusher that season, Whizzer White, in a late October, 20-0 Packers victory. Isbell passed for 101 yards and rushed for 96 yards, including a 37-yard touchdown, while averaging 7.6 per carry. White rushed for 72 yards with a 4.2 average and passed for 74 with four interceptions.
Here's what I find particularly interesting about Isbell's rookie season. With all of Hutson's talk over the years about getting two checks because he was getting paid more than his teammates, he made less than Isbell the following season.
A little more than six weeks after the 1938 season ended, Curly Lambeau visited Isbell in Houston, Texas, and signed one of his best friends, end Frank Steen, during his stop. Isbell then went back to school at Purdue to work on his degree and didn't officially sign his contract until practice started in August, but he was awarded with the highest salary on the team.
Based on the salaries included with the Packers' 1939 audited federal tax return, Isbell, as a second-year player, was paid a salary of $7,100 in 1939 (see salary list on the graphic at the start of this post). Hutson, who was entering his fifth season, was paid a salary of $5,075. Fullback Clarke Hinkle, who was in his eighth year, had the second highest salary on the team at $5,110.
One-year contracts were the norm then, and Isbell was still making more than Hutson in his final season. Salaries included with the Packers' 1942 audited return showed that Isbell made $8,025 and Hutson, $7,525.
Carlo of North Canton, OH
I would love to read about your perspective on some of the greatest receivers of all-time and how they compared to Hutson. Everyone wants to compare raw numbers. But I think the most balanced comparison is how they stood out among their counterparts and how many records they held when they retired.
I basically agree with your point. Hall of Fame candidates should be judged more by their dominance in their time, but I also think players who would likely star in any era deserve bonus points. James Lofton would be a prime example among Packers receivers who have played since the Lombardi era.
In Hutson's case, no receiver ever was more dominant in his time. Hutson held 19 NFL records when he retired. But how good would he be today? Undoubtedly, he'd be a wide receiver in today's game but perhaps that also should be taken into consideration here. That wasn't where he lined up for most of his career.
In Lambeau's Notre Dame Box offense, the two ends normally lined up tight to the tackles next to them and then split out one yard when the backs shifted into their positions just before the snap. I found a reference to Hutson splitting out wide as early as 1939, and I believe the longer he played the more freedom he had to split out at least three yards and even more from the tackle. By the last year or two of his career, he also might have lined up much like today's slot or split receivers, more often than not.
There's not enough film on Hutson to be certain, but Nolan Luhn, who played end opposite him in his final season, said he himself split a yard to a yard-and-a-half from the tackle and Hutson maybe six yards from the tackle.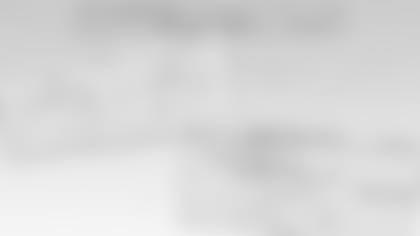 Here again, perceptions about Hutson weren't always reality. For example, the Pro Football Hall of Fame has in its archives Bears great George Musso's scouting report (see the top scan or the top of the title page above) from the Nov. 2, 1941, game against the Packers. It's 17 pages long.
The first seven pages (see the middle scan, where the Packers' pass plays started) included lineups and 45 diagrams of the Packers' runs and pass plays. In every diagram other than two pass plays, the ends lined up only a short split – probably a yard – from the tackles. Then there are 10 pages of plays (see the bottom scan above) titled "Green Bay Alerts." They are mostly pass plays with the left end, where Hutson usually lined up, taking a wider split. The pages are marked "Double Spreads," "No Shift Passes," "Hutson Over," and "Short Punt Formation."
At first, I assumed the scouting report was basically a Packers playbook. And the first seven pages show diagrams that look much the same as what's in a seven-page Lambeau playbook from that same period. However, the 57 plays on the pages of the "Green Bay Alerts" were different. And eventually it dawned on me that this was what Bob Snyder, who faced Hutson 12 times as a player, mostly with the Bears, was likely talking about when he told me about "Green Bay Nut Week" in a 1997 interview.
"We always feared – Lambeau never did it – that he'd split an end or put a guy in motion, so we couldn't double-team Hutson," Snyder said. "We practiced twice on Monday, twice on Tuesday, twice on Wednesday, twice on Thursday, twice on Friday. We had meetings every night. We called it 'Green Bay Nut Week.' All the guys bitched, but (George) Halas would just go crazy." And then in the games, Snyder added, "He (Hutson) never was split from a damn tackle. He was a tight end."
Almost if not every coach and player from the 1930s and '40s that I've interviewed has spoken about Hutson in nothing but glowing terms. But the question I keep asking myself is why all the fabrications and exaggerations about his signing, his contracts, his speed and his positioning, just for starters?
It leaves me with a lot more questions than answers, including whether Hutson would have been in the same class as Jerry Rice or Randy Moss or Lofton for that matter if he had played today?
I enjoy the history essays on players of years long past. Can you add Hutson into the queue? I think he would be an amazing wide receiver today. He did so much and the gaudy numbers and performance would translate to those today. I am intrigued by whether his dominance was impacted more by the wartime play or just his God-given ability.
There's no question that Hutson was a one-of-a-kind receiver in his day. His numbers, his MVPs, his all-pro recognition, and the never-ending compliments that were paid to him by his contemporaries are confirmation enough for that.
But with little to no film available from his games, it's hard to arrive at a conclusion as to how he'd do today.
Hutson stood 6-foot-1, weighed 183 pounds and probably couldn't run much faster than a 10-flat 100-yard dash, if that fast, based on the fact that he never won the 100 even in a dual meet at Alabama, much less in a Southeastern Conference meet, and how the white sprinters of the South fared once they started running in international and national competition against the Black sprinters who began to dominate the 100 (yards or meters) in the mid-1930s, led by Jesse Owens.
On one hand, there were players from Hutson's era who believed he was ahead of his time and would have fared even better in the pass-prevalent offenses of more recent times.
"When Don played in the old days, he was close into the line and he'd have to break away from defensive ends and linebackers, and they really worked him over before he could get away," Carl Mulleneaux, who played end opposite Hutson from 1938-41 and again in '45, said in 1958. "And he'd still get out there. Well now, (he'd) play wide – out in the open spaces. He'd have a picnic. These defensive backs now are really good but one man head on with Don out wide would be no match."
On the other hand, despite Hutson's claims that he could consistently run a 9.7 100 in college, there is no credible evidence to support it. As a senior, for example, he finished fourth in the 100 in the SEC meet, on what the Huntsville (Ala.) Times described as "a perfect afternoon" and a "lightning fast" track. The winning and only official time was 9.8.
As for the war years, from 1942-44, when NFL talent was diluted, Hutson's numbers clearly spiked. In 31 games over those three seasons, he averaged 5.8 catches per game, 92 yards per game and scored almost 40 percent of his touchdowns. In his other eight seasons, he averaged 3.6 receptions per game and 60.4 yards per game. The Associated Press reported at the end of the 1944 season that of the 330 players on active NFL rosters on Dec. 7, 1941, 244 – or 74 percent – were in the armed forces.
Chad from Tarpon Springs, FL
Don Hutson died on June 26, 1997. I believe it was Lee Remmel who ranked him as the greatest Packer of all time, ahead of Brett Favre. Could you tell us youngsters what it was like when Hutson died? And what he meant to the Packers?
Hutson was 84 when he died and hadn't played in 52 years. Plus, he had a falling out with the Packers following Lambeau's departure in early 1950 and until Lombardi's arrival nine years later and didn't often return to Green Bay. By no later than the early 1980s, Hutson was spending winters in Palm Springs, Calif. Then sometime after that he relocated there permanently and didn't grant many interviews or make many public appearances, especially in Green Bay.
When he died, the family declined to post a death notice in the local newspaper and held a private funeral in Palm Springs. The family also asked that no details of it be released.
The Associated Press, big-city newspapers and the papers in Milwaukee and Green Bay published substantial obituaries. I wrote the one for the Milwaukee Journal Sentinel. But the emotional reaction to Hutson's death was nothing like the outpouring that occurred when Lombardi died, for example.
After Davante Adams surpassed Hutson's record for most consecutive games with a touchdown catch in 2020, how many records did Hutson still hold?
As of today, Hutson's most impressive and meaningful team records are most points in a quarter with 29; career touchdowns with 105, 14 more than Jim Taylor; most receptions in a game with 14, a record that Adams tied; most touchdown receptions in a career, 99, and 26 more than Adams; most touchdown receptions in a game with four, a record twice tied by Sterling Sharpe; and highest average gain per season on pass receptions, 24.9 in 1939.
That's a remarkable list considering Hutson's last season was 78 years ago.
Hutson also still holds 10 NFL records that are also team records, but I find those much less significant. They're all for leading the league in receiving and scoring categories. Considering that basically all other teams when Hutson played chose their starting ends based more on their blocking, defensive prowess and ability to cover punts, Hutson had no real competition for those stat titles.
Those records still listed in the annual NFL Record & Fact Book are most seasons leading league in scoring, five, although twice tied; most consecutive seasons leading league in scoring, five; most seasons leading league in touchdowns, eight; most consecutive seasons leading league in TDs, four; most seasons leading league in receptions, eight; most consecutive seasons leading league in receptions, five; most seasons leading league in yards gained on receptions, seven; most consecutive seasons leading league in yards gained on receptions, four; most seasons leading league in TD catches, nine; and most consecutive seasons leading league in TD catches, five.
Actually, what I would consider to be Hutson's most impressive league record, 29 points in a quarter, is no longer recognized.
Are there any stories you can share about Don Hutson playing with Bear Bryant at Alabama?
As you may know, Hutson and Bryant were the starting ends on Alabama's 1934 unbeaten, national championship team. Both were three-year lettermen at the school, but Bryant was a year younger, so they only played together in 1933 and '34. Both were natives of Arkansas, so they had that in common too. Bryant was from Fordyce and Hutson from Pine Bluff, and they played against each other in high school.
I believe the two remained somewhat close over the years. Bryant visited Rockwood Lodge to watch the Packers practice in 1946, when he was coaching at Kentucky and Hutson was an assistant for the Packers under Lambeau. Bryant also returned to Rockwood in 1949 when Hutson was still helping Lambeau, although no longer officially listed as an assistant.
When Bryant died in January 1983, Hutson flew from his winter home in California to Tuscaloosa, Ala., for the funeral. Two months later, Hutson told sports columnist Bob Wolf of The Milwaukee Journal: "Bear was big – 6-2 and 195 – and a real fine player. He was an all-state tackle in high school." After Bryant moved to end at Alabama, Hutson said, "He was a fine blocker and a good defensive player. He wasn't fast, but he could catch the ball. He was kind of like a tight end."
There is no question that Hutson was the first elite receiver in NFL history. I'm a Philadelphia-based sportswriter trying to find a good book on Hutson. Is there a major bio on Hutson?
First, Mark from Menominee, Mich., asked the same question. No doubt, Hutson was the game's first great receiver, and he also revolutionized the game, although it wasn't until the end of his playing days and maybe even closer to 1950 when teams were intent about finding pure offensive threats to play end.
There is now a biography available about Hutson. It was written by Lew Freedman, a sportswriter in Anchorage, Alaska, and other places. I haven't read it; I just hope it was well researched. I also wrote about Hutson at some length in our book about Packers history.