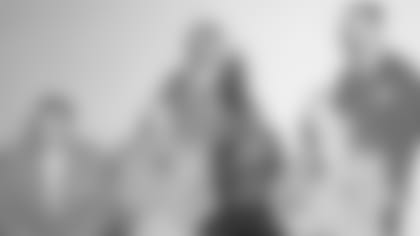 The Packers' 1949 coaching staff, at full strength, included Curly Lambeau (standing) and assistants Tom Stidham, Bob Snyder and Charley Brock (sitting, left to right). Don Hutson also is standing (to the right of Lambeau).
Cliff Christl started gathering oral histories with former Packers and others associated with the team in 2000 and will continue togather them as Packers historian. Excerpts from those interviews will be periodically posted at www.packers.com.
Bob Snyder was an assistant coach with the Packers during their tumultuous 1949 season when Curly Lambeau announced following an opening-game loss to the Chicago Bears that he was turning the team over to his three assistants – Tom Stidham and Charley Brock were the other two – and planning to serve as advisory coach for the remainder of the season. Lambeau left the Packers following the '49 season to become head coach of the Chicago Cardinals, and Snyder lost his job as well. The Packers finished 2-10 that year, their second-worst record ever. Before coming to Green Bay, Snyder played on three of the Chicago Bears NFL championship teams in 1940, '41 and '43, and was named head coach of the Los Angeles Rams in 1947 at the age of 34. After leaving Green Bay, Snyder served as head coach of the University of Toledo in 1950 and of Calgary in the Canadian Football League in 1953. He also served as an assistant coach with the Pittsburgh Steelers in 1955-56.
On Lambeau announcing five days after the Packers dropped their 1949 opener that he was kicking himself upstairs: "He called a team meeting and he didn't have a lot of those. But he said, 'Boys, we're in kind of bad shape here and we're going to have all three of you as head coaches.' Charley Brock said, 'Well, don't you think we ought to have a head man?' They asked me and said I was a head coach of the Rams. I said, 'Yeah, but the one who knows the players better is Charley.' And we had Tom Stidham, who had been a successful coach at Oklahoma. But we ended up not having a head coach. They turned the offense over to me, the offensive line over to Charley Brock, and Tom Stidham set the defense. We didn't have much material. But we never had an argument among ourselves."
On whether Lambeau was true to his word and let his assistants run the team: "We went down to play the Bears and Curly took over. He was down on the sidelines ranting and raving and everything. It wasn't a good situation."
On whether Lambeau was getting interference from the executive committee: "I think that's what happened. He had run it so long and like a monarch. Nobody ever said anything to him. And they were winning championships and filling the stadium. What's the old saying, 'Don't paint what don't need painting'? And all of a sudden that caught up to him."
On whether he knew what the executive committee's complaints were with Lambeau: "After 1948, they came up with some kind of audit and they were a lot of money short. I think what happened was Curly lived very high. He had big cars. He traveled with a group in Hollywood. He had a beautiful home on Malibu Beach. They didn't know how he could make it on his salary. And that's all I can tell you."
On how the coaches and players handled the situation in '49: "The first weakness I saw with Curly was he wanted to get rid of Larry Craig. He was a great defensive end. When I played with the Bears, I always wanted to know where he was. But Curly asked Charley Brock to go in and cut him. Charley said, 'No way in he--, coach.' He asked me and I said, 'No way. It's up to you.' When it came right down to it, he didn't cut him. But that's the thing. We didn't have a leader. "
(Note: Craig was in his 11th season with the Packers, and Brock and Craig had been teammates for nine of those seasons.)
On Lambeau's relationship with his players: "I don't think guys played out of respect for Curly as much as fear of Curly, and there is a big difference. A lot of guys didn't like Paul Brown. A lot of guys didn't like Lombardi. But they respected them. I think they were just scared of Curly."
On what kind of coach Lambeau was: "When I got on his staff, I was surprised. We had very few meetings. It didn't seem like he had any system. Up there, the plays to the left side weren't the same as the plays to the right side. We seldom had a notebook. He never discussed in the preseason what we should do with this team and that. I don't remember looking at movies, finding out weaknesses and so forth. I asked Brock one day, 'Don't you guys have meetings?' He said, 'Once in awhile.' So I don't know if (Lambeau) was a good coach, but you can't argue against his record."
On Lambeau's strengths as a coach: "Curly was a great motivator. He could really get you worked up. He was a better motivator than a tactician."
On the standing of the assistant coaches for the remainder of the 1949 season: "One of the board members came out to practice with about two, three games left and came in our room after and said to Charley Brock, 'Charley and the rest of you guys better look for a job because we're going to clean house from top to bottom.' And that's exactly what they did."
(Note: Snyder said Lambeau asked him to join his staff with the Cardinals, but he said he turned down the offer.)
On the Packers' three quarterbacks in 1949 – Converted halfback Jug Girard, No. 1 draft pick Stan Heath and veteran Jack Jacobs: "Jacobs had a heck of an arm, a great punter and tough. He never got hurt. Heath could throw the ball. He had the best arm of any of them. He had an arm you couldn't believe. The most important pass a quarterback throws is an out and you have to get it there like a gun. And he could throw any pass in football. Girard was a heck of a halfback. Curly is the guy who assigned him as a quarterback. (Girard) tried to play the position, a great kid, a heck of an athlete, but he could throw the ball and miss the ground. None of them was a great quarterback, but we didn't have a good football team anyway."
On Heath being the fifth overall pick in the 1949 draft after setting an NCAA record for passing yards and then being cut after one season with the Packers: "He was a rascal. He was his own man."
On Heath flunking a written exam and getting cut by Cleveland Coach Paul Brown shortly after he signed with the Browns before the start of camp in 1951: "He flunked the test before he ever got on the field. Brown never saw his arm."
On old City Stadium, the Packers' home from 1925-56: "It was a heck of a playing field. A great, great field. It was all wood. I remember right near the sidelines there was like a guardrail and a lot of guys would get knocked out of bounds and hit that thing. But it had the best playing field in the National Football League. It was perfect."
On playing with the Bears and having to change into street clothes on the train after games because there was no visiting locker room at City Stadium: "Here's 30 guys sweating, getting p----- off trying to change in a car. No showers, but trying to get cleaned up the best you could after a ballgame."
On Packers Hall of Fame fullback Clarke Hinkle: "I played against Hinkle in 1937, '38, '39, '40 and '41, and I've got bumps to prove it. He was a great one. The guy was never hurt. He punted for them. He kicked field goals, extra points. He kicked off. He was a heck of a linebacker. The only thing he didn't do – (except) occasionally – was be their passer. He did everything else."
On comparing Hinkle to Bears legend and fullback Bronko Nagurski: "I played with Nagurski and I played against Bronk. I played against Hinkle. Hinkle weighed only about 210. Bronk weighed about 240, even though they listed him at 225 pounds. It's hard to explain, but when Nagurski hit you, it was 240 pounds of power and then there was a big surge forward. But, old Hink, he'd sting you. He had extreme takeoff speed and leverage. He was always square to the line. And, boy, when he hit you, you knew you had been hit."
On legendary Packers end Don Hutson: "Do you realize how great this guy was? He was like a tight end. If they had moved him outside, he would have made these guys today look silly. He had great speed, great hands, great change of pace."
On Packers Hall of Fame halfback Tony Canadeo: "Canadeo had a quick start. He was one of the few guys strong enough to be a fullback or a halfback. He was always in shape. He gave you 100 percent on every play."
On Ted Fritsch, Hinkle's successor at fullback for the Packers: "One heck of a football player. Next to Clarke Hinkle probably the greatest fullback Green Bay ever had up to that time. A big, strong kid and get you that extra inch. Boy, his feet kept going from the time he got the ball. You never had to worry about Teddy Fritsch. Ever."
On Charley Brock, voted the Packers' greatest center on all-time teams in 1946 and '57: "He was a good passer for the long punt, a heck of a blocker. He was captain of Green Bay. He was one of their all-time great football players."
On Ed Neal, a 6-4 and close to 300-pound center for the Packers from 1945-51: "The strongest man ever to play at Green Bay. Oh, my gosh! I remember we were coming back on the train and Ed Neal says, 'Hey coach, any of those Bears you played with do this?' He took a beer cap and put one between his thumb and the next finger, his middle finger and the next finger, one between all his fingers, and he squeezed those altogether. Then they had several beers and a little later, they got a towel and (Neal) put it around his forearm and broke an empty beer bottle over his arm."
On the relationship between Lambeau and Bears owner and coach George Halas: "They weren't exactly bedmates. They respected each other in every way. I don't think they ever went out socially. But at the league meetings, they ran the league. The Packers had an end named Carl Mulleneaux, the other end with Hutson. Nobody ever heard of him, but he was a good football player. Anyway, we had played in an all-star game together, and we opened in Green Bay (while with the Bears). I walked out on the field and said, 'Geez, Carl. How the heck are you?' Somebody kicked me right in the butt. It was Halas. He said, 'Come on Snyd. This is Green Bay.'"
Snyder died in 2001 at age 87. The excerpts above were taken from interviews conducted in 1997, 1998 and 2000.