*As part of the Green Bay Packers' celebration of the 10th anniversary season of the Super Bowl XXXI Championship, Packers.com is running a series of stories about the people responsible for bringing the Vince Lombardi trophy back home to Titletown.
Don Beebe put his hands on his knees and gazed skyward as the final 10 seconds ticked off the clock in the Packers' 35-21 Super Bowl XXXI victory. He crouched 10 yards behind Brett Favre as the quarterback hiked the ball for the final kneeldown. Favre then turned and gave Beebe that game ball, a reward for reaching the top after coming so close four times before.
"I don't think there's anybody on that team that could feel the accomplishment and how hard it is to really win a Super Bowl more than me," Beebe said.
The wide receiver who lost four consecutive Super Bowls with the Buffalo Bills before winning one in Green Bay cherishes the souvenir Favre bestowed upon him. The symbol of salvation appropriately rests in the den of his Yorkville, Ill., home alongside his rings from losses in Super Bowls XXXII, XXVIII, XXVII, XXVI and XXV.
The ball also sits near another deserving gift, a second game ball from Super Bowl XXXI autographed by Desmond Howard. Beebe did not catch any passes in that Super Bowl, but his special teams block helped spring Howard for the game's final score, a 99-yard kickoff return for a touchdown in the third quarter.
"Whatever it took for me to do in that game, be it a cheerleader on the sideline or whatever," Beebe said, "I was going to do that."
Beebe, 42, may soon receive other thank you's for helping athletes achieve their goals. After retiring from football in 1998, the wide receiver known for his sub-4.4 speed opened a training school called House of Speed. Through camps and training sessions, he has instructed more than 20,000 athletes, ranging from NFL players to boys and girls between 8 and 10 years old.
"I wanted to still be a role model and be a part of kids' lives," Beebe said. "It gives me a great opportunity to do that."
Beebe's first class included only five kids, but his operation has expanded greatly. In April he franchised it nationally. His clientele has grown as well and features 20 to 30 NFL players, including Tennessee Titans running back Jarrett Payton (Walter's son).
Wide receiver Greg Lewis represents his greatest success story. The former University of Illinois walk-on cut his 40 time from 4.65 to 4.4 seconds through three-and-a-half months of plyometrics, explosive strength and speed exercises. After Lewis showcased his newly-honed speed during the 2003 NFL Scouting Combine, the Philadelphia Eagles signed him, and he started for them in 2005. Despite helping his athletes reach such levels, Beebe had the itch to serve a more prominent role to a younger set.
That aspiration led Beebe to become head coach at Aurora Christian (Ill.) High School two years ago. To allow him to coach while keeping a hand in his eight-year-old business, Beebe hired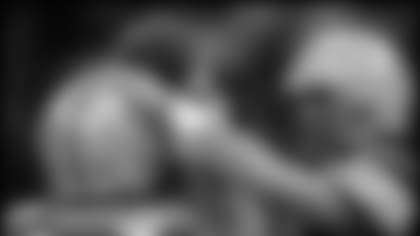 his brother, Dan, a former Chadron State basketball player, as president of the House of Speed. Don will remain actively involved, but Dan will run the day-to-day operations.
The fledgling Aurora football program, from a high school of 307 students, has only existed for eight years. When Beebe took over, the team did not have a weight room or a practice field, but he led Aurora to the quarterfinals each year.
"We have some good young talent," Beebe said. "I foresee us doing very well over the next few years."
As head coach, Beebe can rely on his experience leading the 1996 Packers squad. On the Monday before the Super Bowl, Packers head coach Mike Holmgren asked the two players with Super Bowl experience, Beebe and legendary bad boy Jim McMahon, to address the team.
"I want Don to come up here and tell you what you're supposed to do all week," Holmgren said. "Then I want Jim to come up here and tell you what you're not supposed to do."
Beebe advised his teammates to avoid distractions before the biggest game of their lives. He recommended keeping the routine of a regular-season week. He suggested avoiding extra phone calls, worrying about finding tickets for friends and distant relatives and treating the week as a late-night party.
Because of the magnitude of the game, Beebe told his teammates that every mistake would be magnified. So when the inevitable mistake did occur, the Packers had to remain even keel. In Super Bowl XXVIII the Bills gashed the Dallas Cowboys with their running game in the first half but only led by seven. Just 55 seconds after halftime, Cowboys safety James Washington returned a Thurman Thomas fumble 46 yards for a touchdown. The Bills came apart at the seams on the game-changing play and lost 30-13.
"On the sideline you would've thought we were down by 30 points," Beebe said. "It was over. From that point on, we got blown out."
Because of Beebe's words and sound leadership from others like Favre, Reggie White and LeRoy Butler, the Packers remained stoic during Super Bowl XXXI. Like the Bills, the Packers dominated the early part of the game, scoring the game's first 10 points. But the New England Patriots took a 14-10 lead on back-to-back Drew Bledsoe touchdown passes. The mood on the Packers' sideline, however, remained upbeat.
"A lot of guys were talking positive: 'Hey we're fine, no big deal,'" Beebe said.
The Packers persevered, and Beebe received a cathartic win, erasing the heartbreak from his previous Super Bowl losses.
"To feel what it actually feels like be in a locker room after a win in a Super Bowl...," Beebe said. "There's nothing like it in sports."