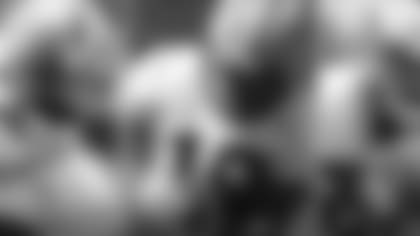 From left to right, WRs James Jones, Randall Cobb & Jordy Nelson
GREEN BAY—As the Packers receivers took the field in OTAs this week without departed veterans Donald Driver and Greg Jennings, the concern for their absence in 2013 in a purely statistical sense was conspicuously, well, absent.
Three simple facts would explain why.
Randall Cobb led the team in receptions last year with 80, James Jones led the team – and the league – in touchdown catches with 14 and Jordy Nelson led the group in yards per catch at 15.2.
"Plenty of ammo," Jones said.
Quarterback Aaron Rodgers added, "I still like the guys we've got."
Those are mantras of sorts the receivers will carry with them into the first season of the Mike McCarthy era without Driver and Jennings, though in all reality 2012 served as a trial run.
Relegated to a bit role, given the depth at the position, the now-retired Driver caught more than one pass in a game only once last season and was inactive in four of the last seven contests, including one of two in the playoffs. Meanwhile, the Minnesota-bound Jennings missed eight games due to injury and surpassed 100 yards in a game only once.
Yet, Green Bay's passing offense still ranked in the league's top 10, and the Packers scored the fifth-most points in the NFL. Draft-and-develop has given the Packers a trio of proven producers who plan to just keep doing what they've done.
"We're going to be the same guys we were last year," Jones said. "All of us that were here, we were the leading receivers on the team in some category.
"Each and every one of us knows what we've got to do. We know what we've got to do to make this team go. As the receivers go, this team goes. That's the way we feel in that room."
"That room" is the receivers' meeting room, where the big three of Jones (third round, 2007), Nelson (second round, 2008) and Cobb (second round, 2011) are now the elder statesmen charged with bringing the young up-and-comers along.
It's harder to quantify how much the off-field leadership of Driver and Jennings might be missed, but it's a duty being shared. Even as just a third-year player, Cobb said he's trying to chip in because that's what his teammates did for him when he came in.
The young group includes Jarrett Boykin and Jeremy Ross, who got their feet wet last season, plus seventh-round draft picks Charles Johnson and Kevin Dorsey, and undrafted additions Sederrik Cunningham, Myles White and Tyrone Walker.
Rodgers noted he likes the potential of the rookie group if they take the same approach to learning the game that Boykin and Ross did right away last year.
"We're in those guys' ears 24-7," Jones said. "I'm sure they're sick of hearing us already. They're probably going home and telling themselves these guys think they know everything. We're trying to get them right, trying to help them, because we know the more ammo we've got, the better we are."
For undisclosed reasons, Johnson and Dorsey did not practice during Tuesday's OTA, which was open to the media, so the Packers don't know the full extent of their depth just yet, but the young guys are already getting a sense of the expectations at the position.
Johnson said in the meeting room each rookie sits in a row that also includes veterans, and when asked to diagram a play up front, if the rookie messes anything up, the whole row does push-ups.
"You're up there and you're like, man, I don't want to get it wrong," Johnson said. "It's good for us. The game is a pressure game."
This year, the pressure will be squarely on Green Bay's big three. Rodgers said he believes Cobb could become a 100-catch guy, and the creative ways he can be used may only increase. Nelson's 2011 season (1,263 yards, 15 TDs) and Jones' 2012 campaign, fair or unfair, will be viewed as measuring sticks.
Nelson suggested last year's production wasn't the best the group, as a whole, has to offer.
"We left some (plays) out there all over the board, from barely missing a deep ball to drops, anything," said Nelson, whose team-best 15.2 yards per catch was actually a sizeable drop from 18.6 the prior year.
"We have to get back to making every play, making the most of our opportunities, and we know we can do it."
In the end, that will be the most valuable leadership they can provide. Performance will trump all.
"We know we're going to have to make a lot of plays," Jones said. "The quarterback will be leaning on us, the team will be leaning on us, and we all know what we've got to do."