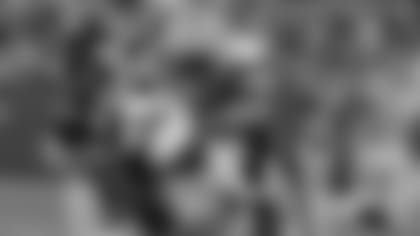 LB Brad Jones gets one of the Packers' three sacks of Seattle QB Russell Wilson last Friday.
GREEN BAY—By this time next week, Dom Capers' defense will be in serious preparation for a game that will be used to measure the improvement the Packers defense has made since the team's playoff loss in San Francisco.
The memories of that game last January are bitter. They include having allowed 181 yards rushing to quarterback Colin Kaepernick, and 579 total yards of offense to the 49ers. They are numbers that have dogged Capers' defense throughout the long offseason and, on Sept. 8, the Packers will have an opportunity to create new numbers on which they might rest.
Have the Packers improved on defense? How much have they improved?
They are the two questions on every Packers fan's lips and it's expected the answers to those questions will go a long way toward determining the team's fate this season.
"My hopes are that we can take the next step," Capers said when asked for his expectations for his defense in 2013. "We have more experience. We've added some guys; I think they're going to help us. I think that'll bode well in terms of taking the next step."
Experience comes mainly in the form of several young players that got a lot of playing time last season. Cornerback Casey Hayward, safeties M.D. Jennings and Jerron McMillian, linebackers Nick Perry and Dezman Moses, and defensive linemen Mike Daniels and Jerel Worthy represent a wave of youth that washed into Green Bay. A year later, that young group is seemingly better for the playing time they got in 2012.
The next wave of youth to hit this defense would seem to be represented by first-round draft pick Datone Jones and fifth-round cornerback Micah Hyde, who has been a training camp sensation and could find himself playing a critical role as the Packers' nickel back against the 49ers. Might the 49ers target the rookie?
"He's taken advantage of his opportunities. He's proven he deserves an opportunity to show us what he can do," Capers said.
Jones has missed most of the preseason with a nagging ankle sprain, but he continues to fit prominently into the Packers' plans at defensive end. Jones is the kind of athletic defender the Packers need to defend against Kaepernick and the read-option offense.
"We've had as good a competition as we've had since I've been here," Capers said of the defensive line. "The more competition you create, the better you are."
Improvement on defense would seem to hinge on the Packers being able to match up better with the different styles of offenses they'll face along the way. Last season, they struggled against power backs such as Adrian Peterson and Frank Gore. Then came Kaepernick and the read option, and that introduced a whole new dynamic.
"You've got to be able to have different personnel groups," Capers said.
Head Coach Mike McCarthy announced in February the number 579 would be used as motivation, and there have clearly been signs of improvement on defense. Last Friday, the Packers held the Seahawks and Russell Wilson to three points for more than half the game. They intercepted Wilson twice, sacked him three times and sent him home with a 47.3 passer rating.
Can the Packers defense take that kind of performance into the regular season? They'll use Thursday's preseason finale in Kansas City to evaluate second-half-of-the-roster personnel, and then the Packers will return home for the big push for the big game in San Francisco.
"There's a desire and a constant pressure not to let your teammates down," Safeties Coach Darren Perry said when asked what defines good defenses. "There's a heightened accountability."
It begins for the Packers defense on Sept. 8.
For a list of all the headlines from the final week of training camp, click here.