Is there any advantage to not using the franchise tag?
It's better to do a contract with a guy instead of using the franchise tag on him for at least two good reasons: 1.) You don't have to take the big one-year cap hit using the franchise tag requires. That one-year, all-salary hit makes the franchise tag nearly unusable for the big-money positions. 2.) You'll retain the franchise tag to use on another player, if necessary.
There is another reason to like Calvin Pryor besides his sure tackling (violence). At 6-2, he would be one of the taller prospects, and speed just can't be taught. Do you think he is a potential first-rounder if he is fast at the combine?
Pryor is thought to be an in-the-box type of defender. If he works out well at the combine and shows the speed and athleticism to be a game-changing pass defender, Pryor will shoot up boards, especially among teams needing help at safety and in a year when safeties are in short supply.
If we wait to sign one of our own players with an expiring contract until after the free agency period has begun, does that count as an addition when the league is assigning compensatory picks?
Yes, it counts toward a team's net gain or loss in free agency.
Vic, would you rather have your safety be an extra linebacker or an extra cornerback?
If I had to pick between the two, I'd rather that his skills lean more toward pass coverage than run support. You need a guy back there that can run with deep receivers. You need a guy that can at least get to the boundary from a split-safety position. Nobody wants to miss tackles, but if you're missing coverages, you're giving up big plays.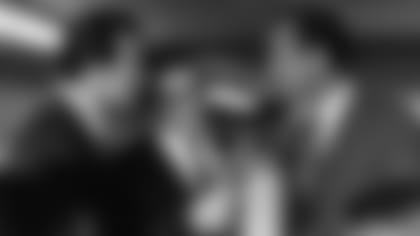 CBS broadcaster Frank Gifford, Packers Head Coach Vince Lombardi, and NFL Commissioner Pete Rozelle after Green Bay's Super Bowl II win in 1968
Would love to hear some of those stories concerning what Pete Rozelle did to create that welcome atmosphere that invited you to join the club and then delighted in your membership.
Pete was a former PR man. He had a naturally friendly and inviting personality. Most of all, he had respect for reporters and their importance in driving pro football's popularity. Don Weiss, a former reporter, was Pete's right hand man and in Weiss' book, "The Making of the Super Bowl," he told of Rozelle's embarrassment that Super Bowl I was not sold out. Weiss said that on the way back to New York, Rozelle committed that it would never happen again that the Super Bowl wasn't sold out. Rozelle then went hard into a campaign to sell pro football to America. He told the league's PR men that for pro football to be the most watched pro sport, it needed to be covered by the most read sports writers. Those writers, however, men such as Dick Young, belonged to baseball, so Rozelle instructed the league's PR directors to identify the next generation of sports writers and make them football writers. It was genius.
Vic, tackling was a major issue last year for the Packers defense. How much time do professional teams devote to tackling, and what are they allowed to do under the CBA?
They devote time but they're not able to do much, hamstrung by the extinction of two-a-days and the fear of injury. In my opinion, you can't teach tackling in today's game. I'm not sure to what degree it was ever teachable. A big part of me believes you either have it or you don't. The big problem nowadays is identifying who has it and who doesn't. That's the problem the new practice rules and fear of injury have created. I think it's just assumed everybody can tackle, and that's a mistake. Find the tacklers and draft them. That's how you get better at tackling.
What the heck does "Okie end" mean?
Fans who want to copy the Seattle formula of success forgot that they gambled big through free agency with Matt Flynn and failed. They got lucky through the draft when they drafted Russell Wilson. Isn't it funny how easily fans forget?
It is not uncommon for teams to use the draft to bail out mistakes it made in free agency. That's usually how it works. For whatever reason, Flynn wasn't the guy for the Seahawks. He didn't fit what the Seahawks wanted to do at the quarterback position. They should've seen that, which only proves that even Super Bowl champions make mistakes. The problem with free agency is that mistakes are extremely costly. Wilson's $681,085 cap hit softened the blow.
Vic, when a player gets franchise tagged, how much of that is guaranteed money?
The moment he signs the tender, it's all guaranteed.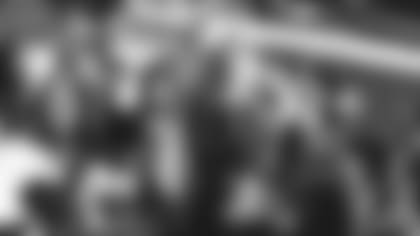 Jim Valvano
Theo from Oklahoma City, OK
I hate to say it, Vic, but I didn't know who Jim Valvano was before I caught the N.C. State documentary this weekend. A great man who fought a great battle. I wasn't even alive when he led his team to greatness. What are your thoughts on Jim and the Wolfpack?
Valvano had a fantastic personality. He forced you to love him with his will to be loved. That's why we celebrate him. There's nothing wrong with being personable. I wish more coaches would loosen up and show their true personality, instead of hiding it out of fear for saying the wrong thing. I blame that on my profession. We've developed a gotcha mentality on the little things. We're trying to make a story out of every little faux pas. As a result, we're costing ourselves and our readers a deeper look at the men we cover.
Vic, what do you think would happen if the NFL were to establish some sort of developmental league? Do you think we'd start to see the same type of prospects-for-vets trades that are so common in MLB?
I think the NFL would be hit with an avalanche of workmen's compensation claims that would quickly dissolve the league.
You are a huge football fan, a lover of competition. It surprises me that you would enjoy spearing a helpless sturgeon. Some of the larger sturgeon are in the range of 100 years old. How would you like to have lived that long then, one day, just happen to swim past some knucklehead holding a spear? Also, where's the sport in that? Did he have laser beams attached to his head?
I've felt bad ever since I threw that spear. What did that fish ever do to me? I'm having nightmares about it, and it's all Mike's fault. I never wanted to go stupid sturgeon spearing in the first place.
Sébastien from Brussels, Belgium
Why are there so little player-for-player trades in the NFL compared to the NBA or MLB?
I don't know what the rules are for the NBA and MLB, but I can tell you that if you trade a player in the NFL, all of his bonus amortization stays with you and it accelerates. So, you almost have to find players with matching bonus amortizations to make the deal work. I liked the deal the 49ers and Chiefs did last year that exchanged A.J. Jenkins for Jon Baldwin. They were essentially the same guy and each was getting a change in scenery and a second chance. Player-for-player trades have always been rare during my years covering the league. Teams want picks, not players. There's a belief that if another team doesn't want a guy, you'll probably feel the same way about him. In other words, why would a team trade a good player? It's just a football thing.
Steelers GM Kevin Colbert says this is the deepest draft he's seen in 30 years. He says it could be great or it could be a huge failure because some of these kids just aren't ready for this level. Do you concur?
Well, could be great or could be a huge failure would seem to cover it. Based on what I saw at the Senior Bowl, what was great was small and what was big wasn't great. That's not a good combination. I don't like the quarterback crop at the top but I like its depth. I tend not to agree with Colbert on the overall quality of this draft class. It was robbed of a lot of underclassmen last year and I think that's hurting it. I'm going to the combine on Thursday. I would hope to return with a better feel for what's out there. Maybe I can sit in on Colbert's press conference.
Vic, why is the draft so late this year?
It's the result of a logistical problem with Radio City Music Hall, but Roger Goodell said the draft will remain in May beyond this year. It's thought the league is attempting to brand each month of the offseason with an event. May, apparently, is going to be branded the draft month. I'm not sure what the league has in mind for April in the future, but I'm starting to get the feeling the league has plans for these regional scouting events, and that it's going to make a bigger deal out of the whole scouting process. Maybe April will be branded the scouting month.
Vic, we did it! The U.S. wins ice dancing gold!
I want gold in skiing with guns.
What matters the most when creating your draft board: the
Senior Bowl, combine, pro day or the player's career? Is need incorporated into the draft board at all for some teams?
You don't reflect need in your draft board, but I consider need to be the No. 1 issue in strategizing your draft moves. If you can trade to where value and need meet, do it. In my opinion, what a player has done over his career, especially in his most recent season, is the No. 1 consideration in grading him; his health is a big part of that consideration. If he participated in the Senior Bowl or another postseason all-star game, I would weigh heavily what he did there. Then comes his interview, his lifestyles track record and the opinions of his coaches, followed lastly by what he did at the combine and in his pro day.
If the Packers are willing to spend in free agency, what is the one position you feel they should focus on?
I think linebacker is a position of need and a position that produces some of the best bargain shopping in free agency, if that's possible.
Matthew from Louisville, KY
Vic, I've noticed something in going back and reading a lot of your columns from late November to early January. It seemed that more often than not, you ended the column with a question from someone named Matthew, whether that was me (once) or the Matthew from Las Vegas, and there are a couple of others. Was this on purpose or just coincidence?