INDIANAPOLIS - To Packers General Manager Ted Thompson and Head Coach Mike McCarthy, the annual NFL Scouting Combine isn't just about test results and medical reports on potential draftees.
Those are important, to be sure, but Thompson and McCarthy both noted on Friday how much they value getting to know the players they might draft through the interviews they conduct here.
Getting a read on a player's character, his personality, and how he might fit in the Packers' locker room helps the entire staff when it comes to making draft picks and post-draft free-agent signings.
"That's why we spend the extra time preparing as a staff, getting ready for those interviews," McCarthy said. "You only have a certain time allotment and you want to get as much done as you can in that time frame. It's important. Me personally, it's the first time you're able to put a name with a face, and watch a young man communicate, get a sense for his personality, his understanding of football and life."
The interviews are conducted in 15-minute intervals in a designated Packers' room at one of the hotels near the RCA Dome. Other more informal interviews are also done by assistant coaches and scouts at various times throughout the Combine.
McCarthy said the Packers' college scouts have had the most contact with these players previously, sometimes over multiple seasons, so the rest of the staff gets that background and follows their lead in what else needs to be asked.
The interviews accomplish multiple objectives. For one, the team is able to weed out potentially bad characters, and Thompson said in any given draft there could be a half-dozen players the Packers wouldn't even consider selecting just based on that, no matter how talented.
In addition, the staff is able to ask questions about any negative incidents in a player's past and try to determine if they were youthful indiscretions or signs of something more problematic.
"You do as much research and study on it as you can," Thompson said. "Sometimes it's a gut call. Was this an isolated incident, or is this a habit or a pattern that needs to be looked into further? Because we've all made mistakes through life, we have to remember that. But I think you have to see how it's all going to fit, and how that individual is coming along in his maturation process."
Thompson and McCarthy both believe the Packers are well on their way to establishing a very strong chemistry within the team. The season-ending four-game winning streak in December was the best evidence of that.
So it also becomes important not only to avoid bringing in players, whether they be draft picks or free agents, who might disrupt that, but also to find players who will truly thrive in that environment and make the chemistry stronger.
As far as the draft is concerned, the long-term view is that the rookies brought in this year also will be the veterans of the future being called upon to help younger players mature in the right way. It's an ongoing process that isn't an exact science by any means but can have a tremendous impact on a franchise's fortunes.
"I think you're always looking at background issues and character and the makeup of the team," Thompson said. "Because that locker room and the chemistry within that locker room we think is vitally important to the success or the failure of your team."
--Thompson said the team is currently having talks with the agents for potential free agents Ahman Green and Cullen Jenkins about new contracts. He also said there are discussions with linebacker Nick Barnett about a possible contract extension.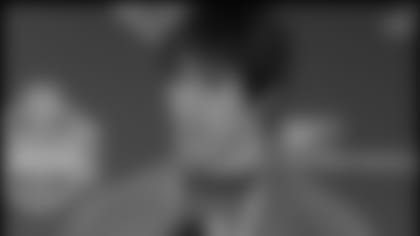 --Notre Dame quarterback and projected first-round draft pick Brady Quinn said he got a rundown on Thursday night from his brother-in-law, Packers linebacker A.J. Hawk, about what to expect at the Combine.
But Hawk messed with his wife's brother just a bit. Quinn said Hawk told him that he should be sure to do some curls and other weightlifting reps right before having his measurements taken so that his biceps and calves would be all primed and produce better numbers. Only the biceps and calves aren't measured, and Hawk let Quinn know he was joking before their conversation ended.
--McCarthy said he expects quarterback Brett Favre to have the surgery to remove calcium buildups in his ankle within the next couple of weeks, and that after the surgery Favre's rehab would take eight to 10 weeks.
He should be recovered in time for the post-draft veteran mini-camp, which begins on May 18, but McCarthy didn't know to what extent Favre would participate in that mini-camp.