*As part of the Green Bay Packers' celebration of the 10th anniversary season of the Super Bowl XXXI Championship, Packers.com is running a series of stories about the people responsible for bringing the Vince Lombardi trophy back home to Titletown.
It goes without saying that all NFL teams would love to have an outstanding player at every position.
But while that may be a dream shared by every general manager and coach alike, it's just not reality.
It's not that there aren't enough good players in the league to make it work. It's just that it takes unique individuals to make it work.
That's what made the Packers setup at tight end in 1996 even more remarkable. Forget about having one good player, the Packers had two great players.
With Mark Chmura and Keith Jackson, Green Bay had two playmakers that could have held full-time roles with any other team in the league. But it wasn't about individual accolades, it was about making the team better.
And that's exactly what Chmura, who had been the starter the previous season, had in mind when the situation called for him to split time with Jackson.
According to Chmura, who had been to his first Pro Bowl in 1995, sharing time with Jackson was without question the right thing to do, not that all players would have been so open to the idea.
"I think the biggest thing, which doesn't happen in today's game, is you had two guys who checked their egos at the door," Chmura, 37, said. "I was coming off the best season I ever had, going to my first Pro Bowl. And they were going to bring Keith back and I didn't have a problem with it whatsoever.
"I think Keith would say the same thing. He could have started for any other team and so could I. But I think we were both after the same thing and that was to win a championship, and we knew it wasn't going to work if we were bickering back and forth like they do today. You know, everybody wants to be on the field and I think for us to go where we wanted to go was to complement each other's game."
Chmura broke into the league as a sixth-round draft choice out of Boston College in 1992 and in his first two seasons, his biggest strength was his blocking. But when tight end Ed West was injured near the end of the '94 season, Chmura came on and played well in the playoffs as a receiving threat, too.
Chmura had his best season as a pro in '95, exemplifying what it means to be a complete tight end. He was perhaps the best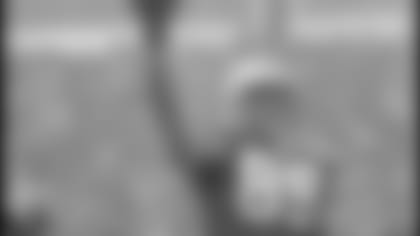 blocker in the league at his position and also had 54 catches and seven touchdowns. When the next season rolled around, Chmura still caught his share of passes, but doing whatever the team needed was his main objective.
It was the 6-foot-5, 253-pound tight end's ability to excel as both a blocker and receiver that set him apart in those seasons. To this day, tight ends still are often one-dimensional, but to Chmura, it wasn't that big of a deal to handle both facets of the game so effectively.
"Tight ends today are kind of glorified receivers," Chmura explained. "But that is just something else I brought to the team to fill a role. I didn't have a problem dropping down and blocking a 300-pound defensive end.
"Where today, most tight ends aren't willing to do that, but you know that was just part of the unselfishness of that team. Guys were just fulfilling a role and not trying to do more than what they're capable of doing. In today's game, if a team's featured receiver doesn't catch 10 balls in a game, he's whining in the press. That's something that we didn't do back then."
Chmura's selflessness may have been understated that season, especially since he remained a starter. But the setup worked perfectly as Chmura served as the all-around tight end and Jackson made the Pro Bowl as a downfield threat.
Yet, Chmura insists he was far from the only one making sacrifices for the team.
"That was the great thing about that year," Chmura said. "We just had a bunch of unselfish guys. You had it in the backfield, too, with Dorsey (Levens) and Edgar (Bennett). You had guys that just wanted to win.
"And you know, we relished the other guy scoring a touchdown or having a good game. That's something you don't see in today's game. That's why it was so refreshing to see it back then."
After going to the Pro Bowl following the '97 and '98 seasons, Chmura only played two games in 1999 due to a neck injury. He never played football again and he now lives in Genesee, which is about 25 miles southwest of Milwaukee.
According to Chmura, who was born and raised in Massachusetts, there was no reason for him and his wife Lynda and their two sons, Dylan, 11, and Dyson, 9, to move on from Wisconsin once his days as a Packer were over.
"We just like the state," Chmura said. "It has so much to offer. It's a great place to raise a family. I've had so many great friends here that I've known for 15 years now. Now we consider this our home."
Chmura is entering his third season for ESPN radio (http://www.espnmilwaukee.com) where he works Sunday mornings on The Football Show and occasionally during the week as a consultant once the regular season begins.
Chmura said that besides his work schedule, family life keeps him plenty busy these days, too.
"I coached Dylan's padded football, which was fun," Chmura said. "And we ran the Packer offense. I remember some of the stuff. They love it. They're into every sport under the sun. My life is spent chasing them around."
Chmura acknowledged that it's very difficult to attend Packer games, especially since his ESPN radio commitments take up his Sundays from 8 a.m. until 10 a.m. However, that doesn't prevent him from keeping up on the team as he estimates that 75 to 80 percent of his time on the radio is spent discussing the Packers.
That doesn't seem to bother the former tight end, either. The organization that he played seven seasons for will always offer up great memories for Chmura, and one that he will never forget is the attitude the team possessed.
"We had a lot of great players, but there weren't a lot of egos," he said. "Everyone kind of fulfilled a role and I think that's a big reason why we were so successful."
That team-wide attitude may not have gotten the attention it deserved at the time, but 10 years later, there's no denying just how big of an impact it made.