Offensive lineman Joe Thomas of Wisconsin laughs as he answers questions at the NFL Combine in Indianapolis, Thursday, Feb. 22, 2007.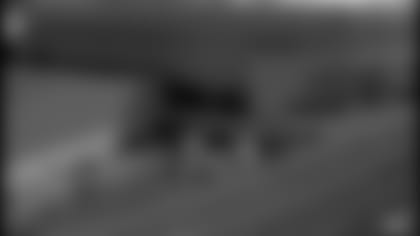 INDIANAPOLIS - To try to soak in everything going on at the NFL Scouting Combine in a couple of hours on opening day is a nearly impossible task.
First of all, the league's largest annual pre-draft event has a mind-numbing combination of non-football and football activities that have all converged on Indianapolis' RCA Dome, adjoining convention center and surrounding hotels.
As far as non-football components, along the convention center hallways are conference rooms where various companies, representing everything from apparel to weightlifting equipment to nutrition supplements, have set up displays to give anyone in the NFL or its numerous media a sample of or a glance at their product.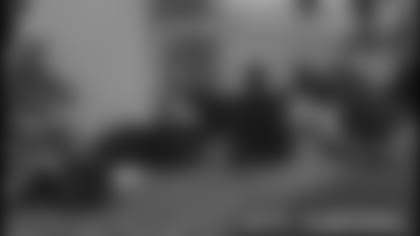 Down another hallway is a bit more action, where at any unannounced moment a head coach or a general manager of an NFL team can come strolling through, and reporters might try to pull him aside for a few quick words while autograph seekers are uncapping their Sharpies.
Players participating in the combine come through that same area, which also includes makeshift live studios for NFL Network and Sirius Satellite Radio, at random intervals. Sometimes they're stopped by the autograph hounds, and other times they're whisked away by security personnel.
Things were rather subdued on that front Thursday, when perhaps the biggest name amongst the players in town was Wisconsin left tackle Joe Thomas, projected as a top-five draft pick. But that should all crank up in the coming days, when the high-profile quarterbacks, running backs and wide receivers make their way through.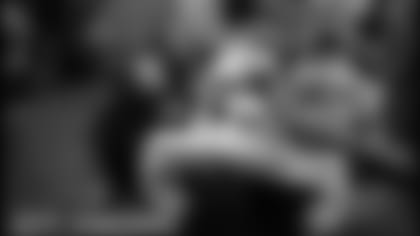 That's about the extent of the purely public-access areas. Players and personnel executives also stop in the expansive media room, which includes podiums on either end for interviews and dozens of tables of laptops, where reporters are banging out their stories while making sure not to miss the next top propect's impromptu press conference (seen in the background at left).
Did we mention that there are some football-related components to this extravaganza?
The first groups of players - placekickers, special teamers, offensive linemen and tight ends - arrived here Wednesday and came to the Dome on Thursday for an efficiently scheduled array of medical exams, psychological tests and interviews.
All of the locations for these are neatly spread out in rooms that surround the Dome's actual field, where the workouts, position drills and all-important 40-yard dashes will take place.
Those aren't the only stages viewed from the "stands" by NFL personnel, however. Nearly every room, except the medical exam ones, are set up with either rows upon rows of chairs or actual sets of bleachers from which to watch the proceedings.
One of the larger seating areas is where each player's measurements are taken. Dressed only in his shorts, a player's height, weight and arm span are officially recorded and announced, clearly and audibly, to those on hand. The phrase "cattle call" gets bandied about as this proceeds, and that's not far from an accurate description. The fact that every player is later seen wearing the same gray sweatshirt containing a "brand" of two letters and a number, such as OL 45 for offensive lineman Thomas, only reinforces the image.
But quite honestly, the real action has yet to begin. Those first groups of placekickers and offensive linemen won't perform their actual on-field workouts until Saturday, while the groups of offensive skill position players who just arrived Thursday will go through the battery of measurements, medical exams, psychological tests and interviews on Friday.
It's a well-oiled, rotating machine that gets the first groups of players out of town on the same day the final groups arrive for their four-day parade.
And while the minutiae of players' 40 times, bench press reps and Wonderlic intelligence test scores will be over-analyzed in reports that circulate between now and next Tuesday, the truly fascinating part of the Combine is revealed when looking at the really big picture.
Packers General Manager Ted Thompson and Head Coach Mike McCarthy are scheduled to address the media at the Combine on Friday.