James from Overland Park, KS
Just loved the Packers Heritage Trail, but I have two unrelated questions. What was the date and circumstances of Dan Devine's broken leg? Also, I have memories of a game at Lambeau against Oakland that was ended by a long interception return. It might have been 1971 or 1972.
Glad you enjoyed the Heritage Trail. The answer to your first question is Sept. 19, 1971. It was Devine's debut as Packers coach. The Packers lost at home 42-40 to a Giants team that went 0-6 in the preseason and would finish 4-10. As I recall, a steady rain fell for most of the game and Devine was on an operating table at St. Vincent Hospital when it ended. In the fourth quarter, Packers safety Doug Hart intercepted a Fran Tarkenton pass and was shoved out of bounds by Giants lineman and former Packer Bob Hyland. As Hyland skidded into the bench area, Devine got his foot caught in the canvas covering, I believe, and Hyland barreled into him and wiped him off his feet. Between the blow and the pileup, Devine sustained a double fracture of his lower left leg. He coached from the press box at Milwaukee County Stadium the next week, but returned to the sideline at Lambeau on crutches the following week. As for your second question, the Packers lost to the Raiders, 17-13, in a preseason game at Lambeau in 1971, but they fell behind, 17-0. My guess is you might be thinking about the 20-14 loss to the Raiders on the second Sunday of the 1972 season. I'm guessing a lot of people who witnessed that game haven't forgotten it. The Raiders were coached by John Madden and an AFC powerhouse, whereas the Packers were coming off a 4-8-2 season. The play you might remember and which ultimately decided the outcome was a 104-yard return of a MacArthur Lane fumble by Raiders safety Jack Tatum, but it happened with 12 seconds left in the first quarter. There were no replay challenges at the time, but the television replays clearly showed that Lane never had possession of Scott Hunter's lateral and it should have been ruled a muff, which meant the defensive team couldn't advance the ball. Three days later, Art McNally, then the NFL's supervisor of officials, admitted it was a muff and the play should have been ruled a touchback.
Patrick from Port Washington, WI
Wonder if you'd answer a couple questions about Frank Patrick, backup quarterback from 1970-72. If he's remembered for anything, it's probably for stepping out of the end zone on a pass attempt in Dan Devine's first preseason game, providing all of the scoring in a 2-0 loss to the Bears. My questions are: I seem to remember an announcer saying that Patrick also was listed as a backup tight end and linebacker; and also wondered if the Packers drafted him as a quarterback or tight end/wide receiver? Given his size and the fact he was converted to wide receiver as a senior (to make room for Jerry Tagge, of all people), it seems plausible.
As you noted, this was Devine's preseason debut and another disaster. And considering Patrick appeared in only four games in three years, I think it's safe to say that, yes, he is best remembered here for stepping out of the end zone at Milwaukee County Stadium for a safety in a 2-0 loss to the Bears in that 1971 preseason opener. Patrick was drafted in the 10th round in 1970 as a tight end. Listed at 6-7, Patrick weighed 225 pounds and had been moved to tight end as a senior at Nebraska after playing quarterback there as a sophomore. However, he was replaced by senior Ernie Sigler in the opener of his junior year. Tagge's first year on the varsity at Nebraska was Patrick's senior year, which might have had a bearing on his move, as you noted. With the Packers, Patrick became a quarterback again by default. In his rookie year, veterans were locked out for the first two weeks of training camp over a labor dispute and he was the only position player on the roster with any experience as a quarterback. Basically, by taking every snap in practice for two weeks, Patrick capitalized on the opportunity enough to impress coach Phil Bengtson and his staff. As a result, with three exhibition games to go, the Packers cut third-year veteran and former third-round draft pick Billy Stevens and kept Patrick as their new third-stringer behind Bart Starr and Don Horn. They also changed Patrick's number from 37 to 10. I don't know that Patrick played tight end or any other position after that. Also, I don't think he ever got a look at wide receiver. I believe Bob Devaney, his coach at Nebraska, might have said at one point that Patrick could be another Boyd Dowler, but I don't know that he ever got a look there. In four NFL appearances, Patrick was 8-of-23 for 107 yards passing. If there was anything else worth remembering about his career, it would be that our legendary wordsmith Lee Remmel once referred to him as the Packers' "altitudinous quarterback."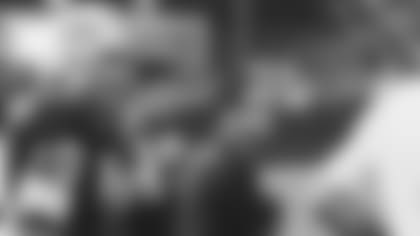 I was wondering if you could settle an issue regarding the creation of the Lambeau Leap. I recall Terrell Buckley claiming he did the first Lambeau Leap. I'm wondering if there is any video evidence that might confirm this.
Buckley only scored two touchdowns with the Packers, both as a rookie in 1992. Our curator, Brent Hensel, showed me a video of his biggest play, his 58-yard punt return for a touchdown and he didn't leap there, although he approached the railing and saluted the fans before being mobbed by teammates. The other was a 33-yard interception return against the Los Angeles Rams in the second-to-last game of the season and the video I found for that didn't show his celebration. But I couldn't find any mention of him leaping into the stands in either of two newspapers I checked.
In 1972, my dad lived in an apartment on William Charles Court near the stadium. There was a Packer player who lived in the same complex. I thought his name was Ike Taylor. But I can't find him on the list of all-time players. Do you recall such a player?
I'm assuming it was Ike Thomas, a defensive back who played in 25 games for the Packers in 1972-73. Less than two weeks before the start of the 1972 season, Devine acquired punter Ron Widby and Thomas for a second-round draft choice.
I read a book called "Shoot for the Stars," which details how Tom Hearden was poised to become the next Packers coach, but was derailed by a stroke and that opened the door to the Lombardi era. Just wondering how much of the story is fact vs. faction?
Jan Mancheski, the author, is a good friend, and I believe he promotes his book as "part memoir, part historical fiction," and so, yes, there's truth to the story, although the narrative isn't always portrayed accurately. Al Mancheski, Jan's dad, played for Hearden at Green Bay East High School and returned there in the 1960s as the school's head coach. Anyway, here's the full story. Hearden suffered his stroke in May 1957, shortly after he was rehired by Lisle Blackbourn, and never coached again. As a result, he was never under consideration when Lombardi was hired in 1959. But Lee Remmel told me on several occasions that a member of the executive committee told him that if Hearden had not suffered his stroke, he would have gotten the job in 1958 rather than Scooter McLean. My suspicion always was and still is that Dominic Olejniczak, who was team president of the Packers when Lombardi was hired and running the organization as vice president when McLean was hired, was Remmel's source. When Hearden was the football star at East High in the fall of 1922, Olejniczak was a sophomore. So there was a connection. Plus, Hearden was a captain at Notre Dame under Knute Rockne, a highly successful high school and college coach in Wisconsin, and was well respected by the players when he ran Blackbourn's defense in 1954-55 before spending a year as an assistant at the University of Wisconsin. Hearden was 51-3-2 as coach at East from 1936-42, including a state-record 32-game winning streak, and was often compared to Paul Brown, who was coaching high school football in Massillon, Ohio. Then after Brown proved to be successful in the pros with the Cleveland Browns, NFL teams were looking for the next Paul Brown. Thus, Hearden had sufficient credentials for that time period. He also was 40-14 as head coach at St. Norbert College, with three unbeaten seasons, from 1946-52. What some players, Remmel and others from the 1950s believed was that if Hearden was named Blackbourn's successor instead of McLean in 1958, it would have been unlikely that the Packers would have finished 1-10-1. He was too good a coach. Thus, if the Packers had gone 4-8 or 6-6, for example, they probably wouldn't have been in the market for a new coach when they hired Lombardi.
I saw the Packers signed Joe Fortunato, a long snapper. Man, if he can play like the Joe Fortunato you and I saw play with the Bears, they've got something. Is he a descendant of Joe?
Tom Fanning, our assistant director of communication, checked with young Joe and he said he was no relation to the old Bears linebacker, although he said he gets asked that all the time. The Packers already have a Butkus (Luke) on the coaching staff. Add a Fortunato to the roster and on name only, the toughness quotient skyrockets thanks to those old Bears.