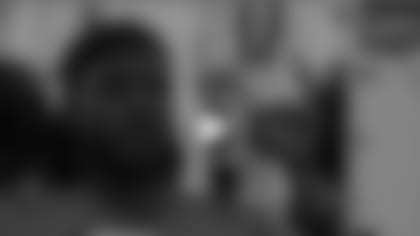 ](/media-center/videos/Desmond-Bishop-workout-diary/2a1e87bd-998a-4bfa-8fb9-88e4bed00a7a)

The Packers have moved into the final phase of their offseason program with OTAs, but prior to that there were several weeks of intense focus on strength and conditioning.
Inside linebacker Desmond Bishop allowed packers.com to follow him through back-to-back days of workouts recently, the first in the weight room and the second in the Don Hutson Center.
What follows are detailed accounts of those workouts, plus an edited video of Bishop's activities.
Contrary to popular belief, players who are working out regularly don't spend three or four hours at a time in the weight room. The Packers' workouts are structured to go from station to station quickly, with minimal rest, to best simulate game conditions. This workout is a jam-packed 40 minutes.
"That's how you do it on the football field," Bishop said. "You don't sit around all day. It's play after play after play, and that's how we train. One lift to the next lift. You try to be able to work when you're fatigued, just like you do on the field."
9:25 a.m. – A quick warm-up in the team's gymnasium that consists of various stretching and balancing exercises. Those include hopping over hurdles sideways, one leg at a time; doing a crab-like crawl across the floor; and raising a medicine ball overhead and slamming it to the ground a handful of times.
9:32 a.m. – In the weight room, and no time is wasted. Three sets of power cleans, four reps each at 132 pounds, 198 pounds and then 218 pounds.
9:37 a.m. – Over the next 12 minutes, a series of four bench-press sets with dumbbells are mixed with two sets of Romanian deadlifts (RDLs). First comes eight bench reps with a 70-pound dumbbell in each hand, then eight reps with 105-pounders. Then it's six RDLs at 220 pounds, eight bench reps with 115-pound dumbbells, six more RDLs at 220, and a final set of eight bench reps with 125-pounders, with defensive lineman Jarius Wynn spotting the last couple of heavy lifts.
Bishop calls the bench press one of his favorite exercises, and he was definitely pushing it on this day.
"I try to max out as much as I can, just trying to gain strength and endurance," he said. "It's a long season, so I have to get strong and maintain."
9:49 a.m. – On to shoulder work, doing stand-up dumbbell presses. Eight reps with 30-pounders, then eight more with 50-pounders, alternating between half-raises and full presses above the head. Next come quick sets of arm raises, both to the front and side, with smaller dumbbells.
9:52 a.m. – Time to mix in the abs. Lying on the back and putting a large exercise ball under the feet, the ball is rolled back and forth. Then the ball is held still by the feet and the torso is raised and held steady for a few seconds.
9:55 a.m. – The shoulder-abs rotation continues. A big set of 12 reps with 50-pound dumbbells, alternating half and full raises for eight reps and then four full raises to finish. More quick arm raises with smaller dumbbells, then back to the exercise ball. Finally, back for one more set of shoulder presses with 50-pounders, then a few more rounds of arm raises from different postures, and one last turn on the exercise ball.
"The shoulder and abs definitely give you a good burn," Bishop said.
10:03 a.m. – Some stand-up resistance work with a bungee rope, followed by more ab work, including some sit-ups while sitting on the exercise ball.
10:08 a.m. – The last round of ab work is with the medicine ball, sitting on the ground with legs raised. With Wynn tossing the ball in various directions – at the chest, to each side and overhead – the ball is caught and tossed back repeatedly.
10:10 a.m. – More sit-ups with the exercise ball and another round with the medicine ball with Wynn.
That's it for this session, a fast-paced 40 minutes, before heading off to the Don Hutson Center for some individual position work with the defensive coaches.
"Forty minutes is a good pump, but I'll come back in another two hours and get another little pump in," Bishop said. "Maybe there's somebody else out there working harder, so I have to make sure I'm one-upping them."
Once again, after 10 to 15 minutes of stretching, it's 40 minutes of non-stop activity. Players can grab a sip of water here and there, but the idea is not to slow the pace down.
"That's how we train, and that's how we play," Bishop said. "Each play lasts anywhere from three to 10 seconds, so everything is rapid-fire, and it's preparing us not only physically but mentally in our mind to always go fast and be able to compete when you're fatigued."
11:45 a.m. – It starts with the abs, doing balance rotations on all fours, plus some work with a resistance band around the ankles.
11:50 a.m. – A series of balance exercises, plus push-ups and sit-ups, all involving a large exercise ball.
11:55 a.m. – Various sets of one-legged hops, both forward and sideways, followed by two-legged hops, first slowly, then faster.
Noon – A series of eight 50-yard sprints across the width of the field, though not at full speed (more like 80 to 90 percent). The fifth and sixth sprints are done while looking over the left and right shoulder, respectively (the "head-on-a-swivel" idea), while the last two incorporate a full 360-degree turn midway through, once each direction.
12:05 p.m. – Agility work begins with a series of shuffle-sprints, just a warm-up for the gauntlet to come.
12:10 p.m. – The next 5-6 minutes involve rotating through different agility stations. Side-to-side shuffles with a resistance band strapped to the waist, a "hollow-log" overhead toss (eight reps), a tug-o-war-like dragging of a weighted plate approximately 25 yards, a 25-yard run while holding the straps to a weighted plate with both arms (and thrusting the arms forward regularly), and a weighted up-down that involves holding a barbell up with one outstretched arm while going from lying down to standing and back down again.
Then, in the next 5-6 minutes, the entire round of stations is repeated.
12:25 p.m. – A final exercise as a small competition requires getting up from a prone position, sprinting 10 yards, turning around and pushing a weighted sled back across the starting line. Each player is timed.
Bishop does it in 6.67 seconds, admitting he's not too good with drills like that.
"I heard in the morning group, C.J. Wilson got the fastest time. He was in the 5's," Bishop said. "That's good. For a big guy, he's powerful and he's also fast and athletic."
Some of the exercises in this routine, as evidenced in the video, are perhaps less conventional but more directly related to on-field action, commonly termed "functional training."
"It's really just football movements," Bishop said. "Some are gaining strength and power for situations out on the field. You never know what comes up. That's why we work different muscle groups, and add a little bit of cardio in there, because everything is back to back, really fast. It's preparing us for football games as opposed to just body-building."