Cliff Christl started gathering oral histories with former Packers and others associated with the team in 2000 and will continue to gather them as Packers historian. Excerpts from those interviews will be periodically posted at *www.packers.com*
Dick Corrick served as the Packers' director of player personnel from December 1977 to 1987 and, for most of that time, was Bart Starr's closest advisor on the draft and other personnel matters. Corrick joined the Packers as a college scout in 1971 under Dan Devine and later served as director of pro personnel (1975-77) and director of college scouting (1987-88). In July 1988, Corrick left the Packers to become director of college scouting with the Houston Oilers.
On calling John Madden on behalf of team president Robert Parins to see if he was interested in the Packers' coaching job after Bart Starr was fired in 1983: "John was very flattered. It was his lifelong dream to be able to coach in Green Bay. But he made up his mind that he was into this TV stuff. He loved what he was doing. And he just said, 'My career has gone in a different direction.'"
On whether he and Madden had a relationship: "Oh yeah. I had been around him at coaching functions and scouting things. It wasn't like we were buddy-buddy. But he knew me and I knew him. I had coached at Cal when he was out there with the Raiders."
On what he learned from his one and only coaching search with the Packers: "The one thing I learned when the Judge (Parins) fired Bart was that you better have somebody in mind. And we didn't. When John Madden turned it down, I didn't know where the (heck) to go. The Judge just decided, 'Forrest (Gregg) and I used to bowl together on Thursday nights and I want you to do something there.' I guess the players bowled on Wednesday or Thursday nights back in the old days. I didn't know they were going to fire Bart until it was over and done, until he (Parins) walked in the office and told me to come down to his office."
On getting permission to talk to Gregg after Madden turned him down:"That was easy. All you had to do was call Mr. (Paul) Brown. And we found out whenever Paul and (his people) were running it, any time they gave you permission and called to recommend a guy, they wanted to get rid of him."
On what happened after Brown gave the Packers permission to contact Gregg: "Then they pulled the ploy, 'We're only going to give you 24 hours.' So that forced us to speed everything up. When we had him (Gregg) into Chicago, we had very little time. We either had to say yes to him without looking at anybody else or making comparisons. We had only 24 hours to make the decision."
On the flight to Chicago to interview Gregg: "Parins, Tony Canadeo (a member of the executive committee) and myself took a commercial flight to Chicago. (Parins) and Tony flew first-class and I was in the back of the plane. Tony comes back and says, 'The Judge wants to talk to you.' So he took my seat in the back of the plane and I sat with the Judge. That's when we talked about this stuff (about an expanded role in player personnel). I wasn't surprised I was sitting in the back. The Judge could be tight. That's the way he was."
On being told he would be in charge of the draft and other personnel matters and then having it taken away from him:"The Judge told me on the plane down to Chicago I'd have more authority. Then he changed his mind in the interview with Forrest. He said, 'Well, Forrest, what do you need to take this job?' Forrest said, 'I've got to have absolute say on all the personnel moves: Drafts and trades. I've got to have final say on the travel itinerary and the people who are going to be on the plane.' He goes through all this stuff and the Judge looks at me and looks at Tony Canadeo and says, 'Geez, that all sounds good to me.' I had authority, I guess, for three, four hours."
On the interview with Gregg: "We met him in a hotel room connected to the airport. He was going under an assumed name. After we went through all this stuff, Tony and I had to leave the room while (they) talked numbers. We went down to the coffee shop. All of a sudden, the Judge shows up in the coffee shop, sits down and has a cup of coffee, and it was done. Then we had to go back and call Cincinnati to tell them we were going to hire him."
On learning Tom Braatz had been hired over him to oversee the Packers' personnel operation in 1987:"I'm in Indianapolis at the combine workout. Forrest calls me and says he wants to put together some kind of deal where he and I can work closer together. That I can advise him more. I think he was doing that to keep the Judge on his side. Then what happened was, all of a sudden Forrest walks up and introduces Tom Braatz as our new personnel director. So I knew then that Forrest had his authority yanked away from him."
On working for Braatz and their differences of opinion on running back Brent Fullwood, Braatz's first pick in 1987 as head of football operations and also Corrick's last draft with the Packers: "All I can tell you is that (area scout Dave Hanner) and I are speaking out that we shouldn't do this and shouldn't do that. Braatz told us to keep our mouths shut. That it was a done deal. That was Tom all the way. He'd never listen. All the things we said, he'd never listen to us. All I know is that Tom said he would handle the whole deal. The thing with Fullwood had us so (darn) upset. I can't remember to this day what really transpired."
On working with Starr:"It was a great working relationship. Bart is a special guy."
On Starr's philosophy about playmakers when he was head coach:"I don't really know what his (darn) philosophy was about stuff like that. I just think he always felt good about everybody we had. He was always such a positive guy. I just sensed that once they were ours, regardless, he just really believed in them."
On whether Starr realized as general manager and coach what it took to be a championship team: "I think so. Part of the problem when he first came on board was that there were guys here that he had played with. And I think he felt some obligation to those guys. In that respect, I think it probably took a year or two to weed out the guys who had grown old. I just think he felt kind of a loyalty to those guys."
On whether Starr realized the worth of an impact player when he drew a line in the sand in contract negotiations with linebacker Ted Hendricks before his first season:"I don't think so. I don't think he felt that way, particularly about someone on defense. For $150,000 -- that's what Ted wanted."
On offensive lineman Bill Bain, Starr's first draft pick in 1975: "He would have been a good player, but he was a West Coast guy and he couldn't get that out of his system."
On Bain's falling out with Starr and his demand to be traded: "Most of that was that he had been at (USC). He was a beach guy. For him, this was a culture shock thing."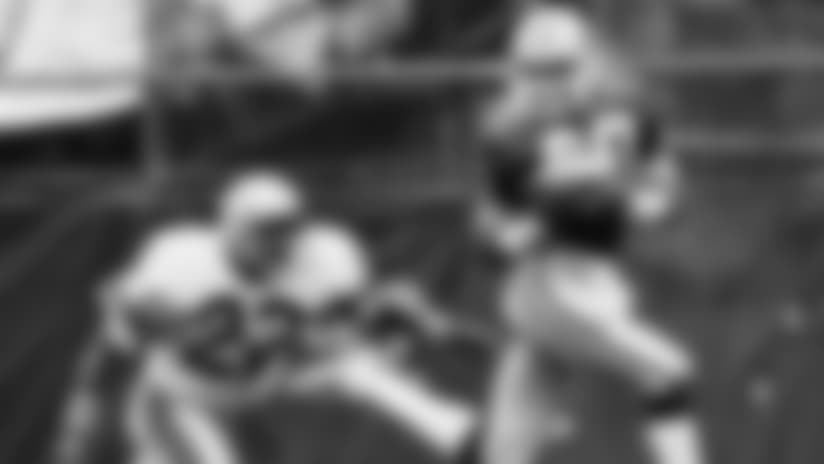 James Lofton in 1978, in a game against the Seattle Seahawks.
On wide receiver James Lofton, the Packers' first pick and the sixth overall after Corrick became director of player personnel in 1978: "For some reason, (receiver coach) Lew (Carpenter) was really scared of the guy. He didn't feel comfortable about him. That was after the Senior Bowl or East-West game. That year, there happened to be an all-star game in Seattle and we sent Lew up there and Lofton was the player of the game or should have been. He caught a whole bunch (of passes) and was just terrific. That kind of sealed the deal. Up until then, Lew just didn't feel real comfortable about it. James was a little bit of a one-year wonder (in college)."
On why he continued to push for Lofton ahead of John Jefferson and Wes Chandler, two other No. 1 receivers: "The thing that was so intriguing about (Lofton) was that he was always such a long-range threat. The other guys were a little niftier and that stuff, but James had those great averages per catch."
On whether the entire staff was on board with the Lofton pick by draft day: "We really sweated that Lofton pick out in the end. Buffalo picked ahead of us and we were afraid they were going to take him. They ended up taking that (Terry) Miller kid, the little running back out of Oklahoma State. We were scared if they took Lofton that might have had to be our pick and we didn't want to go that way at all."
On middle linebacker Michael Hunt, a second-round pick in 1978 after the Packers had taken outside linebacker John Anderson with their second first-round choice: "The guy who would have been really good, but injuries killed his career was Michael Hunt. He could run and he had a pretty good nose for the game. He didn't have the nose that John Anderson had, but he was good enough. I think the biggest problem he had was that I don't think he took professional football that seriously."
On injury-plagued running back Eddie Lee Ivery, the Packers' No. 1 pick and 15th overall in 1979: "To remember how terrific he could have been just makes you sick. We lost him before he had a chance to do it. He ran with power. He ran with speed. He ran with elusiveness. He could catch the ball. With Eddie Lee, it was just a shame. He had a chance to be really special. He was one of those deceptive guys. He really carried his pads well. I thought he was everything you wanted in a back, just a complete guy."
On exactly how good he thought Ivery might have been if not for the knee injuries: "I think he might have turned out to be a Hall of Fame kind of guy. He was so gifted and so special. He was just tremendous and he was a good person at that time. He got into those drugs because of the pain. I liked his running skills: The God-given natural running ability. At the time, I liked his speed. And, this is hard to believe, I liked his durability. He had been such a workhorse for Georgia Tech."
On running back Steve Atkins and nose tackle Charles Johnson, the Packers' second- and third-round picks in 1979:"We didn't need Atkins. You didn't need two running backs, but on our board, value wise, he was the top-rated guy. Bart called Jerry Claiborne, the coach at Maryland, and that was a factor."
On passing up quarterback Joe Montana to select Atkins and Johnson:"It was a tough deal. Zeke (Bratkowski) went out and worked (Montana) out in Santa Monica and Zeke wasn't that enamored with the guy. That made it tough for Bart."

On scout Red Cochran's pleas in the draft room to take Montana: "He kept bringing him up as we talked about players. Red was persistent. It wasn't that his suggestion was ignored. It was considered. Everybody kept thinking about that ice bowl game he played in (the 1979 Cotton Bowl) and it was an unbelievable performance. Red kept going on that. But (Notre Dame coach) Dan (Devine) didn't like him. So through some phone calls and some things trying to put this together, it was hard to find people to jump in Red's corner. I don't know why the (heck) Dan didn't like the guy. He made him a winner. But that was between Dan and Bart, I guess."
On drafting Penn State's Bruce Clark to play nose tackle and losing him to Toronto of the CFL after taking him with the fourth overall pick in 1980: "We flew back there (to State College, Pa.). We chartered a jet: (defensive coordinator) John Meyer, Bart, (team doctor) Herb Tressler and myself. We met with the kid, went to lunch. We gave him a physical to check that knee out. We talked with (Joe) Paterno. We had a full day back there. And we talked to Bruce about being a nose tackle. We were very open about it and everything seemed to be going well. When we left, we assured him that if he was there when it came our turn to pick, we'll probably make the commitment to you. It was fine with him and everything. We get on the plane to come back and talk about it more. It seems to be a natural fit. Then, (heck), we draft the guy and the rest is history."
On linebacker George Cumby, the Packers' other first-round pick in 1980: "Even though he was undersized, we felt with our style of defense, he'd fit real well. Again, he was small. If we'd a had a big nose tackle like they have now where we could have protected the linebackers, Cumby would have more than held his own. He could run like (heck). He was a good football player. Oklahoma didn't have dogs on the team at that time."
On cornerback Mark Lee, the Packers' second-round pick in 1980:"That was one of our better picks. He was the same thing in college that he was for us. He always made plays. You could always count on him. He was extremely consistent. And he always played well. He could run. He had ball skills. He had coverage skills."
On Starr's decision to ignore his advice to select Ronnie Lott and instead pick quarterback Rich Campbell with the sixth overall pick in 1981:"I was dumbfounded. At that time, we had levels in the draft. Lott was as high as you could go in our draft room because the ceiling was there. Rich Campbell was a couple levels below that. I mean we were down to cloud level, not above the clouds where we had Ronnie Lott."
On guard Ron Hallstrom, the Packers' No. 1 pick in 1982: "When Forrest took over, (Jerry) Wampfler didn't want (Hallstrom) and that made it so tough. Jerry (the offensive line coach) wanted guys nobody knew anything about so there wasn't any pressure on him. He didn't think you ever took a lineman with a first pick. I'll tell you what. Forrest calls me in the office one day and he's ranting and raving about, 'That (bleeping) Hallstrom. He's lazy and he won't do this. How in the (heck) could we have invested in a guy like that No. 1?' He's going on and on. He says, 'What did you see that made you think this guy could play?' So, I went back and got three, four film, brought them up to his office and gave them to Forrest. Forrest grinds the film. He comes down to my office later in the day and says, '(Gosh darn), this guy has to be a player.' When he said that to me, then he went to Wampfler and made Jerry coach the guy. The whole attitude in that building changed. After Forrest saw the film that we evaluated the guy off of, he made a 360. He came back and said, 'The guy will be a player. He's got to be a player. And Wampfler has got to coach him.' The thing really solidified and became a solid position once Hallstrom got in there and Forrest Gregg made his offensive line coach play him. I liked (Hallstrom's) athleticism. He was a big man back in those days."
On cornerback Tim Lewis, the Packers' top pick in 1983: "People will never know what he could have been without that neck injury. He had a great feel for the game. He was a good tackler."
On trading for wide receiver John Jefferson in 1981 and whether he had anything left: "Very little. I think he lost it along the way. I think somebody wrote an article before we went into the playoffs against St. Louis that we weren't utilizing J.J. and all this and that. (Bob) Schnelker was working like (heck) to put things together – him and Lew (Carpenter) – trying to involve J.J. and he couldn't get open. It didn't matter how much we schemed, he just couldn't get open against certain coverages."
On whether Jefferson was out of shape or in decline at age 25, 26: "He had that little butterball look to him, but it was primarily a speed problem. He wasn't built to run. He was kind of chubby looking. He was a good receiver. He just lacked the real burner speed. The separation thing was always a problem."
On left tackle Karl Swanke: "Karl was very good. He was way better than a stopgap guy. I don't know if you remember, he was on special teams. He ran down on punts or something. He was a good football player. He wasn't outspoken and didn't toot his own horn and gain a lot of notoriety about himself, but he went about his job and was very good."
On left guard Derrel Gofourth: "Derrel was an old-fashioned tough guy. Oklahoma State – they don't have many soft guys down there. He wasn't a great athlete. Again, he was a guy who was a football player. If you're going to go to the combine, you wouldn't pick him. But if you wanted to win a football game, you just might.
On center Larry McCarren: "Larry was an undersized guy who was just tougher than (heck) and played through pain and injuries and all kinds of problems. He was a real good workhorse guy that we could really count on."
On right guard Leotis Harris: "He was one of those late-round guys who just developed. Very good player."
On right tackle Greg Koch: "He was very good. Greg was a smart guy. All these guys we're talking about were kind of the same guys. They didn't get a lot of notoriety, but they were all pretty good players."
On guard Rick Scribner, who was drafted between Koch and Gofourth in 1977: "The guy who was a disappointment was the guy we didn't want to take, but when we involved the coaches, this was the guy (offensive line coach) Bill Curry fell in love with."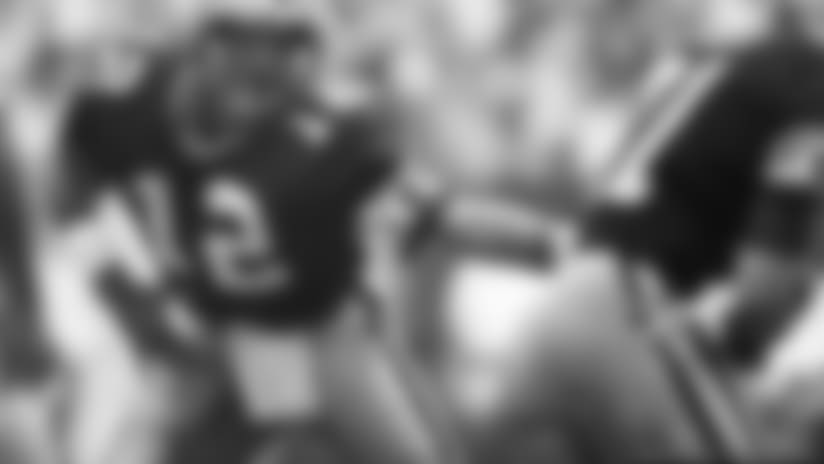 Lynn Dickey in 1984, in a game against the Dallas Cowboys.
On quarterback Lynn Dickey: "I know everybody talks about how tough Favre is. I'm not sure Lynn Dickey isn't right in there with him. The difference was that Lynn's injuries were major. He played hurt all the time. But when he got injured – a broken leg, dislocated hip – he had two injuries that might have prevented a lot of people from ever playing again. But he was a terrific passer. And he threw the long ball probably as good as anybody in a long, long time."
Comparing the arm strength of Dickey and Favre on deep outs:"Favre clearly has a better arm, but I think Lynn's timing on that out was just as good as Favre's ability to gun it out there."
On Dickey's mobility: "He had almost no mobility. He was a classic pocket passer."
On running back Gerry Ellis: "He was terrific. He was a smart guy. He ran well. He had balance."
On defensive end Ezra Johnson: "We killed the golden goose. What did he have like 20½ sacks his second year? Then John Meyer convinces Bart we have to go with the odd-man front instead of going with (Hanner's) defense. All of a sudden, Ezra ends up playing head-on against a big-(butt) tackle instead of playing in space. And we spent a couple years trying to find a nose tackle."
On his meeting with Starr after Johnson was involved in a hot-dog eating incident during a preseason game in 1980 that led to the abrupt departure of defensive line coach Fred vonAppen:"I was out scouting and knew nothing of the incident until Bart called me into his office. He said, 'We're going to have to trade Ezra Johnson.' I said, 'Why Ezra? He had 20½ sacks two years ago.' Bart says, 'Because Fred vonAppen insists that we get rid of him.' I looked him in the eye and said, 'Then I think you should get a new defensive line coach.'"
On nose tackle Terry Jones, an 11th-round draft pick in 1978: "Thank God we had him. He played and he played well. You could count on him every Sunday. He was being double-teamed in there. He wasn't one of those 320-pound, 350-pound nose tackles that everybody is playing with now. He was just a good athlete. He had quickness. He could take the gaps. And he was strong enough at the point of attack."
On linebacker Mike Douglass, a fifth round pick in 1978: "He was terrific, just undersized. Mike Douglass was so athletic for his size. All he was was a playmaker."
On linebacker Rich Wingo: "He was an even defense guy. When they went to the odd, he was in trouble. If we would have stayed with the 4-3, I think he would have been very good. That's what he grew up in, that's what he played all through his life. But he just wasn't the same guy when we went to that 3-4 with his keys and stuff. Maybe in time if he hadn't been hurt, he eventually would have picked it up. But it was a real learning curve for him."
On Starr's decision to switch to the 3-4 in 1980:"Everybody we drafted was kind of picked for the 4-3. Then we made the change because everybody else was playing the 3-4. I don't know how many years it took us (to learn it). (Heck), if it hadn't been for Terry Jones, we never would have had a nose tackle. Jonesey bailed us out on that. We got ready to go to the defense and didn't have anybody that was the foundation of that thing. We didn't have anybody to anchor that middle. Somebody had to take on two blockers all the time and we didn't have that guy. That was one of those times, we should have gone up and drawn our personnel up and figured out who we had before we started thinking too much about it. We had those undersized linebackers and nose tackle. And we had a real good rush defensive end who was going to be neutralized because he had to take on a blocker every play."
On safety Johnnie Gray: "He controlled and ran that defense, the secondary. For a guy who was a free agent, he had a (heck) of a career."
On his first draft with Gregg and their disagreement over taking defensive end Alphonso Carreker with the 12th overall pick in 1984: "We had Boomer Esiason at the top of our board among the quarterbacks and at the level we were picking. But Forrest walked in and said, 'If you think I'm going to take a quarterback when we're the 26th team in defense or whatever it was, they'll run me out of town if I don't draft a defensive player.' I said, 'Geez, coach, we don't have a defensive player worthy of that pick.' He said, 'Find one.'"
Corrick died in 2008 at age 74. The excerpts above were taken from interviews conducted in 1999, 2004, 2005, two in 2006 and one in 2007.