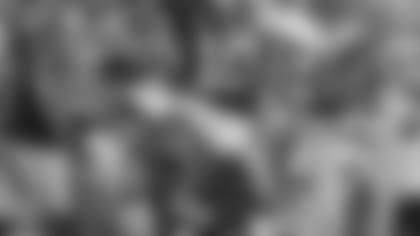 GREEN BAY—Aaron Rodgers and Robert Griffin III, more popularly known as RG3, are quarterbacks of dramatically different styles, but they share one common bond: Their teams are 0-1 and face each other in a game this Sunday that could be pivotal to each of their seasons.
Rodgers and the Packers lost in San Francisco last Sunday. The following night, RG3 and the Redskins got blown out by the Eagles in the first half of a game that ended 33-27 in the Eagles' favor.
"We made our coaches look bad on a national stage, and that's not the way this organization is run, not the way we run as an offense. We'll clean that up and we gotta do that this Sunday," Griffin told Packers media on Wednesday.
Griffin burst onto the scene last year as the savior of a Redskins franchise he led to the playoffs. It was in a playoff loss to the Seahawks, however, that Griffin sustained a major knee injury that kept him inactive through the preseason and brings him to Lambeau Field this Sunday with only one game of action under his belt since that high-profile injury in the playoffs.
"I think that's an excuse," Griffin said to a reporter who asked if the preseason inactivity had limited Griffin in the season-opening loss. "I'm not in the business of making excuses. We're responsible for the way we play; we didn't play very well in the first half. We turned it on in the second, but it was too late by then. We just have to make sure we play 60 minutes."
A loss on Sunday would be devastating for either team. The Redskins host the Lions the following week. The Packers go to Cincinnati. An 0-2 start would cast a dark shadow.
"I feel good. We all made it out of the game healthy and that's the most important part of it. We just want to make sure we go get the win," Griffin said.
The Redskins offense is built around Griffin's dual threat. He's one of the game's new-age quarterbacks, capable to making big plays with his arm and his feet. Coach Mike Shanahan is renowned for strong rushing attacks, which he built last season behind then-rookie Alfred Morris.
"I think a great running game is a quarterback's best friend.   A lot of quarterbacks can do it without a great running game; usually those guys are very talented, they've been in the league for a while. But if you do have a running game and a good passing game, it's hard to stop," Shanahan said.
So, for the second consecutive week, the Packers will be facing a team with a new-age quarterback who is armed with a strong running game. It's a daunting challenge, but is RG3 fully recovered from last winter's knee injury and subsequent surgery? Will the Packers be facing the real RG3, or an RG3 in the process of making a comeback? They are questions only time and his performance will answer.
"It's always good to get back out there and play with your teammates in a meaningful game. The biggest challenge for us is just getting the W. Whatever that entails is decided on game day, is decided during the week, during preparation. We'll make sure we do everything we possibly can that it turns our way," Griffin said.
"The bottom line is Green Bay didn't win, we didn't win. We've got two teams that are hungry to get a win. They're going to meet on the field in Green Bay, and that's all you can worry about. We just have to get ready to prepare and that's what we're going to do." Additional coverage - Sept. 11