On the first Saturday of every month, Mark will write about a topic of interest to Packers fans and the organization, and then answer five fan questions. Fans are encouraged to email Mark with their name and hometown at: *MurphyTakes5@packers.com.*
Now that it's been almost two weeks since our season-ending loss to the Falcons in the NFC Championship Game, I've been able to reflect back on our 2016 season and try to put it in perspective. It was a fascinating season, with many ups and downs. The four-game losing streak in the middle of the season was certainly the low point, but I thought the team showed great resiliency in winning eight straight games to get to the NFC Championship Game. The loss to the Falcons was disappointing, especially considering that we had been playing so well leading into that game. While the ending was disappointing, overall I was very proud of the way our team played, including the two playoff wins. If we can play next year the way we did during the winning streak, we will have a good chance to secure home-field advantage in the postseason.
In my role, I think it is important to have a longer term perspective, rather than focusing on individual losses or one season. While our eight-game winning streak was a pretty good run, a look back at the last 10 years shows that we've been on a good run for a while. In almost all categories, the Packers finished second among all NFL teams from 2007 – 2016. Here's a snapshot of the top five: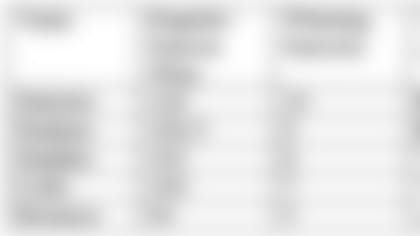 Although it is obviously disappointing that we have only won one Super Bowl during this stretch, we are giving ourselves a legitimate chance each year to win a Super Bowl. Interestingly, the Patriots have also only won one Super Bowl over the last decade (although that may change tomorrow). The fact that so many different teams have won Super Bowls during the time period (the Giants are the only team with more than one Super Bowl win), illustrates both the great parity in the league and how difficult it is to win Super Bowls.
Now, on to your questions:
Considering the Packers have perhaps the most recognizable and bankable history in which to market, what opportunities and challenges does it pose outside the state of Wisconsin? I am pleased with the development plans for the Titletown District, but that is to draw people here. I'm curious about our impact nationally and globally as the NFL grows.
Thanks, Drew. Although we play in by far the smallest market in the NFL, I do think we are a team that is popular both nationally and internationally. We are consistently a very popular draw in terms of the TV ratings for our games. I think our ownership structure is a key factor in this popularity (we have shareholders all over the country). Our history and tradition is obviously very helpful as well. Also, our Packers Everywhere program and our website are helpful in connecting fans across the country with the team. While our top sponsors tend to be local and regional businesses, we continue to grow our Packers Pro Shop business online, which is national and international. Finally, as I explain below, we would love to play an international game as it would help increase our popularity internationally.
Brendan from Edinburgh, Scotland
Not a question as such, but more of a desperate plea...Please bring the Packers over to Wembley!
We would love to play in London, Brendan. I think our fans would enjoy traveling to London, and I think our fans in Europe would be happy to see it as well. We still would never give up a home game to go to London. There will be four games in London this year, and we know that we will not play there (three of the teams will be playing their first game in London). Our next chance to play in London is 2018 – we are scheduled to play the Rams in LA. Since they are playing in a temporary stadium, there is a chance that it could be moved to London.
What did you think of the Pro Bowl in Orlando this year?
I actually went to the game, Scott, and was pleasantly surprised. I thought the quality of play was much better than in recent years. The city of Orlando did an excellent job promoting the game (it was a sellout), and the practice facilities at Disney's Wide World of Sports were excellent. I noticed fans from almost all NFL teams at the game. It is much easier for fans to travel to Orlando than Hawaii, and the Disney theme parks were a strong attraction for families. Orlando is scheduled to host the Pro Bowl again next year, and based on the success of this year's game, it has a good chance to be a long-term host.
Mr. Murphy, is there a way to alter the commercial schedules during the games so that there are longer breaks between quarters and possibly halftime, but fewer breaks within each quarter? I ask because the experience at the stadium can be very slow with all the downtime caused by the constant TV timeouts.
Great question, John. This is actually something that the league is studying. In fact, during Week 17 games this year, the league experimented with a different format for commercials. The league has also experimented with in-game commercials and is looking at ways to speed up the game (i.e. changes to the administration of instant replay). I think you will see some changes next year, although I don't think there will be fewer commercials (less revenue). I know that fans don't like the extra point- commercial-kickoff-commercial sequence!
What is the energy like at a stadium where the whole town shuts down and everyone goes to the games?
There is nothing quite like a game at Lambeau Field, Cory, especially a playoff game. I thought the energy at Lambeau Field for our playoff game against the Giants was the best I'd seen in years. We are very fortunate to have the kind of support that we do, both at home and on the road. I think that our ownership structure is helpful to us in this regard. Our fans have a much stronger connection to the team than fans of other NFL teams, and, as a result, they bring tremendous passion and energy to our games.