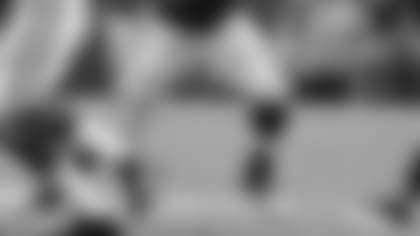 RB Eddie Lacy
GREEN BAY—Packers running back Eddie Lacy didn't practice all week, but he still has a chance to be medically cleared for Sunday's game in Cincinnati.
Lacy is listed as questionable on the injury report with a concussion, which he sustained on his first carry against Washington last Sunday.
Mike McCarthy announced earlier this week that James Starks would start at running back for the Packers against the Bengals, but the head coach is holding out hope Lacy will be available in a backup role.
"We still have time," McCarthy said. "The doctors are evaluating, going through the protocol. I know Eddie wants to play, so we'll see what happens."
McCarthy added that Lacy was part of the game-planning discussions earlier this week with the coaching staff, believing there was a "good chance" he'd be able to practice before week's end. That's an indication of how close he is to getting cleared but, if he plays, he'll be doing so without any reps since that one carry last Sunday.
"It's not ideal for a rookie to go through the week without any preparation and then play in the game, no question about it," McCarthy said. "I'm not excited about it. But we want 46 players we feel give us the best chance to beat the Cincinnati Bengals."
Also in the offensive backfield, fullback John Kuhn (hamstring) is listed as doubtful. If neither he nor Lacy can play, the Packers would be down to two running backs in Starks and rookie Johnathan Franklin, and McCarthy said on Thursday he's prepared for that scenario.
Another option would be to sign practice-squad running back Michael Hill, a rookie, to the active roster. That would have to be done by Saturday afternoon in order for him to be active for Sunday's game.
The Packers often use tight ends as fullbacks, so with Kuhn unlikely to play, some of his duties would fall to Andrew Quarless, the best blocker amongst the Packers' tight ends. Having missed all of last season to a knee injury sustained late in 2011, Quarless has seen his workload grow game by game thus far in 2013, and Kuhn doesn't feel the offense will have to adjust much.
After all, it was Quarless throwing one of the key blocks on Starks' 32-yard TD run against the Redskins.
"He's pretty solid at that spot," Kuhn said of Quarless. "He knows what he's doing, coming from the backfield. 'Drew has been a good blocker, a steady blocker since he got here. I know they feel comfortable with him."
Three players have been ruled out for the Packers, all in the secondary and all with hamstring injuries. Safety Morgan Burnett and cornerback Casey Hayward will miss their third straight games, while cornerback and special teams ace Jarrett Bush will miss his second straight.
Cornerback Tramon Williams was added to the injury report on Friday with a groin injury and was limited in practice, but he's listed as probable for the game.
"I feel with the 48 hours of treatment (he'll be fine)," McCarthy said. "Just being cautious." Additional coverage - Sept. 20