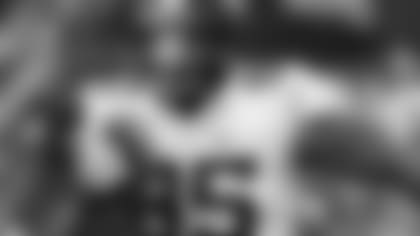 North Carolina TE Eric Ebron
I look at the roster and do not see many open slots for the nine picks we have. Is this the year we trade up for the last remaining needs we have?
Vic, I enjoyed the prospect primer on Chris Borland. What I like about this kid is that he's not flashy, not a big hitter, but he's reliable and a sure tackler. What are your thoughts on him?
Pure football player. He was right behind Aaron Donald as the most impressive player at the Senior Bowl.
Ethan from Grand Forks, ND
I think I'm more excited about John Kuhn being re-signed than the acquisition of Julius Peppers. What's the most exciting offseason move the Packers have made, in your opinion?
It's the acquisition of Julius Peppers. I think I'm finally going to see the Dom Capers I had always known. By that I mean I think I'm going to see the Packers do some Capers-like things on defense, most notably the zone blitz for which Capers' defenses are famous. Remember the B.J. Raji interception in the 2010 NFC title game? Where has that been since then? Well, in 2011 the defense struggled with the basics, which kept them from delving deeper into the playbook. In '12, Capers was plugging in a lot of rookies, which meant having to stick to the basics. In '13, injuries left the defense hanging on for dear life. My hope is the acquisition of Peppers, the continued development of young talent and the return to health of players such as Clay Matthews will allow Capers to empty his bag on opponents. First, you have to know you have players that can execute those schemes. Maybe now they do.
What? Nobody likes neon? Relax, Frances, April Fools only comes once a year.
Oh, no, Darren. I'm calling baloney on that. You were serious and I'm gonna take Wednesday's "Ask Vic" down to the Vince statue and read to him what you wrote. If the doorbell rings, don't answer it. David from Tomah, WI
Watching the 1994 Packers-Cowboys game on the NFL Network, I can clearly see the physicality of the game 20 years ago compared to now. What is the most physical game you remember covering?
The NFL has yet to see Lacy and Rodgers together for a full season. Do you think Lacy will benefit from Aaron, or will Aaron benefit more from Lacy?
I think we witnessed dramatic evidence of Eddie Lacy's impact on the offense last season. The big play returned. I saw more single-high safety in a game last year than I saw in the whole season the previous year. Lauren from Richmond, VA
I realize you are very knowledgeable about football and that you think most of your responses to fans' questions are either witty or amusingly sarcastic, however, they are not. Many of us fans think you give the message forum a negative vibe. I think it's time for the Packers to hire someone a little bit more likable and "with the times." Furthermore, you represent the Packers organization poorly. As you are a face and voice of the Packers, I find it highly disappointing the way you respond to passionate fans.
Nathanael from Nekoosa, WI
In your mind, what makes a first-round pick?
He not only has to act the part, he has to look the part. No over-achievers; the later rounds are for them. I need to know I'm drafting a guy who plays well and has room to improve.
Matthew from Maffra, Australia
Do you think John Kuhn would feel any resentment toward the Packers for only offering him a relatively low-money, one-year deal?
That's why you allow players to test free agency. You have to allow them to seek their own level. It allows them to discover their true worth and make an informed decision based on reality, not speculation. From the team perspective, you must never overpay. That is the No. 1 rule in salary cap management. If you overpay for one guy, it'll damage your payroll structure and send the wrong message to every player on the team. Fans tend not to care about that kind of stuff. They only care about winning. This is how you win, so fans should care about it.
What officially counts as a game started?
If a player is on the field with his unit in its first play of the game, but doesn't play in another play the rest of the game, he's credited with a game started. Great stat, huh?
Brandon from Dickinson, ND
A lot of mock drafts have the Packers taking C.J. Mosley. Do you think that would be a good pick?
Yes, I would consider that to be a good pick. Mosley would be a classic case of value and need meeting.
Conner from Germantown, WI
Relating to the re-signing of John Kuhn, have you noticed the somewhat unique way Packers fans love their fullbacks?
What if his name was Smith?
Do you think Alex Karras will ever make it into the Hall of Fame?
He would if it was my decision. He was the dominant defensive lineman of his day, a member of the 1960s all-decade team. Suspension? Didn't keep Paul Hornung out of the Hall of Fame. How do you put a punter into the Hall of Fame and keep Karras out? It's laughable.
Could you see a scenario that we would go WR with pick 21?
There are guys that fit near the bottom of the first round, but this is a wide receiver-rich draft; you could get your guy in the later rounds. The player of intrigue for me is tight end Eric Ebron. He would be a perfect fit in this offense. Ebron is projected to go near the middle of the first round, before the Packers pick, but I won't be the least bit surprised if there's a run on quarterbacks early, and that could push a guy like Ebron down.
Vic, it's dangerous to wish to go back to the beginning and start over. You should know better than any of us how many times the league could have failed. If football started over in the modern culture, it might never flourish like it currently does.
You're right. The popularity of this game was built on the controlled violence it espoused. A wise man once said to me that the charm of the game always has been and always will be violence, but now we're trying to change that culture and if the wise man truly was wise, it might not work.
Don't you recall that when Rodgers was injured last year he was caught from behind?
I was providing a figurative example. Please, allow me some wiggle room. Let's not make this an exercise in finding the hole in every opinion or the exception to every rule. It has long been accepted that first a quarterback's legs go, then his arm goes, and that he can play without his legs, but he can't play without his arm. That's what I was figuratively attempting to express. The careers of Unitas, Montana and Marino were ended by declining skills. They lost something off their fastball, so to speak. It appears that's how Peyton Manning's career will end. I see some of it in Tom Brady now. John Elway lost his legs and got out before he lost his arm. Terry Bradshaw's career was ended by arm surgery. Others felt the onset of age and retired. Rodgers has been relatively injury free; the collarbone injury was to his left collarbone. He's years from the decline stage.
Michael from Columbia, MO
I'm glad you said it, Vic. I'm tired of hearing the Packers fans talk about class. I love the Packers but the "classy" talk comes off as pretentious and condescending. If you want a classy sport, play golf; leave my football alone. I like the attitude of the game just the way it is.
I like football spicy. I seek confrontation and combativeness. I get all the political correctness I need in real life.
Vic, I keep hearing all sorts of people projecting Sammy Watkins to go in the top 5-10 of this draft. What do you know of him?
I think he's special. At a position I regard as a dime a dozen, Watkins is one of those rare receivers that might be worth a top 10 pick.
Vic, if the Packers pick up a wide receiver in one of the later rounds, which ones do you think rate consideration? Are there any that stand out to you that might be there in rounds 2-7 that you and/or Tony had your eye on but we non-college football watching fans might not know about?
There are loads of them. I love Jared Abbrederis. I think he could be a Wes Welker. I'm not hearing much love for Allen Robinson, but he's a big guy and he dominated against top competition. Where would he fit in a draft that wasn't as deep at wide receiver? Jordan Matthews and Devin Street are big guys that are ticketed for the middle rounds. Corey Brown is a talented guy who might go undrafted. Cody Hoffman is a big possession receiver who'll go late in the draft. Kevin Norwood was under used at Alabama and some expect he'll have a better pro career than he did college career. Jalen Saunders is a poor man's DeSean Jackson. He's 5-9, 165, and those numbers will drop him into the late rounds, but what I saw at the Senior Bowl was a guy who was scary in the open field. I'll be doing a one-hour draft chat next Tuesday at 11:30 a.m. CDT. Please join me for the chat on packers.com.
Vic, I love the column and your penchant for straight talking. I answered your question about why people get angry when you give them your opinion on April Fools' Day with my tongue firmly in my cheek. Us Brits love a bit of sarcasm.
I can do nice. Maybe we need a "Nice Vic Day."
Brandon from Saint Paul, MN
In your last "Ask Vic" you stated that a fan should be expected to know the rules governing bonus amortization. Do you truly think so? As long as the league can entertain me, why should I care about the details of business in the NFL?
You are absolutely correct. I was in error to suggest that fans of today need to understand the inner workings of the salary cap for fans to fully understand and appreciate professional football. You don't have to know the cap to know football. Thank you for calling this mistake to my attention. Minnesota has always been one of my favorite places. It has a lot of great Packers fans such as yourself, and I would never want to do anything that would offend them. Go, Pack, go!