CB Brandon Smith intercepted a pass in the end zone intended for WR Jeremy Ross on Family Night.
GREEN BAY—It's a story all of the Packers' young defensive backs have heard.
How six years ago, during the annual Family Night scrimmage, an unknown cornerback got himself on the radar by intercepting a deep pass from Aaron Rodgers during a two-minute drill and then later drilled a receiver coming across the middle and separated him from the ball.
A month later, Tramon Williams made an NFL roster for the first time. At that point, Williams had been cut as an undrafted rookie by the Houston Texans before joining the Packers' practice squad late in 2006. That 2007 Family Night scrimmage became the de facto start of his pro career.
Right now, there's no way to know whether James Nixon or Brandon Smith will be telling a similar story six years from now. No one can make the team on Family Night alone, but with their interceptions on Saturday night at Lambeau Field, these two cornerback prospects have put a foot on the right path.
"Most of those guys who come in, they're aware of the importance of this night," Williams said after Saturday's scrimmage. "Obviously I always tell them my story, and that's how you get spotlight on you at that point. You come out and make a first impression. Those guys did that, and I'm glad to see that still lives on."
Nixon's story resembles Williams'. As an undrafted rookie last summer, Nixon was cut by the Arizona Cardinals. A month later, the Packers signed him to the practice squad and then brought him back this year to see if he can make the team.
His interception returned for a touchdown on Saturday was the defensive play of the night. Knowing he had safety help over the top, Nixon jumped a short route by receiver Jeremy Ross, and quarterback B.J. Coleman's throw came right to him. Ross fell down on his break, but Nixon had position and likely would have picked it off anyway. By falling, Ross just made the interception easier, and left 65 open yards in front of Nixon.
"I didn't know exactly what route was coming," Nixon said. "It was just a defensive call that allowed me to jump the route on any type of underneath throws."
Cornerbacks Coach Joe Whitt Jr. has said if there's any defensive back on the team as fast or faster than Sam Shields, it's Nixon. In and out of practice during the week with a troublesome knee, Nixon showed no ill effects in the open field. He said adrenaline certainly helped.
"Once I caught it, I just knew I had to get to the end zone to open the coaches' eyes and my teammates' eyes and let them know what I'm capable of doing," Nixon said.
Smith did that on the first day of practice, when he intercepted a Coleman pass intended for undrafted rookie tight end Jake Stoneburner in seven-on-seven.
His big play on Saturday night was far more impressive, especially for a player who converted from receiver to cornerback over the past two years while out of the game. Right on Ross' hip on a go route to the end zone, Smith read the receiver's eyes, turned his head at the perfect moment and snagged Coleman's underthrown lob while crashing to the turf.
Smith said afterward that at 6-1, 205, he feels he has the right frame to guard bigger wideouts, which is what prompted him to switch positions after two failed tries to make it in the NFL as a receiver two years ago. He wants quarterbacks to try to throw the ball over his head.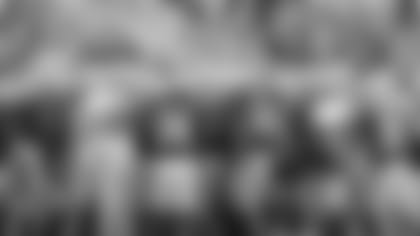 "With the size I have and the speed, I want to get up in these receivers' faces and try to stop everything at the line before anything gets started," Smith said.
Smith started this year, at his new position, at the bottom. He came to Green Bay as a tryout player during rookie orientation weekend and earned a contract. Since then, he said he's received loads of encouragement from Whitt, which has boosted his confidence.
"I want to get out here and do everything I can, soak up everything the coaches tell me," he said. "I always fought and kept myself in shape and kept training for a moment like this. I just want to give it all I've got."
Williams was saying all those same things six years ago. Now he's a team leader at the position and watching who might follow in his footsteps.
"I like all my DBs," Williams said after the scrimmage. "Those guys have been putting in a lot of hard work. There's been a lot of competition out there. For them to come out and have games like they did today, it's always good to see."