INDIANAPOLIS – Defensive prospects took over the media center while offensive players took the field for workouts on Saturday at the NFL Scouting Combine.
Here's a handful of highlights.
1. Ohio State pass rusher Nick Bosa admires his cousin in Green Bay.
Bosa is cousins with Packers receiver Jake Kumerow and their roads to the NFL couldn't be more different.
Bosa, who has recovered from a core muscle injury and surgery that limited him to just three games in his final season for the Buckeyes, declared early for the draft and is a possible No. 1 overall pick anyway.
A part-time player when he first arrived at Ohio State, Bosa may have less college film than any potential No. 1 pick in a long while, but what he does have looks dominant – 12 1/2 sacks and 22 tackles for loss over his last 17 games.
"I'm gonna show it this year as a rookie," Bosa said. "I didn't get to show as much as I wanted at Ohio State because it got cut short. I have a lot of football left to play in my career."
Kumerow hopes the same after catching his first NFL touchdown pass last season against the Jets in Week 16.
In a football-mad family, Kumerow by far had the toughest row to hoe, going undrafted from the Division III ranks at Wisconsin-Whitewater and spending multiple years on practice squads before finally cracking Green Bay's 53-man roster late last season, after a stint on injured reserve, no less.
By contrast, his father, Eric, was a first-round draft pick, while Bosa's father, uncle and brother were also first-round picks – brother Joey going No. 3 overall to the Chargers just three years ago. Nick could beat them all, but he's also in tune with what his cousin has gone through to get where he is.
"Yeah, we're tight. We grew up together," Bosa said. "He's a great dude, and hopefully gets a good chance with the Packers next year.
"It's definitely a different path than I'm going to go through, but I just admire it, because you could easily call it quits and go on with your life. But I think he's at his best right now, so hopefully he gets a few good years of actually playing."
2. Michigan's Chase Winovich has a great idea for a draft party.
When the relentless Winovich, who recorded 13 1/2 sacks and 34 1/2 tackles for loss over his final two seasons with the Wolverines, heard that Clay Matthews and Von Miller trained in the offseason at Proactive Sports Performance outside Los Angeles, he signed up to do the same.
"For me that was like, OK, no-brainer when you're talking edge rushers," he said.
Winovich's long, blonde hair is very similar to Matthews' of course, but he has yet to meet him (though he has met Matthews' father and brother). So Winovich, pegged as a likely Day 2 draft pick, has a nifty promotional plan for draft weekend that would incorporate one of Matthews' endorsement deals.
"I'm hoping we can do something. I reached out to Jack Link's, I tweeted at them, about having Sasquatch at my draft party," Winovich said. "Hopefully we can get him in a blonde wig. I'm hoping we can do Papa Sasquatch and Little Sasquatch, the up-and-coming. I doubt he's going to sign off on that, but he's with my agency, so you never know."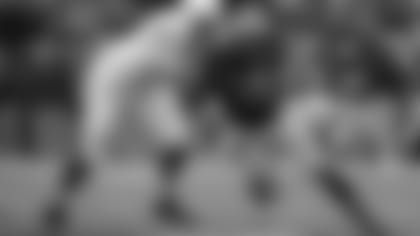 3. Two of the top defensive players in this draft both love, and own, horses.
LSU inside linebacker Devin White and Houston defensive lineman Ed Oliver are both possible top 10 picks. They're also both horse lovers and take their beloved animals very seriously.
White has been riding since age 5 and got his first horse when his grandfather gave him $500, after his mom declined the enthusiastic youngster's request. He now has seven horses and wants to get into showing, racing, breeding, the whole gamut.
"It's a state of relaxation. You're in another world when you're dealing with them," said White, who plans to attend the Breeder's Cup after his campus pro day later this month. "It makes you mature faster, because it's way harder than having a dog as a pet. It makes you more mature."
Oliver provided a more direct benefit to football in describing a horse named Oreo he once had who was always trying to throw him off.
"I swear that horse tried to kill me a couple times," Oliver said. "Fighting with that horse is really the reason I became fearless, and why I'm able to go up against 6-5 and 300-pound guys. It's a walk in the park. If you can fight with a thousand-pound animal, I ain't worrying about no 300 pounds.
"That horse was stubborn and ignorant, but I love that horse to death. He was a thrill to get on, working with him. Helped me with my patience, and he honestly stripped me of fear."
4. Louisville receiver Jaylen Smith credits Packers cornerback Jaire Alexander for helping him get to this point.
Asked about their old battles on the college practice field, Smith's eyes practically lit up.
"People ask me every day, whether I'm talking to a scout or coach or anybody, who's the best cornerback you ever went against?" said Smith, whose best season was 2017, with 60 catches for 980 yards and seven TDs for the Cardinals. "I played against Jalen Ramsey, Mackensie Alexander, Will Jackson III, these are all guys who were early first-round, second-round guys. Trayvon Mullen (from Clemson), he has a chance to be a good, high pick this year.
"And it just always goes back to Jaire, and it's not even close. Not only was he technically sound, his charismatic attitude, his energy was unmatched. He'll bring the best out of you. Me going against him, the daily workouts, the daily practices, the daily grind for both of us, iron sharpens iron, and he just made me so much better."
Smith doesn't lack for confidence, but he says even his takes a back seat to Alexander's. He remembers one practice showdown in particular with the Packers' 2018 first-round pick that illustrated how competitive, yet productive, their workouts were.
"Sophomore year, I got him on a stop-and-go route, and the ball hung in the air for a little bit, and I was probably like 11 feet off the ground, felt like I was floating in the air," Smith said. "I was trying to snatch it, and me and Jaire were both falling down, and right before we hit the ground, he just knocked it out of my hand.
"It was one of those things where you want to be upset, but it was just a helluva play. I can't do much about that. You know how special he is, because even then, he gets up excited and comes shake your hand. 'Good play.'"
5. Equanimeous St. Brown's former Notre Dame teammates are looking for big things from the Packers' second-year receiver.
Fellow Fighting Irish receiver Miles Boykin was St. Brown's roommate at Notre Dame for two years, and the two have talked about the transition to the NFL, being ready for rookie minicamp, and carrying oneself like a pro.
In chatting with Green Bay scouts at the combine, a mutual opinion emerged that St. Brown, who had 21 catches for 328 yards as a rookie sixth-round pick last year, is just getting started.
"I knew he was going to ball, everybody at Notre Dame knew he was going to ball, it was just a matter of where it was going to be at," said Boykin, who had 59 catches for 872 yards and eight TDs as the Fighting Irish's No. 1 receiver this past season. "I think next year he's going to put up some really big numbers."
Another Notre Dame teammate, running back Dexter Williams, got some advice from St. Brown on preparing for the combine. He made sure to catch some Green Bay games on TV late in St. Brown's rookie year.
"Once he started playing a lot, I started tuning in," said Williams, who came up just shy of 1,000 rushing yards last year, gaining 995 with a 6.3-yard average and 12 TDs. "I saw he got a lot of compliments from Aaron Rodgers, so that was good."