GREEN BAY – Like so many who grew up in the Green Bay area, James Morgan dreamed of one day becoming the next Brett Favre or Aaron Rodgers.
He wore No. 4 in youth football and still remembers the time his parents let a 5-year-old Morgan stay up way past his bedtime to watch Favre's magical performance on Monday Night Football against Oakland in 2003, only days after the three-time MVP's father, Irv, had passed away unexpectedly.
By the time Morgan enrolled at Ashwaubenon High School, located less than a mile from Lambeau Field, he'd transitioned to Rodgers' No. 12, a number he proudly wore during his time at both Bowling Green and Florida International University.
"I was just mesmerized with how amazing that was and the performances (Favre) consistently put out. Just the gunslinger mentality I've tried to emulate with my own game," said Morgan at last week's NFL Scouting Combine.
"At the same time, you've got to have the Rodgers (mindset, where) it might be safer here to take the check down or something instead of trying to force it. I take a little bit from both of their games but definitely an inspiration for me."
Now a 6-foot-4, 229-pound draft prospect, Morgan has history in his sightlines in less than two months, as he seeks to become the first quarterback from the Green Bay area to be drafted since the Packers selected former Wisconsin quarterback Bud Keyes (Green Bay West) in the 10th round in 1988.
Despite the area's deep football roots, Green Bay hasn't been known as a hotbed for NFL talent in recent years. It was a big achievement seven years ago when another Ashwaubenon alumnus, Wisconsin linebacker Mike Taylor, simply received a combine invite.
Since then, De Pere's Drew Nowak (Seattle) and Bay Port's Alec Ingold (Oakland/Las Vegas) have made NFL rosters as undrafted free agents. Two Green Bay Southwest products, Kahlil McKenzie (2018) and Max Scharping (2019) also were drafted in back-to-back years.
"I'd say that there's an unfair stigma with high school football athletes in Green Bay and Wisconsin, in general, where you're really under recruited," Morgan said. "I think there's some really great guys that come out and end up making it, and it's a roundabout route, for sure."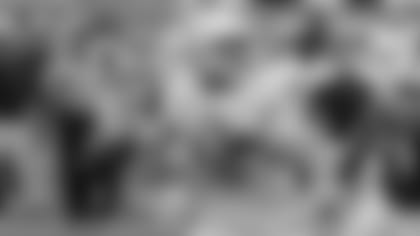 "I just had the belief in myself, this is my dream, and I really had a resiliency in myself that I could really do this," Morgan said. "Despite whatever that adversity that came up, I really had a firm belief that I could do this. I think you have to have that, especially at this position, the quarterback position."
That unshakable confidence is reflected in Morgan's willingness to stand tall in the pocket and deliver the ball. He also gained points from NFL scouts and personnel execs with how he played through injuries throughout his senior year at FIU.
Morgan saw his NFL Draft stock start to rise at the East-West Shrine Bowl, when he was honored with Pat Tillman Award, presented to a player who best exemplifies character, intelligence, sportsmanship and service.
Prior to the NFL Scouting Combine, Morgan reached out to both Ingold and Scharping, and the advice seems to have paid off. Morgan not only wowed scouts with NFL-caliber arm strength in drills, but also impressed in both his session with reporters and formal interviews with NFL personnel.
He hopes it all adds up to hearing his name called on draft night two months from now. If not, Morgan will do whatever it takes this summer to earn a spot on an NFL roster and prove he belongs. 
"I'd love to get drafted, but if I don't get drafted, I'm going to just work for my opportunity," Morgan said. "But I think that's something that Wisconsin athletes for sure have that hard-nosed, grind Midwest mentality, and that's why maybe they don't get drafted but a lot of them could make it eventually."