*As part of the Green Bay Packers' celebration of the 10th anniversary season of the Super Bowl XXXI Championship, Packers.com is running a series of stories about the people responsible for bringing the Vince Lombardi trophy back home to Titletown.
It's no secret that the weather in Green Bay isn't for everybody. Some choose to stay away altogether, while others learn to like it. In the case of Keith Jackson, he simply learned to live with it.
Initially, however, Jackson seriously contemplated not showing up in Green Bay at all.
Actually, after being traded to the Packers in March of 1995, Jackson sat out all of training camp as well as the team's first six regular season games.
But the tight end finally reported on October 20, indeed proving it is better late than never. Though it's impossible to know for certain whether or not the Packers would have captured a Super Bowl title the following year without Jackson, one cannot argue against what he brought to the Packers' table.
He may have been 30 years old at the time with already seven seasons in the league, but his skills were as sharp as ever. In fact, General Manager Ron Wolf gave up a second-round pick to acquire Jackson even though he knew there was a possibility he wouldn't ever play in Green Bay.
Fortunately for all parties involved, it never came down to that. Jackson showed up for work and provided the Packers with another downfield threat to go with Antonio Freeman and Robert Brooks. With Mark Chmura already in the fold, the Packers suddenly had a one-two combo at tight end better than any team in the league.
According to Jackson, being part of a great team -- one that he knew could win the Super Bowl -- and playing an important role in an explosive offense were the key factors in his decision to join the team.
When it came to his reluctance to be a part of the team from the get go, Jackson doesn't hide the real reason.
"It had nothing to do with Green Bay," Jackson explained. "It had everything to do with cold weather."
Jackson admitted just as there were misconceptions about him, he also had some preconceived notions about Green Bay. That is, until Reggie White set the record straight.
"You know, before Reggie White joined Green Bay, it was kind of a place you got drafted to, and you had to play there," Jackson said. "That was kind of the thought about Green Bay.
"Then Reggie White goes up there and says, 'Hey, God wants me to go up to Green Bay.' And he started calling around the league and telling people how great it is, how good the people are. 'Yes, it gets cold, but let me tell you something, it's a nice place as a football town, and you'll love it.' He became a huge ambassador at that time, across the NFL, in the offseason, at the Pro Bowl. He would talk about Green Bay all the time.
"It made me look at Green Bay for more than just this place like Siberia, but also for the football team that it had. And once you get there, the tradition, the history, you're just done. You're bought in for the rest of your life."
Jackson played in Philadelphia with White earlier in his career, and the two remained close friends through the years. Due to that friendship, Jackson trusted White's word on what Green Bay was like.
"Oh, he was huge in the recruitment of me coming up there," Jackson recalled. "Because I just left Miami and I wanted to go somewhere else warm and play. I was pushing Barry Switzer in Dallas. Buddy Ryan was in Phoenix. So, I was pushing to get to those spots where there were coaches I knew, already had relationships with, and guys that understood me."
The 6-foot-2, 249-pound Jackson wasn't thrilled about how he found out he'd been traded, either.
"I didn't know about it," said Jackson, 41. "I found out that I was traded to Green Bay on a flight back from Africa. I picked up a USA Today when I got to London Heathrow because I hadn't seen any news and I picked up the paper and there I was. That's how I found out.
"So, the whole thing didn't go down the way I thought it should. And it was one of the greatest blessings that could have ever happened to me. Sometimes we will miss a blessing and I almost missed out on that."
Chmura, Holmgren Gave Jackson Chance to Succeed in Titletown
Well, if Jackson was blessed to be in Green Bay, the Packers were certainly blessed to have him, too. Despite technically being a reserve behind Chmura, he finished with 10 touchdown catches in '96 and earned the sixth Pro Bowl selection of his career.
Perhaps what gets lost in all of this success is that Chmura was coming off a great season in 1994 and many players would have probably sulked over a new role. But when Jackson arrived in '95, Chmura embraced the idea of having such a talented tandem at Brett Favre's disposal. And that is what made this a successful setup in Jackson's mind.
"We had a one-two punch with me and Chewy," Jackson said. "And you talk about fitting a hat on a hat, and driving guys in the ground and blocking, as they say, 'blocking out the sun,' he could do it. Really when it came to all that pounding and contact, he took a lot of that.
"It was a great relationship between us two tight ends. And I realized my role at the time. It was to make big plays downfield. That was my job. This is what I do. At that point, it wasn't hard to do in the cold or the warm. But if I had to sit there and pound like Chewy did everyday making all those blocks, it would have been a lot colder."
It also didn't hurt that the commander of the team, Head Coach Mike Holmgren, engineered several ways to make the most out of not only Jackson and Chmura's talents, but the whole offensive unit as well. To this day, Jackson is still impressed by Holmgren's approach.
"I think that Mike Holmgren was one of the greatest offensive minds that I have ever been around," Jackson said.
"He's a brilliant mind and he's also an educator. And that's what I take from that season. I had many coaches, but none of them came from a background of education where they were educators and all they wanted to do was teach the game. He didn't scream and holler and tell you about your daddy, kick you in the butt, or grab your facemask.
"He was just an educator. He sat down, and he showed you why you should do certain things. That was a valuable season. Both seasons were, but the Super Bowl season, seeing him put the game plan together, and outthinking coaches, just from a veteran player's standpoint, that was fun to sit there and watch."
Big Play Made Possible By Reading Favre and Patriots' Defense
For a player who seemingly did it all in his career -- several Pro Bowls, a Super Bowl ring, putting up gaudy statistics -- Jackson no doubt has a bundle of memories too large to share.
Perhaps it's fitting that Jackson's fondest memory comes from the biggest game of his career. But chances are, you'd be very surprised what play it is that he remembers the most.
It turns out that Jackson didn't even catch the ball on the play, but his most enjoyable moment was the 54-yard touchdown reception by Andre Rison that set the tone for the game and gave the Packers a 7-0 lead.
"Brett Favre will check to where he wants the two receivers to cross and I think he called razor," Jackson explained. "You'd have one person running a corner and one person running a post, and he checks to it. But the problem is we're in a three-receiver set. Usually it's me and another receiver and we run the play. But I've got two receivers outside of me, and I see what he's trying to do.
"I saw Lawyer Milloy, who was a corner, trying to hold Andre Rison. The greatest thing to me in that game was that I was able to pick that up, see what he was trying to do from a quarterback's standpoint, and stay in to give max protection so he can get that touchdown off."
Jackson admits he doesn't care if people knew the role he played in that touchdown, either.
"I think I'm still the only one who knows about it," Jackson said. "No one ever said anything to me about it, but that's not what it was about. It was about winning the game and to me, it's one of those things where I call myself a student of the game. And as a student of the game who really challenges himself, I was proud of myself for picking it up."
He closed out the final chapter of his playing days with a Super Bowl championship, but to truly understand Jackson and what he stands for, you have to realize that he doesn't consider it the most important accomplishment of his career.
Instead, that honor belongs to what keeps him busy these days, something that also almost prevented him from coming to Green Bay in '95.
Touching the Lives of Others Tops Jackson's List
Jackson, who lives in Little Rock, Ark., with his wife Melanie, and their children, Keith Jr., 21, Kenyon, 7, and Koilan, 6, is the president and the executive director of P.A.R.K., which stands for Positive Atmosphere Reaches Kids (www.positivekids.org)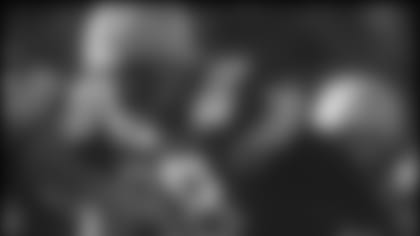 According to the website, P.A.R.K. is a comprehensive after-school program for at-risk youth, grades 8 through 12. It offers a balanced program of homework management and tutoring, sports and recreation, leadership development and community service to students from Little Rock and Pulaski County schools.
Jackson also finds the time to broadcast football games for the Arkansas Razorbacks, for whom Keith Jr. plays defensive tackle. But his work with P.A.R.K. is what he takes the most pride in.
"I say it's been more important than my Super Bowl ring and I don't think anybody gets mad at me," Jackson admitted.
"It takes students that are struggling academically, puts them in a program that attacks their deficiencies, and sends them off to college," he explained. "That's what I gave up football to come and do and I have been doing it since the day I retired. I'm here all the time, seeing a lot of success stories go through. I founded it, started it, and we've been able to run it this long."
Jackson said P.A.R.K. had been in its "infant stages" when he was playing for the Eagles. When he moved on to the Dolphins, money was being raised for a building, and when he arrived in Green Bay, the building was in place, as were the program's first students.
P.A.R.K. has been a success ever since.
"We've had 103 kids graduate," Jackson said proudly. "We've sent 79 off to college and we had our first two kids graduate from college. Usually the grade-point average of kids who come into our program is about 1.8, but they have a high success of not only going to college, but sticking with college."
Despite serving as the man behind the creation of P.A.R.K., and obviously a large part of its success, Jackson doesn't want to take credit for the program.
"Well, you know it was a vision from God," Jackson said. "I can't say I came up with the idea because I have no educational background. I went to the University of Oklahoma, and majored in communications. It was just a vision God gave me to be able to give back.
"There's a scripture that says, 'To him that much is given, much is required.' And to think about where I came from as a kid from the inner city to the NFL, boy I had been given a lot. So my level of giving back had to go up a couple notches.
"We have the ability to do it and we need to go do it."
If you didn't know any better, you'd think that message was the exact same one that brought Jackson to Green Bay in 1995.