*As part of the Green Bay Packers' celebration of the 10th anniversary season of the Super Bowl XXXI Championship, Packers.com is running a series of stories about the people responsible for bringing the Vince Lombardi trophy back home to Titletown.
Anyone who watched the Green Bay Packers' season unfold in 1996 certainly can understand how the organization brought home the Lombardi Trophy. Superstars, timely plays, and plenty of persistence quite often receive the most credit for the Green and Gold becoming the best team in the league that year.
However, in the Packers' recipe of success, the key ingredient was the ability of players to leave their egos at the door. Despite having a team chock-full of superstars, the team concept took precedence, and you'd be hard-pressed to find a better example of this than the attitude displayed by Dorsey Levens.
Sure, you probably remember the incredible performance the third-year running back had in the NFC Championship against the Carolina Panthers when he had 205 total yards from scrimmage.
But did you know that Levens entered the season as a backup fullback? Or that prior to that season, he was primarily a tailback that took the position change in stride and didn't say a word about it?
Fittingly enough, Levens' selflessness paid off as the season wore on. His playing time began to gradually increase, and late in the season he was a key cog in the Packers' offense, particularly in giving Edgar Bennett a breather in one-back sets.
Obviously, the more Levens played, the more evident it became that at 6-foot-1 and 230 pounds, he had both the size and the speed to be an every-down back. Levens finished with 566 rushing yards on only 121 carries, a 4.7 yards-per-attempt average, as well as 226 yards on 31 receptions. He also scored 10 touchdowns, sharing the team lead with tight end Keith Jackson.
Taking a glance at these numbers, it's difficult to believe that Levens was a backup fullback at one point. But Levens never sulked over his role because he understood the team's ultimate goal of winning the Super Bowl.
"I think ideally Edgar and I would have both loved to get 25 carries a game," Levens admits. "But that's not how the system was built. Going into the preseason I was the starting fullback, but William Henderson beat me out. We decided to split time at running back with Edgar. They (coaching staff) thought I would be more effective running as opposed to being a lead blocker.
"And they were 100 percent correct. It just worked itself out. I started playing more and I started playing better. So, my playing time increased the further we got into the season. We all had the same goal in mind of winning the Super Bowl. Nobody was really tripping about playing time, individual accolades, or who got what. We all just wanted to win the Super Bowl."
Now, 10 seasons later, and after an 11-year career that included stops with the Philadelphia Eagles and New York Giants, Levens fondly recalls the Packers' special season.
"My favorite memories are watching the clock tick down in the Super Bowl, knowing that the game was finally over and that I had won a Super Bowl," Levens said. "That is what I remembered the most. It was so nerve-wracking the entire two weeks."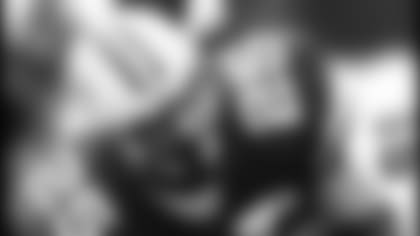 It's understandable that Levens was nervous for the biggest game of his life, but in the NFC Championship two weeks earlier, he had perhaps the best game of his professional career. Against the Panthers, Levens had 10 carries for 88 yards and five catches for 117 yards, a whopping average of 13.7 yards each time he touched the ball. And if you want to talk about big plays, Levens certainly had a penchant for them on that brutally cold day at Lambeau Field.
On the last play of the first quarter, on third-and-1, Levens ripped off a 35-yard run. Then on the initial play of the second quarter, he hauled in an incredible 29-yard catch inside the right edge of the end zone for the Packers' first touchdown. Later in the game, he had a 66-yard burst along the right sideline on a screen pass to set up a 4-yard touchdown by Bennett on the next play.
When asked if he thought this type of season was in store for him entering the year as a backup, Levens displayed his trademark humble approach.
"No, absolutely not," he said. "I guess everything happens for a reason and it worked out just fine. Earlier in the season, my goals were just to catch the ball out of the backfield. That's what our offense was based upon. But things took a turn in the preseason and I just rolled with the punches. Everything turned out perfect."
And though the Packers' backfield didn't feature a perfect back, it did feature a near flawless combination of Levens, Bennett, and Henderson. Bennett excelled in poor weather conditions and was very versatile. Henderson was a young bruiser not afraid to take on anybody. And Levens was "Dorse the Horse," somebody who did all things equally well.
In fact, Levens believes the key to his NFL career was his ability to be a jack-of-all-trades back.
"I don't think there was one thing that I really excelled at," Levens explained. "I think it was just a combination of being solid all the way around. I was a decent runner, a decent blocker, and a decent pass-catcher. I wouldn't say I was extraordinary at any of them, but good at all three."
Levens, who has a 4-year old daughter named Amaya, now lives in Atlanta and is working on broadcasting at a local level. Eventually, he would like to broadcast football, too. Seeing what kind of career he had in the game, it'd be a smart move to bring his knowledge of the game into the booth. He's also exploring work in football personnel, taking an internship in the Packers' personnel department during the 2006 training camp, compiling scouting reports and helping evaluate players.
And just either of those options seem like a good fit for the next step in Levens' career, so does the fact that he will always be a Green Bay Packer. Levens made sure of that on June 2, when he signed a one-day contract only to retire one day later as a member of the Green and Gold. For the 36-year-old Levens, his choice to be a Packer for life was easy.
"That's just where my heart is," he said. "The last couple years I played, I wasn't my old self. I got a little older, slowed down a little bit, but my heart was still in Green Bay. I don't know, it just felt like the right thing to do."