*As part of the Green Bay Packers' celebration of the 10th anniversary season of the Super Bowl XXXI Championship, Packers.com is running a series of stories about the people responsible for bringing the Vince Lombardi trophy back home to Titletown.
Adam Timmerman has always known the meaning of hard work. It's what he learned on his family's dairy farm in Cherokee, Iowa.
In fact, it was Timmerman's work ethic that always made an NFL career possible.
Not that he thought he'd ever have one.
After all, farm kids don't often dream of making it big in professional sports, and if they do, it's awfully difficult to act on those fantasies because of all the work that has be done on the farm.
For Timmerman, who grew up in the northwest corner of Iowa, sports were just a release from the daily working grind he was used to, as he played football, basketball, and track in high school. Though he excelled in all three, he certainly had no idea that one day he'd make a livelihood in professional football.
"I think it's like a lot of kids, it's just a dream where you think, 'Oh, it's just a dream, it's not ever going to come true,'" Timmerman, 34, said of playing in the NFL. "For me, growing up on a farm, sports were a chance to get away and be with your friends.
"We didn't watch a lot of sports on TV, we just had other things going on with the farm that seemed more important. It wasn't a huge part of our life. It was kind of weird how the whole thing unfolded."
He's right. The path Timmerman took to the professional ranks wasn't a conventional one. The 6-foot-4, 295-pound guard played his college ball at Division II South Dakota State, hardly a power in the national spotlight. But he still managed to grab individual attention by earning All-American awards as a junior and senior as well as the Jim Langer Award, for offensive lineman of the year, in his final season.
Despite the accolades, Timmerman slipped to the seventh round of the 1995 NFL Draft and the Packers grabbed him with the 230th overall pick. Not only did Timmerman see action in 13 regular season games that season, he also filled in for Packers' starter Aaron Taylor for part of a playoff game while starting two others.
Timmerman more than held his own early on, and he hasn't looked back in his career since. He has been a starter since those early days in Green Bay, and in '96, he helped the Packers earn a Super Bowl XXXI win over the New England Patriots.
According to Timmerman, the media claimed that neither he nor the group of rookies he entered the league with were supposed to help the Packers short-term, or over the long haul.
"I'll never forget the guys that came in with my draft class," Timmerman said. "Guys like me and Antonio (Freeman), William Henderson, Brian Williams, Travis Jervey. Those were guys that I came in with, and I remember the article in the paper after we were drafted saying we were maybe the worst draft class the Packers ever had.
"And it turned out to be maybe five or six starters that came out of that class. We kind of took that personally, it kind of motivated us coming into our rookie season and it bonded us together."
He may not have gotten the media's respect, but Timmerman said he'd never forget the attention he got from day one from the fans.
"I'm a seventh-round draft choice and they would know my name," Timmerman said in awe. "And I'm like, 'Man, on most rosters no one would know who the seventh-round pick was.'
"Basically it was everywhere, you were surrounded by it. So I was always impressed with that. It really did add to the excitement for me. Being from a smaller college, I didn't really know what NFL football was all about. But I was very fortunate, very blessed to be in Green Bay with that kind of atmosphere."
According to Timmerman, his late father Larry was a huge Packer fan well before Adam became a member of the team. Playing for his dad's favorite team was a bonus for Timmerman.
"That was pretty cool," Timmerman recalled. "I don't think he ever imagined that his son would ever grow up and play for the Packers. He knew the Packers back in the heyday when they were winning championships, but I think for him, it was kind of a long way off. I think it was kind of almost not real for him."
Timmerman exited Green Bay after the 1998 season and signed with the St. Louis Rams. Between the two organizations, he has started in four Super Bowls, and has won one with each team.
So, while St. Louis has been great to Timmerman, did he ever want to leave Green Bay? He doesn't hesitate in his answer.
"I would have loved to stay there," Timmerman explained. "My wife and I talk about it and we loved our time there. I definitely didn't want to leave at the time."
Since Timmerman departed, he has had many significant experiences. Besides the Super Bowl appearances, and the extreme commitment to football, Timmerman and his wife Jana have stayed busy with family life, too. They have three children, Mason, 7, Alexa 5, and Jada, an infant.
Unfortunately for Timmerman, his family suffered a loss in May 1998 when his father Larry passed away after an ATV accident. Adam said he still misses his dad a great deal, but it makes him treasure the days on the farm even more.
"A bunch of my friends from college came (to the funeral) and they said, 'Hey, you've spent more time already with your dad then I ever will and he's still alive,'" Timmerman recalled. "My dad and my brother and I, we all worked together all the time, and that's what we did. It was fun, it wasn't like a drag."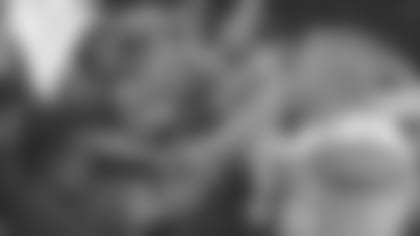 Timmerman still returns to his roots every offseason, too.
"I try to go back every spring to help my brother out when he gets busy," Timmerman explained. "I try to keep up as much as I can, but it gets a little bit tricky now that we have the kids. When we were in Green Bay we used to go back for three or four weeks, but once we started having kids, especially with Mason in school, it's getting harder to help out."
Between spending time with his family, working on the farm, and playing football, Timmerman has been plenty busy. But there's still one other aspect of his life that can't go unnoticed: his faith.
According to Timmerman, it's something he's always had, but it developed further in Green Bay because of men like Ken Ruettgers and Reggie White, among others.
"He (Reggie) was a great guy to be around, especially with me being young in my faith," Timmerman explained. "He was a good guy to look up to, and we had a good group of guys.
"We had some quality people to be around and for me to grow up with at that time. So I really felt fortunate and blessed to be around those guys and have them to kind of really disciple me and bring me along so I could become more mature myself."
With all the temptations surrounding young people with money and fame, one might believe that Timmerman would have a difficult time fitting in with teammates in the locker room. Yet, that's never been the case for Timmerman.
"I think a lot of people know where I stand, it's not a confrontation or conflict at all," said Timmerman, who has been one of the team's captains the last couple seasons. "I hope it's not and I would never make it that way. We are called to love one another and not cause problems with one another. And I think for the most part, guys are mostly receptive on the team to it. It's a little bit different now that we're older.
"Some of the guys coming straight from college view life totally differently than I do with three kids, so it's kind of funny because I remember being in that position myself. I see young players coming into the league and having a lot to learn, more about life than football actually."
Timmerman could teach teammates a thing or two not only about life, but football as well, including what it takes to be a leader.
And if there is anybody more dependable, durable, or steady than Timmerman, good luck finding him. He's been selected to two Pro Bowls and while he was in Green Bay, Timmerman helped the Packers' offensive attack achieve greatness. In the '97 season alone, Timmerman never even missed a play.
Timmerman isn't certain exactly when it will happen, but he knows his career is nearing the end.
"I think probably it all depends on my body," Timmerman said. "I just had a knee surgery and 11 years takes a toll on the body. Probably if I play next year, that will be about it.
"It's definitely winding down for me. It's been a great run. I definitely feel fortunate to be on successful Packers teams the four years I was there and to be on successful Rams teams while I've been here. It's been a lot of games and a lot of fun, but I've met a lot of great people along the way."
When it's all said and done, Timmerman will be known as a great player, but an even better man. He no longer lives on the family farm, but you can bet that Timmerman will have more time to get back to the place where it all started.
After all, you can take the boy out of the country, but you can't take the country out of the boy, right?