*Cliff Christl started gathering oral histories with former Packers and others associated with the team in 2000 and will continue to gather them as Packers historian. Excerpts from those interviews will be periodically posted at **www.packers.com*
Right halfback Billy Grimes was one of the first two Packers – the other was center Ed Neal – to play in the NFL's first Pro Bowl following the 1950 season. Grimes played three seasons with the Packers from 1950 to 1952, but decided he didn't want to play another year for coach Gene Ronzani and announced his retirement in July 1953. A month later, he signed with Hamilton of the Canadian Football League, but sustained an injury and didn't finish the season. Grimes' best year with the Packers was his first. He led the NFL in punt-return yardage with 555 and averaged 19.1 yards per return. He also led the team in rushing with 480 yards, averaging 5.7 per carry, and tied for second in receiving with 17 catches for 261 yards, a 15.4 average. Included was a 96-yard touchdown reception that lasted as a club record until Robert Brooks broke it in 1995 with a 99-yard reception. Originally drafted by the Chicago Bears in the second round in 1949, Grimes signed instead with the Los Angeles Dons of the All-America Football Conference. When the AAFC folded and was absorbed by the NFL following the season, the Packers selected Grimes in a special draft.
On signing with the Dons rather than the Bears: "The Dons gave me a $1,500 bonus, plus a $7,500 salary. (George) Halas offered a $600 bonus and a $6,000 contract. It was a one-year contract with an option. The Packers paid me the same salary in 1950. After the 1950 season, I asked Ronzani for a $1,000 a year raise and I thought he was going to run me off. But then he ended up giving it to me."
On finishing with back-to-back 3-9 records during his first two years with the Packers and a 6-6 record in 1952:"At one time, I thought we had some of the best personnel in the business. We had Tony Canadeo, Tobin Rote, Jug Girard, Jack Cloud, Billy Howton, Bobby Dillon, Deral Teteak, John Martinkovic. We had some real fine players, but just didn't have the organization, the coaching behind it."
On Canadeo, a fellow halfback and future Pro Football Hall of Famer:"That was one of the finest, toughest little men I ever played with or against. He was instrumental in whatever I have in the record book up there. Blocking, he was a very unselfish gentleman. I'll tell you what, the first one down on punt returns better have his hat on tight or he was going to knock it off. He'd say, 'I got 'em.' And he got 'em. He handled 'em. He was an all-around player. He could play tailback, wingback, quarterback, blocking back. Tough. He ran a lot like Jim Taylor. You wanted a yard, he'd stick his head in there and get it for you, plus. He'd take on the biggest ones. If he couldn't fake them or go around them, he'd take them on. I don't remember him being hurt."
On Rote, the Packers' quarterback from 1950-56:"Rote was a strong runner and he could throw that ball. He was a javelin thrower in college. He was an excellent passer. He was a good field general. He was tough. Big and tall. A rangy Texan. A very good player."
On Jack Cloud, who played for the Packers from 1950-51: "Cloud was a tough, running fullback. You ever hear the episode about him swimming in the East River? He had a brand new car he bought with his bonus or whatever. He comes flying down a street there and it dead-ended. He forgot to turn. So they had to fish his car out of the river. Too fast. He might have had something to drink. Nobody knows. He wasn't arrested or anything. I didn't know about it until the next morning. I got up and it looked like somebody dragged a wet sack down the middle of the hallway at the hotel, where he had come in soaking wet from his swim."
(Note: On Sept. 12, 1950, Cloud was driving west on Deckner Avenue and drove his car into the East River at 3 a.m. when he was returning to his room at Green Bay's Hotel Northland.) 
On offensive ends Howton and Bob Mann: "Between (Howton) and Bob Mann, we had two of the best receivers in the league. Howton was fast, elusive, everything. Bob Mann just glided. He wasn't exceptionally fast, but he was dependable. You knew where he was and if you got the ball to him, he'd get some yardage. Howton was fast and had good hands. He was a different guy."
On how the players accepted Mann, who became the Packers' first modern era African-American when he signed in late 1950:"There were two or three maybe from the Deep South that weren't happy with him. But after games, we used to go to a little place called the Surf Club. It was over by the bay, out past the sanctuary, along the road going up to Sturgeon Bay. Anyway, this fella would close it up Sunday nights after a game, and just let the players in or people we invited. We had Bob out there a number of times. He'd come over to my house. We'd sit out there by the bay and go swimming. My kids played with him and everything else. A fine gentleman."
On Bob Forte, who played for the Packers from 1946-50 and again from 1952-53, doubling at times as a linebacker and an offensive halfback: "He was a big hitter and very smart. Some guys have a nose for the football and he was one of those guys. He was always there."
On his record 96-yard pass reception against the 49ers: "It was a screen pass from the 4-yard line. It was in Kezar Stadium. It had rained out there for about five, six weeks and they threw a layer of sand over the top of the field. I was flanked out to the right and (Rote) threw a quick pass out there to get away from our goal line. Luckily, when I caught it, everybody started crossing the field and you start going back against the grain. They couldn't stop because the sand was so deep. It was a lucky break. I don't know how many yards, but I just went down the field and cut across. And I was more tired than anybody because I was running about ankle deep in sand. My legs tied up in knots. I thought I'd never get the cramps out of my legs."
On Ronzani, coach of the Packers from 1950 until he was fired with two games remaining in 1953: "He was a different guy. One day, you'd be his bright and shining boy. The next day, you'd be his dog that he wanted to whip. When you went into see him, you never knew if he was going to be glad to see you or kick you out of the office."
On how Ronzani's mood swings affected the team: "He'd go off on a tangent sometimes. It was hard to follow what he was trying to explain. I'm sure he was smart as far as football, but getting it across to the players was a little difficult for him. He didn't communicate."
On whether there was much discipline under Ronzani: "He fined a friend of mine one time, Alton Baldwin. He jumped all over him and walked off. Alton thumbed his nose at him and Gene turned around and caught him."
On Ronzani's demeanor around the players: "He had a lady that traveled with us to like Milwaukee and Chicago. I don't know if he was divorced from his first wife or what. He never did get into any family. Of course, he knew everybody on the team's kids and wives. He'd ask questions. We'd always have our kids on Monday morning when we'd go out to East High School (next to City Stadium) and go to the training room. We'd chip in some money and get some sandwich meat and some pop or something to drink."
On Ronzani's assistant coaches: "Most of them were old buddies of Gene. Some were past their time and some were before their time, you might say. I didn't think we had a very good coaching staff to be truthful. Dick Plasman wanted to be the head coach. He wanted Ronzani's job. I guess he'd be the offensive coordinator, but back then, we just had coaches. Everybody worked with everybody. He'd try to run things and Gene would let him to an extent, then every once in awhile sit down on him."
On legendary coach Clark Shaughnessy, who helped Ronzani put in his offense and defense in 1950:  "He came up the first year to install the T and he gave us a playbook, but I don't remember him being around after training camp. Shaughnessy's way of coaching was a lot different. He gave the linemen and backs names and numbers. But he wouldn't tell us what the linemen were doing. I asked him once, 'What are all these names and numbers and colors you gave to the linemen?' He said, 'You don't need to know, just hit the hole.' I said, 'Hey, if the guard is pulling out and running in front of me and if I've got to go in front of him or behind him and I don't know which it is, how am I going to know that?' I said it would help us if we knew what they were doing and they knew what we were doing. He said, 'Well, I guess so.'"
On the Packers-Bears rivalry: "I'm from Comanche, Okla., and lived in Oklahoma City. The University of Oklahoma plays Texas and that has been a big rivalry for years, but I tell people, 'If you think that is a rivalry, you should go to Green Bay or Chicago and see the Packers and Bears play.' I say, 'That is a rivalry to me.'"
On what it was like back then to beat the Bears: "Anytime we could beat the Bears, it was a successful season because we weren't that good. We were very bitter rivals."
On Ronzani's approach to playing the Bears after playing for them from 1933-38 and 1944-45 and later serving as an assistant coach under George Halas: "During Bear week, we'd go over across the street to the baseball field (in Joannes Park). They had a fence around it. Ronzani knew all of Halas' tricks, so somebody would go around with a stick punching the knotholes. In case there was somebody back there, they'd get their eye poked out."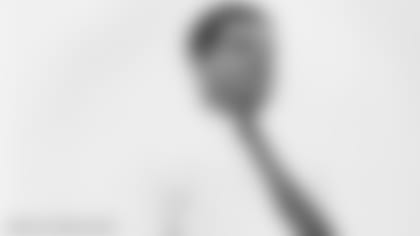 *Packers coach Gene Ronzani, in an undated photo before a game.
*
On Ronzani's game plans against the Bears: "He knew George Halas so well that he knew George had spies out. So (Ronzani) was always coming up with a bunch of different formations, oddball things in those days. We'd kind of practice them, but they were to keep the spies honest. And it would keep us guessing, too. Sometimes, it was confusing. We'd practice so many different things, putting in these odd formations."
On Ronzani signing a number of Bears castoffs and being widely criticized for it in Green Bay: "Ray Bray and Washington Serini were characters. When Ray came up, he was like the leader of the linemen. He came up from the Bears. It seemed like we got all the castoffs from the Bears: coaches, players. But Ray was funny and a real nice guy. Always pulling tricks. Ray's knees were so bad the last year, he couldn't practice on Tuesdays or Wednesdays. He might get out there and walk around on Thursday. Saturday, he'd do a little jogging. Then he'd play his heart out on Sunday. But his knees were just shot."
(Note: Bray played 12 games for the Packers in 1952 after playing 10 years with the Bears.)
On what it was like living and playing in Green Bay, a city of roughly 52,000 people, in 1950: "We'd go downtown for the movies. There was a place called Kaap's. We'd go there and eat. We could go out and go anywhere we wanted to, no problems. Nobody would bother us or hang around: 'Look there, look there, see him, see him,' and all that stuff like they do now days. We didn't have the groupies or the crazy people who get up in the stands in the cold weather with their shirts off, the painted faces and all that."
On Green Bay's City Stadium: "It was all wooden bleachers -- a lot of splinters. The dressing room wasn't anything like they have today. We barely had enough room to store what we had."
On training camp in 1951 and '52 at a University of Minnesota agricultural station in Grand Rapids, Minn.: "That was a nice place. It was an ideal situation at the time. They had all the facilities there at the school. It was an experimental farm or breeding farm for cattle and hogs and all that. Of course, I grew up around (a farm). The fella there, he'd take us around and tell us about the cattle and horses and pigs and whatever else they had. It was too far to walk, but they had a school bus there and let us take it to town. We'd have to be back for curfew."
On tackle Don Stansauk, who played for the Packers from 1950-51 and later wrestled under the name, "Hard Boiled" Haggerty: "He was legend up there. He rassled pro in the offseason. He was quite a character. You never knew what was going to happen next. He might turn an old boy up and the next play, he might let him right through."
On lineman Dick Afflis, who played for the Packers from 1951-54 and later gained greater fame as a pro wrestler, Dick the Bruiser: "He was a character. He weighed about 230, 240 pounds and we'd go out to practice, and he'd do a handstand push-up. He'd do that all day long. Just put his hand on the ground, go down and touch his nose and put his feet straight up in the air. I've never seen anybody do that before. He was that strong."
On 285-pound-plus Ed Neal, who played for the Packers from 1945-51: "They talked about how strong he was, being a blacksmith and everything else. He said they wrote articles about him bending pop lids between his fingers and taking beer bottles and breaking them across his arm. He said, 'I tried that one day. I damn near broke my arm off.' That was somebody's pipedream or for publicity."
On Neal, after being traded to the Bears during the 1951 season, playing against the Packers:"He got right over Jay Rhodemyre, who replaced him at center. First play, Ed Neal jumps offside and nearly killed Rhodemyre. I guess Jay was probably 175, 180 pounds and here was Ed about 290. But they trapped him and (Neal) didn't have strong legs. His upper body was strong, but his legs were his vulnerable part and they went for his legs. I think he twisted an ankle or something and they got him out of there. Ed wasn't that good a defensive player. He was a good offensive center because he was big and nobody could get around him. Rhodemyre was a feisty little bugger. He was tough."
On whether any of his teammates lifted weights: "They were afraid you'd get muscle-bound if you lifted weights. All our strength was gained from running and doing a side-straddle or push-up and stuff like that. That's about all we ever did. Now, you don't see much of that. All they do is stretching and weightlifting."
On other characters among his teammates in Green Bay:"We had two or three that were kind of strange. Ace Loomis and Rebel Steiner. Stretch Elliott was kind of one at the time, but over the years, we got reacquainted. They were standoffish and didn't go with the players. After practice and the game, they didn't go with like Tony (Canadeo) and Teddy Fritsch and a bunch of us."
On Loomis, a defensive back from 1951-53:"He'd get you killed on punt returns. We played the Giants one year and Tony was out for some reason or another. (Loomis) kept hollering, 'I'll get the first one.' The first one down was Barney Poole. Well, he about tore me in two. When I caught the ball, he was there. Ace said, 'I missed him.' I said, 'Yeah.' The next punt, Barney's brother, Ray, came down and knocked me for a loop. Ace said, 'I missed him, I missed him.' I said, 'I know you missed him.' So he didn't come back there again on punt returns with me."
On offensive end Ray Pelfrey, who finished second in receiving in 1951 and then was waived after one game in 1952: "One time, Rote threw him a spot pass: Run down there 10 yards and stop. We needed a first down. Here comes the linebacker, here come the halfback and safety at him. He turned around and saw them and threw it back to Rote, who was behind the line of scrimmage. All he had to do was fall down and we would have had the first down. There was a time or two where Ronzani told him to go down and sit at the end of the bench and don't even associate with the players. He'd get so mad at him."
On Paul Christman, who spelled Rote at quarterback in 1950 and later became an announcer, serving as NBC's analyst in Super Bowl I: "He was a character. He'd always say, 'Don't step on my tootsies.' He was afraid somebody would step on his feet and twist an ankle or something. During practice, he'd make sure he wasn't going to get hit. He was football smart."
Grimes died in 2005 at age 77. The excerpts above were taken from interviews conducted in 1996, 2000 and 2003.