An interesting historical footnote to the Green Bay Packers' acquisition of Brett Favre emerged from the media activities surrounding the quarterback's retirement announcement on Tuesday.
In a press conference in the Lambeau Field auditorium, retired Packers CEO Bob Harlan recalled how back on Dec. 1, 1991, Green Bay was playing in Atlanta and newly hired general manager Ron Wolf was about to take in his first Packers game when he headed down to the field to watch the Falcons' backup quarterback, Favre, during warm-ups.
Wolf already had expressed to Harlan his interest in trading for the former Southern Mississippi star, whom Wolf had rated the top prospect in the 1991 draft. Only Wolf was running the Jets at that time, was without a first-round draft pick, and missed out on Favre by one slot when Atlanta chose him at No. 33, early in the second round and one spot before Wolf was going to pick for the Jets.
Anyway, Harlan began watching Favre, whose last name he couldn't pronounce, during the pre-game, and about 40 minutes later Wolf returned from the field and all but declared he was definitely trading for his future franchise quarterback.
The interesting part is that Harlan thought Wolf had used an on-the-field, close-up look at Favre to confirm "if his arm is still as strong now as it was coming out of college." But actually, Wolf never saw Favre throw that day.
"I started to head down to the field to do that, but I never got down there," Wolf said in a conference call with reporters. "But, what I did learn from that situation was we could acquire Brett Favre, which we eventually did."
What exactly that meant, Wolf didn't clarify. Did he run into someone from Atlanta's front office along the way and make an off-the-cuff trade proposal? Or in his brief conversations with Harlan was he simply assured the team president wouldn't stand in his way, and he was making it look to his new boss as though he had just made a final, definitive evaluation on his targeted prospect?
Either way, Wolf had Favre in his sights long before that day in Atlanta, and he was determined to make Favre the centerpiece of his new team, even if he expected and received mounds of criticism for trading a first-round pick in the 1992 draft for a quarterback unknown to many.
"I watched that guy play every game his junior and senior year in college - I didn't have to watch him throw that day," Wolf said.
"My belief was always in order to be successful in the National Football League, the one thing you had to do, was you had to have a quarterback. If you didn't have a quarterback, you couldn't win. When we were able to get Brett Favre, I was of the opinion we had a quarterback."
The rest, as they say, is history. Favre, under head coach Mike Holmgren and along with prized free agent Reggie White, went on to lead the Packers to a Super Bowl championship five years later and now, upon retiring, holds virtually every meaningful passing record in NFL history.
While Wolf believes Favre had the talent to succeed anywhere in the NFL, he does believe Holmgren and a talented staff of assistants that included five future head coaches in Steve Mariucci, Andy Reid, Jon Gruden, Ray Rhodes and Dick Jauron provided the right structure and expertise for Favre to flourish.
For Harlan's part, he did stay out of Wolf's way in making the somewhat controversial trade and maintained that leadership approach through the years, letting the football people make the football decisions.
The Packers' resurgence from the doldrums of the 1970s and '80s always has been viewed as a domino effect, with Harlan hiring Wolf, who then hired Holmgren, traded for Favre and signed White.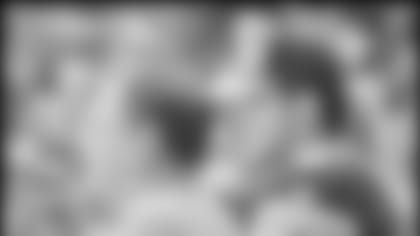 "I've always said and I'll always maintain that the foundation that restored this franchise to the elite in the NFL in the '90s was Ron Wolf, Mike Holmgren, Brett Favre and Reggie White," Harlan said. "I find it sad today that all of those folks have moved on."
Like many, Harlan expressed surprise at Favre's retirement but fondly called him "the greatest competitor I've ever been around." He ranks as the most marvelous of his many achievements the 275 consecutive starts at quarterback, including the playoffs, and he recognizes that all those games make up not only a part of many individuals' legacies, including his own, but also most of an entire generation of Packers fans' memories, also including his own.
"I just wish him well," Harlan said. "It was a privilege to watch him. I truly mean that. And I talk to people who say, 'I watched Babe Ruth' or 'I watched Lou Gehrig' or 'I watched Johnny Blood.' Well, we watched Brett Favre. That's pretty good."