*As part of the Green Bay Packers' celebration of the 10th anniversary season of the Super Bowl XXXI Championship, Packers.com is running a series of stories about the people responsible for bringing the Vince Lombardi trophy back home to Titletown.
Bernardo Harris has always been a huge fan of football. He loved to play it and he loved to learn about it by breaking down film and soaking up knowledge from teammates and coaches.
The 6-foot-2, 247-pound Harris enjoyed a nine-year career in the National Football League, including seven years with the Green Bay Packers. He was often in charge of making the calls for the defensive unit and it goes without saying that when you play linebacker in the NFL as long as Harris did, you have to be an intelligent player.
So it should come as no surprise that the North Carolina native is ready to get back into football. Harris and his wife, Kellie, who recently graduated from the University of North Carolina Law School, enjoy spending time with their three children - Bradley, 11, Blake, 8, and Brooke, 3. And although Harris' career as a player is over, he thinks coaching could be a natural fit.
"Coaching is something that I always wanted to do when I was growing up," Harris said. "Football has been a big part of my life. Being a player and a fan, I love football. So that's what I'm working on right now."
Listening to Harris, 34, and how he describes his passion for football, it's obvious that he appreciates the history of the game as well.
Harris, a member of the Super Bowl XXXI championship team, says that playing the bulk of his career in Green Bay allowed him to experience the great tradition of the Packers.
"Just coming out of the tunnel and onto Lambeau Field and thinking about the greats that played on the field -- the Starrs, the Hornungs, the McGees -- it was great to think I was a part of it," Harris explained. "There is no place in America like Green Bay as far as a football town, a football team, a football atmosphere and a football environment.
"It was just special to reward yourself on Sundays for your hard work and play on the field where the great ones did. It was great to bring the glory days back to Green Bay and win a Super Bowl when things were down for a long time before that."
Although Harris became a regular contributor later in his career, he backed up George Koonce at middle linebacker and mainly played special teams with the 1996 squad. He led the team with 21 special teams tackles in the regular season and tied with Travis Jervey for the team lead with six in the playoffs. This accomplishment wasn't lost on Harris, either.
"They always preach that special teams are a third of the game, but you only get noticed on special teams if you do something great or if you do something terrible," Harris explained. "But we were able to be an asset to the team in making something happen to make us victorious."
None of this success for Harris seemed possible just two years earlier, however. After going undrafted out of North Carolina in 1994, Harris signed with Kansas City in June only to be waived in August. He spent the year out of football before Green Bay signed him in 1995, and he admitted that his success moved at a fast pace with the Packers.
"Just being a young kid and being 10 minutes away from the Super Bowl in my first year when we made it to the NFC Championship was very memorable," Harris explained. "Then in the second year, we made it to the Super Bowl, and to be a special teamer and be a part of a special teams play (Desmond Howard's 99-yard kickoff return for a touchdown) that played a big role in the game, that made me feel proud as a player and as an individual."
Despite being at an early stage in his football career, and surrounded by plenty of superstars, Harris said one of his fondest memories of that championship team was that everyone was treated the same.
"Being a part of a team with Reggie White, Brett Favre, superstars, Hall of Famers, they treated you like men, and they made you feel like your role was just as important as theirs," Harris recalled. "And you don't get that everywhere in football."
Playing with the late White was something Harris still treasures. In typical fashion, he wanted to soak up all the wisdom the Hall of Famer would share both in the locker room and on the field. And he made sure he put this knowledge to good use, too.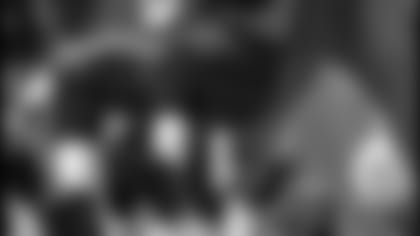 "Being a middle linebacker and having to make the calls and line everybody up, I had to know what I was doing," Harris said. "I had to earn that respect and do the things I needed to do. But I always wanted to learn from the great people and watch what they did. He was the type of guy you could learn a lot from on and off the field."
Harris said that despite all the things both he and his teammates learned from White, there was no way to replicate what No. 92 brought to the gridiron.
"There was only one Reggie," Harris acknowledged. "Nobody was as strong as Reggie, nobody could play like Reggie, but you saw his motor, you saw the abilities he had and you just marvel at the things he did. You were just thankful that he was on your team."
Harris also appreciates the collective effort of the 1996 team and that's why he fashions his Super Bowl ring from time to time.
"I don't wear it every day, but I wear it when I go out to eat and things like that," Harris said. "If I'm going somewhere, I wear it. I'm proud of it. I mean, it was a lot of hard work. It's not going to collect dust. I earned it, I wear it."
And who knows, maybe Harris will earn another one, only this time as a coach.