*As part of the Green Bay Packers' celebration of the 10th anniversary season of the Super Bowl XXXI Championship, Packers.com is running a series of stories about the people responsible for bringing the Vince Lombardi trophy back home to Titletown.
Reggie White, Santana Dotson, Gilbert Brown, Sean Jones.
Take a glance at those four names and you understand why the Packers' defensive line was so dominant in the middle to late '90s. Everything about the aforementioned list suggests greatness, if not outright dominance.
It also suggests that there really wasn't much playing time left over for backups along the defensive front.
For Darius Holland, the 6-foot-5, 320-pound defensive tackle, getting on the field in 1996 was very difficult playing behind Dotson and Brown. Instead of viewing this as a discouraging arrangement in his second season with the team, Holland looked at it as just the opposite.
"I think in the long run it benefited us," Holland explained. "It showed versatility, adaptation to different philosophies. That's the thing that's needed in a player. And you'll see a lot of the guys I played with, they didn't get hurt and they played a long time.
"I mean, we had a lot of guys like that. Just blue-collar, get 'er done kind of guys that we just always seemed to be able to depend upon. And none of them were first-round draft choices, except the guy I came in with, Craig Newsome. Outside of that, everybody else was second, third, fourth-rounders that came up and started playing. We were able to be resilient and play well."
Many of the players Holland was referring to arrived with him in the 1995 NFL Draft and played instrumental roles in the success of the team.
"That draft class was special," Holland, 32, acknowledged. "All those guys ended up doing things in other places. They ended up playing for a long period of time, you know. So, it's just amazing. When you've got that caliber of draft where you got four and five guys that are starting in the same year, that's pretty impressive.
"If you think about it, Brian Williams was a third-rounder, you had William (Henderson), who was a third-rounder, myself who was a third-rounder, Adam Timmerman, a seventh-rounder, you had Antonio (Freeman, a third-rounder) and you had Newsome. So you had six guys that eventually started for you. That's impressive.
"It was awesome to have that kind of bench and ability to do that. How often do you find a team that can do that? Not very often."
Holland obviously learned a great deal from the men who played in front of him as he played parts of 10 seasons in the league. He finished out his career playing with the Denver Broncos, but also made stops along the way with Kansas City, Detroit, Cleveland, and Minnesota.
Despite spending his last season in Green Bay in 1997, Holland remembers those days very well and looks back on his time there with a smile. He said the best part about the team was "the relationships and how everyone got to grow together."
Still, it has been difficult to stay in touch with his Packer teammates throughout the years.
"Now, you kind of sit back and not only wonder where guys are, but more importantly how they're doing," Holland said. "I mean, like myself, I have been in the league for 10 years so you run across guys when you're playing, but when you stop playing, it's difficult because everybody goes and does their own thing.
"So, it tends to be difficult and you try to do the best of your ability. But numbers change, locations change. You just hope that once in a while you get to run across somebody and say hello."
Though Holland may only have been out of the league for two seasons, he said it's difficult to keep tabs on the Packers or any team, for that matter.
"I think when I was younger and I was playing, I'd get excited about somebody playing," Holland explained. "Well, now, you just kind of get out of it. Something does something to you when you play that you just can't get out of it when you don't play. There's not as much joy. You hope your guys or friends do well, but you lose that camaraderie, you lose that team spirit or whatever you want to call it."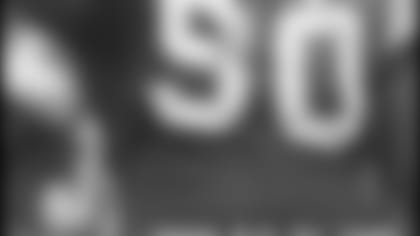 Clearly Holland has moved on from his days as an NFL football player. But Holland, who was adopted in his teen years, is thankful he won a Super Bowl ring with the Packers, even though he no longer has it in his possession.
"When I knew I was going to retire, I gave the ring to my dad," Holland said. "He thought it was pretty cool. We had a private little ceremony between me, my mom, and dad, and brothers and sisters."
One thing Holland hasn't given away but has actually acquired in his time away from Green Bay is a renewed faith in God. He says that Stonebrook Christian Church in Denver and his son Isaiah, 10, are the two best things to happen to him in the last 10 years.
"You know, I think it took a long time for me," Holland said. "It wasn't really until a couple years ago that I started to recognize that part of being deep in my faith."
Holland said he helped the Broncos out in that area as well and said he remembered some of the things an old friend taught him.
"I really enjoyed it," Holland said. "I'm not ordained, therefore, I'm not a pastor, but I would say I'm more like a lay pastor or someone who basically is an educated seminarian.
"Reggie being a mentor in my life, I think it's a blessing today that his legacy exists because of things he put into each individual. This would be one of those things."
It sounds like Holland is still learning from the guys he played with in Green Bay.