*As part of the Green Bay Packers' celebration of the 10th anniversary season of the Super Bowl XXXI Championship, Packers.com is running a series of stories about the people responsible for bringing the Vince Lombardi trophy back home to Titletown.
That was almost the case.
In 1971, Holmgren began coaching and teaching history at his alma mater, Lincoln High School in San Francisco. He then moved on to two other Bay Area schools, Sacred Heart High School from 1972-74 and Oak Grove High School in 1975-80. Teaching and coaching young kids left Holmgren very fulfilled.
"I never aspired to (coach in the NFL). I thought I was going to be a high school history teacher and coach and enjoy it for the rest of my life," Holmgren said. "I don't think many of the head coaches in the league traveled the path I went through."
That path took Holmgren from the high school ranks to San Francisco State in 1981 and to Brigham Young in 1982. In 1986, he entered the NFL with the San Francisco 49ers and coached quarterbacks for three years before serving as the team's offensive coordinator for another three. Holmgren not only helped guide Hall of Fame quarterbacks Steve Young and Joe Montana but also orchestrated one of the great offenses of all time. The 49ers won Super Bowls XXIII and XXIV, and the Holmgren-led offense never ranked lower than third in the NFL.
His success with the 49ers led former Packers General Manager Ron Wolf to hire him as head coach in 1992. Holmgren helped rejuvenate a team that had not been to the playoffs since 1983. He won Super Bowl XXXI and 75 regular-season games in his seven-year tenure with the Packers, helping to restore the team's tradition, which partly inspired him to come to Titletown.
"When I went there, even though it had been 24 years (since they reached the Super Bowl), you saw all the names and the collages and knew they had a tradition," he said. "They had been in the game as long as any team and everyone knew who the Packers were."
To this day the city of Green Bay carries extra meaning for Holmgren. He has several friends there. His four daughters went through their pre-adolescent and teenage years there. Green Bay even has named a main street near Lambeau Field after him.
"Green Bay is a special place for my family and will always be," he said.
While coaching Green Bay, Holmgren's most impressive accomplishment may have been helping a rocket-armed young quarterback named Brett Favre become the NFL's only three-time MVP. As with Montana and Young, Holmgren knew No. 4 possessed special leadership skills.
"Brett may have been one of the best I've ever seen, rallying his teammates around him," Holmgren said, "which is absolutely necessary for the position."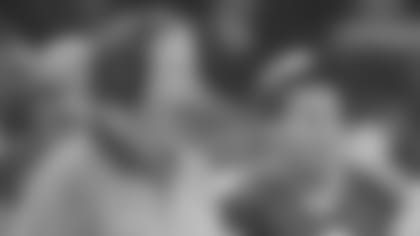 After the 1998 season, Holmgren left Favre and the Packers and moved back west to become the Seahawks' head coach and general manager. Holmgren had instant success, winning the AFC West in his first season. He then, however, experienced adversity like he had not previously encountered in the NFL, missing the playoffs for three consecutive seasons. Holmgren relinquished his general manager position after the 2002 season.
No longer overseeing the personnel, Holmgren led the Seahawks to the playoffs during the next two years but lost each time in the first round, including a 33-27 overtime loss to the Packers at Lambeau in January 2004. He had not won in the playoffs since leaving the Packers, but he said those setbacks made him a better coach.
"You learn from those things." Holmgren said. "I had never really experienced that as a head coach."
Those trying seasons helped Holmgren, known for his quick-trigger temper, become more patient and pave the way for the Seahawks' 13-3 record in 2005. He led them to the Super Bowl for the first time in franchise history, joining head coaches Dan Reeves, Don Shula, Bill Parcells and Dick Vermeil as the only coaches to send more than one franchise to the Super Bowl.
"Having the privilege to coach in this game is special," Holmgren said in Detroit before the Super Bowl. "To be able to do it a couple of times -- unbelievable."
Holmgren's Seahawks lost Super Bowl XL 21-10 to the Pittsburgh Steelers, but by taking two different teams to a total of three Super Bowls, he cemented his legacy as a great NFL coach.
And now he has a few more perks than he did when coaching and teaching teenagers three decades ago.
"As a high school coach and teacher there was a while where we couldn't afford tennis shoes for everybody," he said. "Now I have all the tennis shoes I need."