I read your passage about how Alphonse Dotson was signed by the Chiefs in '65. My namesake uncle, Don Klosterman, signed him and it was an interesting story. He had heard the Packers signed Dotson, but had no way of knowing for sure. That was when my uncle learned Dotson was on a bus coming back from a Grambling game in Florida. So, he called an influential friend, the friend phoned the state police, and within minutes Don was in a state police car chasing the Grambling bus. When they caught the bus, the police waved it to the side of the road. Don boarded the bus and asked the surprised Dotson if he was signed. Alphonse said he had not signed, and shortly after that signed with my uncle and the Chiefs. My uncle was very persuasive. This story is chronicled in Bob Curran's book, "The $400,000 Quarterback."
Here's why I'm writing. I'm chronicling the life of my uncle, and it is these kinds of stories that defined who he was in the AFL and then the NFL. Do you know how the Packers' personnel people and GM reacted to Dotson signing with the Chiefs? If you had to describe the scene in the room when they learned of it, I truly wonder how it played out.
Thanks for sharing the story and the subterfuge surrounding it wouldn't have been unusual in those drafts from 1960-66 when the AFL and NFL were competing for players, although I've heard and read somewhat different versions of Dotson's signing. Whatever the case, there was nobody who drafted better and was more aggressive in signing players during those years than your uncle, albeit with the help of Lamar Hunt's money. With more contemporary personnel people getting inducted into the Pro Football Hall of Fame, I think Don Klosterman deserves serious consideration.
Also, I should point out that Alphonse Dotson was Santana Dotson's father. Santana played for the Packers from 1996 to 2001.
Actually, I interviewed your uncle in December 1978 for a book about the pro football draft, and he told me how the Chiefs had drafted Dotson in the first round of a separate redshirt draft in November 1964; signed him before the Orange Blossom Classic, held Dec. 5, 1964, in Miami; and then tried to "top-sign" him – your uncle's term for signing a player a second time if the original contract had been signed before a player's eligibility had expired – to protect the Chiefs in the event of a legal battle.
According to some newspaper accounts, it was after the Orange Blossom Classic when your uncle went to the Grambling locker room to get Dotson's signature on a contract for a second time, only to miss him there. It was then that your uncle allegedly reached out to the lieutenant governor of Florida, who ordered a state trooper to stop the bus, only for your uncle to learn Dotson wasn't on it. I assume that's maybe why your uncle told me he "tried" to top-sign Dotson, not that he actually did.
Anyway, two days after the game, the Chiefs announced Dotson's signing and explained that he had decided to forego his extra year of college eligibility. The Packers, on the other hand, had selected Dotson in the second round of the NFL Draft on the same day and then had a so-called bird-dog at the Orange Blossom Classic to keep an eye on him, according to the Tallahassee Democrat. In addition, The Shreveport Journal reported that the Chiefs "waged an exhausting battle" with the Packers to sign Dotson before Vince Lombardi, Green Bay's GM, decided the price was too high and backed off.
The Packers also were outbid by the Houston Oilers in their effort to sign their No. 1 pick that year, receiver Larry Elkins of Baylor.
Pat Peppler, who was Lombardi's personnel director, explained what happened with Dotson in an interview with me in 2002. Here was Peppler's version:
"That was the one Klosterman was on. I pursued Dotson. He lived in Houston and so I met him there and got to talk to him and his family. They had a game (the Orange Blossom Classic) and we could sign him up after the game. I went there with him and you had this 'sign- them-under-the goal posts' mentality back then. I was hanging around where they were, got to know Eddie Robinson (Grambling's coach) and all. (Dotson) came out – we were waiting for him (after the game) – and said, 'Gentlemen, I'll give you my decision after I have eaten.' But he was pre-signed by Klosterman, which Klosterman was pretty good at. (Dotson) was signed when he told us he wasn't."
As for Lombardi's reaction, he and the Packers were in Palo Alto, Calif., preparing for their regular-season finale when the Chiefs announced Dotson's signing. The Packers had flown there a day earlier after beating the Bears in Chicago. Lombardi left the impression any time he lost a draft pick that it didn't matter much; that the Packers would continue to win regardless. And that's more or less how he responded that year, too. In fact, eight days before the Orange Blosssom Classic, Lombardi declared, "We're not bidding for anyone. We'll make an offer and that's it."
Now, I have a story of my own to tell you.
My favorite college football teams when I was growing up were Army and Grambling. Consequently, when the Packers drafted Dotson, I was elated. He was being compared to Willie Davis and Buck Buchanan, two future Pro Football Hall of Famers from Grambling.
Davis had even given Dotson an endorsement at the time of the draft. "He played fullback as a sophomore and that should give you an idea of his speed," Davis told the Green Bay Press-Gazette. "He weighed 230 and stood 6-3 then, but he shot up and easily goes 6-4 and 260 now. He's the lean type and his greatest forte is rushing the passer. He plays inside tackle, and they used the same defense as we do."
I also knew that Dotson had been chosen to play for the College All-Stars in their game against the reigning NFL champion Cleveland Browns. The All-Stars started practice on July 16, and the game was scheduled for Aug. 6 at Soldier Field.
I had graduated from high school that June and was living in Green Bay.
Anyway, I woke up early on Saturday morning, July 24, and without telling anyone hitchhiked to Evanston, Ill., just north of Chicago, with the sole intention of getting Alphonse Dotson's autograph. Evanston was located 195 miles from Green Bay, but I got lucky with rides and was able to watch the All-Stars' afternoon practice on the field next to Northwestern's Dyche Stadium.
When practice ended, I rushed over to the Orrington Hotel in Evanston, where the All-Stars were staying, talked to Dotson briefly and got his autograph (shown in the graphic above) on a small page of note-pad paper. But nobody else's. Not Roger Staubach, not Bob Hayes, not Fred Biletnikoff, not Gale Sayers, not Dick Butkus. Just Dotson's even though I'm sure some of those other players also were hanging around the lobby at the Orrington.
After all, I was in a hurry. I had to thumb my way back to Green Bay, and it already was closing in on the dinner hour.
This time I wasn't so fortunate with rides. I stood alongside a freeway outside Evanston for what seemed like hours before someone stopped and gave me a lift. I don't recall how many rides it took just to get to Milwaukee, but I distinctly remember it was close to midnight when I arrived there. Luckily, I had enough money to get a room at the old YMCA, at 9th St. and Wisconsin Ave., and also a pizza not far from there.
The only reason I know the date of my excursion was because Herman's Hermits had just finished a concert at the Milwaukee Auditorium and were enjoying late-night pizzas of their own at a nearby table. The Milwaukee Journal's coverage of the concert – and, in turn, the date – could be found in the paper's archives when I worked there.
I recently finished reading all four volumes of your great history of the Packers. I thoroughly enjoyed it and highly recommend it to any and every Packer fan. I do have a question after reading. When Vince Lombardi went to Washington, why didn't the Packers push for compensation? The Redskins and Lombardi put themselves into an untenable bargaining position, which the Packers could have easily used to their advantage.
Here was the answer given by team president Dominic Olejniczak when he was asked about it following the evening meeting of the Packers' board of directors on Feb. 5, 1969, when it voted 30-0 to release Lombardi from his contract: "It is difficult to measure the true value of compensation. Very seriously, I think if anyone would have offered me 15 players on any one club for Vince Lombardi, I would have turned him down. If I had been offered a million dollars for Vince Lombardi, I would have turned it down. That is how we feel about him. I would not cheapen this deal by measuring his worth to us in dollars or a couple of players. I think our goodwill and stature in the league in years to come, as the result of our action tonight, will far surpass any compensation we might have received."
Olejniczak admitted after the meeting that the board had discussed the issue of compensation at length, and that he had briefly discussed it with NFL commissioner Pete Rozelle that same evening. However, Olejniczak added, "but only very informally – not as a request or demand. Not in any official way at all."
Earlier, Olejniczak had said that neither Lombardi nor Washington president Edward Bennett Williams had asked for permission for them to initiate contract talks, which, on the surface, seems like a blatant case of tampering. But Lombardi's response was that he as general manager had given himself permission to talk to Williams.
All that said, keep in mind that Lombardi's situation might have been unprecedented at the time. Only three years earlier, George Allen broke his contract as an assistant coach with the Chicago Bears to accept a head coaching job with the Los Angeles Rams. Bears owner George Halas filed suit to prevent Allen from taking the job and won the case, but then released him from his contract.
After the judge's ruling, Halas stated, "Your important ruling will uphold the integrity of National Football League clubs, and will preserve the sanctity of contracts," as he explained it in his autobiography, "Halas on Halas." But then Halas told the court, "Now, I want to drop this suit and give Allen his full release. He can go to Los Angeles and he goes with my blessing."
It wasn't until a year after the Packers let Lombardi out of his contract that the NFL's tampering rules were cast in a new light when Don Shula, while still under contract to the Baltimore Colts accepted an offer to become coach in Miami. In that case, Rozelle ruled that the Dolphins had tampered with Shula and awarded the Colts their No. 1 draft pick, which turned out to be the 22nd overall in the 1971 draft.
Jeff from Rhinelander, WI
Did the Packers ever have training camp in Rhinelander? If so, what year or years? Where did they stay and where did they practice?
Yes, in 1935, they held preseason practice for a week in your city. At that time, the term training camp wasn't commonly used, if much at all. But it was the first and only time until 1951 – not counting their years at Rockwood Lodge, which was located just 15 miles north of Green Bay and still in Brown County – that the Packers trained outside the Green Bay area.
On Aug. 24 of that year, Curly Lambeau and 24 players boarded a bus and rode roughly 130 miles to Rhinelander. Their only stop was for lunch at the Muskie Inn in Elcho, which as you know is a small Northwoods town roughly 25 miles southeast of your city and one with no more than about 1,000 residents then and still today.
Upon arriving in Rhinelander, the Packers were greeted by hundreds of spectators and large banners, and practiced that afternoon. They stayed a week, practicing in front of the old high school and headquartering at Pinewood Lodge, located on Lake Thompson about four miles east of the city.
Maybe the best part of that story was one I covered in more detail in "The Greatest Story in Sports," https://www.packers.com/history/the-greatest-story-in-sports, and focused on Lambeau's new bride, the former Miss California. She stayed at Pinewood with the team as did some other wives at Lambeau's invitation.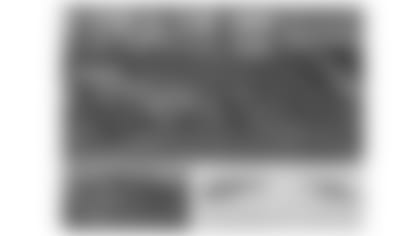 I'm a huge Packer fan. I've been collecting Packer programs for a few decades now. What I'm wondering, is there a complete list of every game the Packers have played? I have a program from Oct. 14, 1944, between the Packers and Philadelphia Eagles, which was played in Tennessee. That game is not listed anywhere that I can find.
I'm not a memorabilia expert, but I would think that's a rare program. Yes, the Packers played the Eagles that day in Nashville, but it wasn't a league game. That's why it's probably not listed in record books or on most websites.
We list it in our media guide, as well as other in-season, non-league games and preseason games going back to 1921. While there might be a few games missing, I'll see if someone in our office can send you that list.
The game was sponsored by The Nashville Tennessean and played as a wartime benefit for the 20th Ferrying Group of the Air Transport Command at Berry Field, the city's airport. The Eagles beat the shorthanded Packers, 38-13, before an estimated crowd of 20,000 at Vanderbilt's historic Dudley Stadium.
Otherwise, the Packers finished 8-2 that year in regular-season games and beat the New York Giants in the NFL championship for Curly Lambeau's sixth and final title.