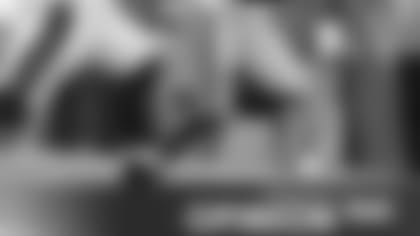 TE Jermichael Finley
Paul from College Station, TX
Vic, if there can be a bright side to this injury problem, what would it be?
Players can't get hurt if they're already hurt. As ridiculous as that sounds, Randall Cobb will be out of action for the "multiple weeks," which means he'll be recuperating instead of exposing himself to injury that would deepen his absence. The Packers need Cobb back for the late-season rush. The clock is now running on his recovery and return. That's a good thing. Meanwhile, the Packers will be finding depth that might be used in other ways when Cobb returns.
Regarding injuries, I heard Pat Kirwan on NFL Network say that one month into 2012 he had noted 99 players on injured reserve. This year, one month in, that number was 175. He said there are an inordinate number of foot injuries. Theories?
Nick from Toronto, Ontario
Given the continued expansion of the passing game leaguewide, where would you rank the importance of the WR position? Obviously, the QB and LT rank first and second, but if building a team, would you take a good, young WR after those two positions?
Passer, pass blocker, pass rusher are the top three positions. If a Larry Fitzgerald is available, take him. If an Adrian Peterson is available, take him. Ultimately, you're drafting the player, not the position.
Even with all of the high-powered offenses in the league now, do you still feel defense and rushing the ball well still wins championships?
No, I haven't felt that way since the 2004 major point of emphasis. This is a passing league now. You win or lose with your quarterback. A strong running game is important because it helps protect the quarterback and open the field for him. A strong defense is important because it helps stop the other team's quarterback, but the best running game and defense in the league won't help you win a championship if you don't have "The Man."
Vic, with the Packers shorthanded at wide receiver, do you foresee Finley being used in the slot or even outside as a hybrid type wide out?
Isn't that how he's normally used? I don't think of Jermichael Finley in terms of an in-line tight end. He's a receiver whose size presents matchup problems for smaller defensive backs, so when Finley is in the slot or split wide, some poor defensive back not only has to play fast, he has to play high. The Packers lost a major weapon when Randall Cobb was injured in Baltimore. This is going to be a tough injury to overcome because he's used in so many different ways. Cobb sharpens a coach's pencil. I suspect Finley and Jordy Nelson, and maybe even Johnathan Franklin, will be used in creative ways to pick up the slack Cobb's loss has created.
Bob from Grand Rapids, MI
Now that we are a couple of days out from Sunday, I am interested in your take on the Broncos game. Manning passed for less than 300 yards, his lowest total of the season. Do you think they took the foot off the gas pedal, or was the Jaguars defense better than expected?
I was told the Jaguars played a lot of cover two against Manning, which was meant to deny the big play. It worked. It forced him to play underneath and be patient, instead of getting big chunks of yardage and moving the ball down the field quickly. Sound familiar? Future opponents will see what the Jaguars did and do the same.
Vic, I am a bit surprised to hear that a coach can decline a penalty, wait and see what the opponent does, then call a timeout to change his mind. I don't think I like this at all. Thoughts?
I like it. Let's put all the cards on the table.