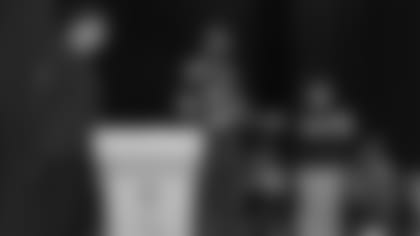 President/CEO Mark Murphy & CB Jarrett Bush at the Wisconsin School for the Deaf.
GREEN BAY—The communication was via sign-language translators, but Jarrett Bush definitely made a connection.
A stop at the Wisconsin School for the Deaf in Delavan was a unique part of the eighth annual Tailgate Tour on Wednesday, and as the students asked Packers players about the self-esteem and confidence issues they face due to their hearing disability, Bush talked about his own struggles as a youth.
Bush grew up with a learning disability, particularly when it came to reading. He would read a paragraph or a page in a book and, moments later, not be able to recall what he just read.
"I just explained to them that I had to work at it," Bush told packers.com in a phone interview on Thursday, while the Tour bus was on its way to a sold-out evening tailgate party in Dubuque, Iowa.
"I wasn't good at school, but I had the dedication and determination to go to the teacher and learn. I didn't get it right the first time, but maybe the fifth or sixth time I tried it, I got it right."
Bush said the deaf students had some of the most thought-provoking questions he had fielded on the Tour, because any obstacle they encountered with their schoolwork or everyday lives came in addition to their obvious and ever-present daily challenge.
"They had us really thinking," said Bush, adding that he, along with teammates Randall Cobb and Alex Green, plus President/CEO Mark Murphy and Super Bowl XXXI alumni Santana Dotson, Frank Winters and Aaron Taylor, all left the school with a whole new level of respect for its students. Some of them play on the school's eight-man football team that communicates play calls and instructions in various ways, including sign language, physical signs and placards and drum vibrations from the sidelines.
"We were really impressed with the questions they were asking."
Two translators relayed the players' answers to the students via sign language, and vice versa. The dialogue was meaningful, and the message from Bush, now an eight-year NFL veteran whose career with the Packers began as a waiver claim, was to always remain confident in the ability to overcome.
"I hope they could relate a little bit with my struggles, and hopefully they find that dedication and determination to work on their skills, but also to strengthen the skills they have already, to become whatever they want to be," Bush said.
After the Tour left Delavan on Wednesday, it headed to Beloit for a tailgate party and then continued traveling west on Thursday along the Wisconsin-Illinois border to Monroe, where the crew helped build a playground in Lincoln Park.
Securing the nuts and bolts for slides and monkey bars was a departure from the usual Q&A sessions and fundraising gigs, but it was no less worthwhile a stop.
"Anytime you can build a playground for kids to get out and play, that's a good thing," Bush said. "It gets kids off the video games and computers, and gets them outside to interact with other kids."
After Thursday night's event in Dubuque, the Tour will have two days remaining, with more surprise stops on the way to the last two tailgate parties in Tomah and Wisconsin Rapids.
"All the trips are a blast, seeing the kids light up," Bush said. More from the Tailgate Tour