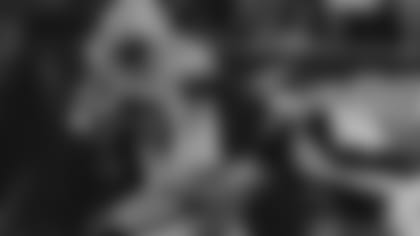 Packers PR/KR Jeremy Ross had two long returns at the Metrodome in Week 17 last season to help the Packers rally from an early deficit.
GREEN BAY—Jeremy Ross redeemed himself once, and he has every intention of doing so again.
The young punt and kickoff returner realizes it's a tall order to atone for a mistake that in fans' minds will define his first season with the Packers – a fumbled punt at his own 9-yard line early in the second quarter in the playoffs at San Francisco.
The 49ers recovered, scored three plays later to tie the game at 14 and went on to a two-touchdown victory that ended Green Bay's season.
A blunder in the postseason spotlight naturally overshadows all, but the resilience Ross had already shown in his fledgling NFL career is what he'll lean on to bounce back again. Truth be told, it could be the biggest reason he's still here.
"It shows they believe in me and they believe in second chances, as well," Ross said of the coaches and front office during a break in his offseason program workouts. "Giving me an opportunity to still be here after what's happened, I'm definitely grateful for that."
A month before the playoff loss, Ross thought he might have blown his only chance. In Week 15 at Soldier Field in Chicago, the Packers tried a trick punt return midway through the fourth quarter with a 21-10 lead.
The strategic decision is a discussion for another day, but the execution was on Ross, and when he dropped a throwback pass from regular returner Randall Cobb, it could have cost the Packers an NFC North-clinching victory.
"The first opportunity to get the ball in my hands, and it was supposed to be a touchdown," said Ross, who was elevated to the active roster for the first time as a pro after being signed to the practice squad at midseason. The Packers were his third team since coming out of Cal-Berkeley undrafted in 2011.
"Dropping it, I was just like, 'It's over. I'm probably going to be out of here. This is a division championship game. I'm done. I'm not going to get another shot.' I was definitely struggling with those thoughts."
A lot of activity "behind closed doors," according to Ross, got him through it. Film study, focus on technique in practice, prayer and positive thoughts were all needed to drown out the negativity.
Encouraging words from a veteran teammate helped, too. Ross said receiver James Jones told him the story of the low point in his rookie season, when he fumbled twice in a 2007 loss to the Bears.
"It happens to everybody," Ross said. "That was comforting."
Not as much as redemption, which Ross found over the next two weeks. After Cobb left the Tennessee game with an ankle injury, Ross broke off a 58-yard punt return. The following week at Minnesota, with Cobb still sidelined, Ross returned a kickoff 44 yards and a punt 32 yards to spark a comeback from an early 13-0 deficit.
"You can play a negative tape in your head over and over again, but I try to train myself to have a positive tape running," Ross said.
Ross' combination of talent and toughness got him the return job for the playoffs, but he learned another lesson in having, perhaps, too much confidence.
With the Packers leading 14-7 in San Francisco, and the defense having just stopped the 49ers for what would turn out to be one of the few times in the game, the northern California native let the setting and the moment get the best of him.
"I was excited to be back home, I'd had some success prior, and I just wanted to make a big play," he said. "I was so focused on catch-it-and-go that when the ball came, I started looking at where the gunners were, and I lost sight of my technique. My elbows got a little too wide, and the ball just slipped right through."
Ross said he gave himself the next day to be upset and discouraged, and then he "flushed it," knowing that approach worked once before.
After giving his body a week to rest, he began training back in California at the new facilities at his alma mater. He returned to Green Bay last week for the start of the offseason program, determined to get himself in the best shape physically and mentally to be the Packers return man again in 2013.
He believes he'll also get a chance to work at gunner and/or personal protector on the punt team again, roles he performed last year. More opportunity presents itself as a possible fourth or fifth receiver, as well, with the departures of Greg Jennings and Donald Driver.
"I'll definitely have to earn those spots," he said. "Nothing's given. I'm ready to earn my spot on this team."
He's also ready for whatever successes and failures come his way. In one month's time last winter, Ross felt he experienced "everything that this league brings," a point that's hard to argue.
"I've been there, I've messed up, I know what it feels like," he said. "No need to be afraid of it, no need to fear it. Just go out there, acknowledge the pressure, and don't let it affect how you perform."