GREEN BAY — He shared a position room with two Super Bowl MVP quarterbacks, studied under the NFL's top offensive minds, and even was coached by a Lombardi.
Joe Callahan had quite the rookie season.
Last spring, few had heard of the 6-foot-1, 216-pound quarterback out of Wesley College in Dover, Del., despite being the first Division III passer to throw for more than 5,000 yards during his senior year with the Wolverines.
Callahan's video-game numbers in four seasons at Wesley – 12,878 passing yards and 130 TDs – did put him on the radar of the Packers' personnel department, which brought Callahan in to compete for the No. 3 quarterback job last summer.
It was the first domino to fall in what turned out to be the craziest 10 months of Callahan's life. A rookie season that started in Green Bay and took detours to New Orleans and Cleveland wound up seeing Callahan back with the Packers by season's end.
"It was crazy," said Callahan recently. "I had an eye-opening experience and got to see how the NFL is, the side you don't want to be on, but it was a good learning experience for me."
Callahan, the 2015 Gagliardi Trophy winner as D-III's best player, started in a competition with former North Carolina quarterback Marquise Williams. Even if he won the job, there was a possibility he'd start the year on the practice squad.
However, it was apparent early in camp that the Packers had unearthed a possible gem in Callahan. Working under Head Coach Mike McCarthy and quarterbacks coach Alex Van Pelt, Callahan exuded toughness and moxie for a rookie quarterback.
His overall opportunities were still limited until No. 2 quarterback Brett Hundley developed an ankle injury that sidelined him for three preseason games.
Hundley's misfortune freed additional snaps for Callahan, who responded by completing 54-of-88 passes for 499 yards and three touchdowns without a turnover in the preseason.
The performance not only won Callahan the third-string job but also a spot on the Packers' active roster, one of six undrafted rookies to survive the initial cut to 53.
"This is just clearly Joe Callahan earning the job," said McCarthy after the 53-man roster was finalized. "I mean, how the hell does he not make the team? It was clear. Just watch the games, watch the video."
Callahan spent the first six weeks of the regular season on the active roster before the Packers released him on Oct. 13 to make room for returning cornerback Demetri Goodson.
The Packers hoped to sign Callahan back to the practice squad, but the word was out about the rookie. Twenty-four hours later, the New Orleans Saints claimed Callahan off waivers.
Callahan spent the next week working with Saints head coach Sean Payton, 10-time Pro Bowl quarterback Drew Brees and quarterbacks coach Joe Lombardi, Vince's grandson.
It was an invaluable experience for Callahan, who had to chance to compare and contrast Brees' preparation with that of Packers two-time MVP Aaron Rodgers.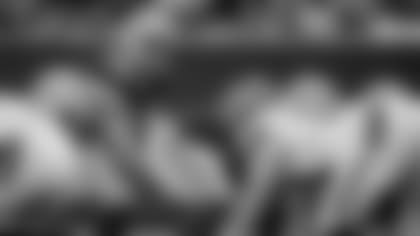 Callahan's stint was brief. Like Green Bay, New Orleans needed his roster spot to address injuries elsewhere, so he was again exposed to waivers and claimed for a second time.
This time it was the Cleveland Browns, who snagged Callahan with three other quarterbacks, Josh McCown, Robert Griffin III and Cody Kessler, all sidelined by injury.
After flying to Cleveland on the eve of the World Series, Callahan spent the next month in a quarterback room that was also occupied by two other rookies: Kevin Hogan and Kessler.
"The writing was on the wall early," Callahan said. "They had five quarterbacks. When it's in-season and you have five quarterbacks, reps are extremely limited. It's hard for you to get even an opportunity to prove yourself."
Callahan was released after Kessler cleared the concussion protocol and McCown and Griffin neared a return. After finally clearing waivers, he then signed to the Packers' practice squad.
Callahan spent a week there before being promoted to the active roster again in time for the Packers' Week 15 game against Chicago with Rodgers nursing a hamstring injury.
It was a thrill for Callahan to get reunited with Rodgers, Hundley and Van Pelt, three individuals he grew close to during his summer in Green Bay.
"It was an exciting moment for me," Callahan said. "I still got to learn a lot from those guys and got to see different perspectives. I just tried to make the most of my opportunities everywhere and carry over some of that stuff that I learned and apply it here, too."
Along with providing depth, Callahan also became "the closer" for the quarterbacks during the offense's weekly Friday quizzes, which became infamous for their competitiveness among the different position groups.
The quizzes are intended to test the players' knowledge of the upcoming game plan, but the youngest players in each group are called forward to break ties when the situation calls for it.
Callahan snapped a tie with the offensive line when he bested fellow rookie Lucas Patrick in sudden death before the Dallas playoff game, sealing the victory for the quarterbacks after correctly answering which two NFL teams were 0-4 in the Super Bowl (Buffalo and Minnesota).
So ended an unforgettable year for Callahan, who went from an overlooked prospect to a well-traveled commodity during a hectic rookie season.
"When I finally got back here, it was a big relief and a great feeling," Callahan said. "I love being in the locker room with these guys. It was cool to be back home and be back in the meeting rooms and locker room with these guys."