GREEN BAY – A little more than three weeks ago, linebacker Joe Thomas was trying to get used to his new surroundings and still bumming that he wasn't in Green Bay.
Funny how things can change.
Thomas, who spent the second half of last season on the Packers' practice squad and made a strong bid for a roster spot in this year's training camp, had to swallow hard when Green Bay released him after the final preseason game.
He landed in Dallas as a member of the Cowboys' practice squad, but it turned out to be a brief detour. With the Packers losing inside linebacker Sam Barrington for the season in the opener, they called Thomas a week later with an offer of the roster spot he coveted, and back he came.
Thomas quickly has settled into his role in the Packers' dime defense, and he has made an impact in each of the three games since.
In his NFL debut against Kansas City, he chased down QB Alex Smith for the first sack of his career.
At San Francisco in Week 4, he forced 49ers tight end Vance McDonald to fumble after a catch in the red zone and barely missed recovering it before McDonald re-corralled it.
Then last Sunday against the Rams, he deflected a pass in the end zone intended for tight end Lance Kendricks, and safety Ha Ha Clinton-Dix made a diving interception to thwart a fourth-quarter drive.
That last play is his biggest so far, but it's tinged with some regret for Thomas.
"I wanted the pick for myself," he said after the game. "I'm just glad we got off the field and kept them out of the end zone. But you know, ahhh, I hate that I dropped it. Congrats to Ha Ha for making the play."
Thomas' presence in the dime defense has been important. He has lined up as the lone inside linebacker, freeing up Clay Matthews to rush from the outside. He also has shifted over to the edge when Matthews has stayed in the middle.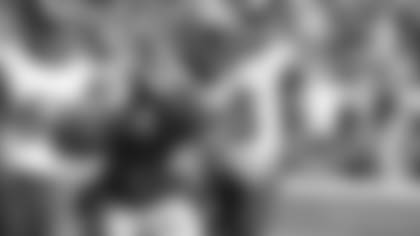 He's a regular on special teams as well with two coverage tackles so far.
He has shown he can be a factor when he's on the field, which he believed from the get-go as a small-school undrafted free agent from South Carolina State, though he's had to be patient to wait for his chance.
"I think I can play better as long as more reps come and I get more comfortable in the scheme," Thomas said. "Whatever they want me to do, I'm going to try to do it."
He believes more is within his reach, just as it was with Nick Foles' pass coming his way on Sunday in Lambeau Field's south end zone.
"I did my part, I guess," he said, the tone of regret still there. "I could have done better. I was thinking about going down the sideline with it, but at least we got off the field.
"I'm just glad to be back in Green Bay and making plays for the Green Bay Packers."