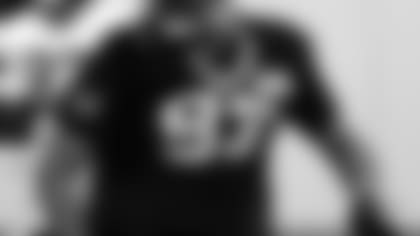 GREEN BAY—Time will always tell in these situations, but Johnny Jolly sounded every bit the contrite and changed individual on Tuesday.
"I've made my mistakes, I've learned from my mistakes, and I'm here today a better man," Jolly said after minicamp practice, his first work on a football field in more than three years.
Jolly's long layoff resulted from a league suspension for substance abuse, a problem that sent Jolly from personal hell to prison and elsewhere in between. Football-wise, he was reinstated by the commissioner earlier this year, and the Packers are giving him a chance to return to the team on which he was a starting defensive lineman for 2½ seasons (2007-09).
"From the day I got suspended, I always knew I would get back, but I never knew when. I never thought it would be three years," he said.
"I've got a lot of rust to knock off, but I'm going to compete. I'm one of 90 guys competing."
Wearing his familiar untucked No. 97 jersey at practice, Jolly did all the drills with his position group and took some snaps in 11-on-11 work. Physically, he didn't look much different than before.
His teammates welcomed him with open arms and are certainly hoping he can return to being the impact player he was in 2009, when he helped anchor the league's No. 1 rushing defense and batted down 11 passes at the line, most by a Packers defensive lineman since the team began recording the statistic in 1980.
"There's only so much you can tell in helmets, but just the fact that he was fired up, moving around, he certainly looks like he hasn't lost any quickness or strength to me," offensive lineman T.J. Lang said.
Jolly's game will need time to come around. For now, his teammates were glad to see the same locker-room and huddle personality they remembered, especially now that they know it's not masking a problem that temporarily derailed his life.
"I'm just really enjoying his presence back in here and what he brings to us from an energy standpoint," quarterback Aaron Rodgers said. "He's got a second chance. That's an exciting thing to have, and I'm confident he's going to make the most of it.
"He's been through a lot, obviously faced down some demons, and I've got a lot of confidence in Johnny Jolly."
Jolly thanked the Packers for the second chance, as well as the family members like his mother and grandmother who stuck by him.
Fellow defensive lineman Ryan Pickett stayed in touch with Jolly via phone over the past three years, and he always believed Jolly would make his way back, too.
"I just stayed positive," Pickett said. "I'd tell him he needs to use his story to help other people, use it for inspiration for others. That was my thing for him. I was like, 'You're going to overcome it, but how are you going to help the next man not do what you did?' That's the approach he's taking, I'm just real proud of him and it's great to have him back."
A 13-year veteran, Pickett can't imagine trying to do what Jolly is after three full seasons away from the game.
"Me? I can't, no," Pickett said. "If anybody is gifted enough to do it, it's Johnny Jolly. His footwork, … he just picked up right where he left off."
The same could be said for cornerback Sam Shields, who also made his first offseason appearance Tuesday upon signing his one-year tender offer as a restricted free agent.
Shields was hoping to sign a long-term contract to his liking by now, and while he said there was "a little progress" on that front, the Packers are in a strong bargaining position. Behind veteran Tramon Williams, the Packers have a deep stable of young cornerbacks in Casey Hayward, Davon House and rookie fifth-round pick Micah Hyde competing for playing time, and the better business decision for Shields was to return to the field rather than consider a prolonged holdout.
"It felt good signing," Shields said. "I wanted to be back. I was tired of being home. I was home too long. I didn't get what I wanted, and it wasn't going to go much farther, so I might as well sign the tender and get back."
Like Shields, Williams was an undrafted player who worked his way up and eventually was rewarded with long-term financial security, and he has advised Shields to remain patient.
The bottom line is Shields may have to repeat his strong 2012 season in order to receive the contract offer he wants. Shields made a huge splash as an undrafted rookie in 2010 but saw his play fall off a bit the following year before bouncing back last season.
"It's all on me," Shields said. "I've got to go out there and ball out, do what I've been doing, and it will speak for itself." Additional minicamp coverage