David Yost was home in Texas with his wife, Carrie, and the couple's three children last month, watching the NFL Draft play out like the rest of the quarantined country.
The stage was set for a big night with two of Yost's former quarterbacks, Oregon's Justin Herbert and Utah State's Jordan Love, both potential first-round picks.
There wasn't much drama with Herbert, whom Yost worked with in 2016 when he served as the Ducks' passing-game coordinator/QB coach. He went sixth overall to the Los Angeles Chargers.
But it was Love who had Yost's 11-year-old son, Keaton, on the edge of his seat. He kept asking his dad where the 6-foot-4, 219-pound quarterback would land, until finally the Packers moved up from No. 30 to 26 after a trade with the Miami Dolphins.
"They love Jordan," said Yost of his kids. "So when the Packers were coming up, it was like, 'Do you think Green Bay will take Jordan?'"
Yost, who coached Love for two seasons at Utah State before following former Aggies coach Matt Wells to Texas Tech last year, pondered the question for a second. The Packers had Aaron Rodgers, so the instant reaction could be a quick, "No."
But Yost thought about it a little more. The value was there, and maybe, just maybe, the Packers saw the same poise, arm strength, and all-around upside in Love that Yost experienced firsthand on the Logan, Utah, campus.
Then the messages started to pour into his phone.
"We were watching it on my Apple TV so we were a little delayed from the cable broadcast," Yost said. "Then, all of a sudden, my phone's just buzzing and lighting up like crazy. I was like, 'Oh, I bet the Packers took him.' I think we're behind everybody else.
"I got 40 or 50 texts instantly from people and we were kind of all bouncing around."
Anyone who knows Love knows this story by heart by now – the late bloomer who parlayed his only scholarship offer in the Football Bowl Subdivision into a lottery ticket to the NFL.
But Jordan Love, the football player, wasn't who had Keaton Yost's stomach in knots. It was Jordan Love, the person. The young man who wore out the springs on the Yosts' trampoline and helped the family install its basketball hoop back in Utah.
And they weren't alone in their excitement. That was just one of several celebrations going on across the country the moment the Packers selected Love.
"I felt like I got drafted, man. I can't lie," said Packers undrafted rookie linebacker Krys Barnes, who grew up with Love in Bakersfield, Calif., and played on the same high school football team. "There's no better person to see that happen to."
Love has won over teammates and coaches at every level he's played. But not because of an NFL-ready frame or a rowdy pregame speech that gets hundreds of retweets on social media.
Love did it by being genuine and possessing a love for the game of football you cannot teach. The Packers are getting a first-round pick to be sure, but those who know him best say they're adding the highest-caliber person to their locker room as well.
"His temperament and his enthusiasm for just life, in general, he has a good time," said Bryan Nixon, Love's football coach at Liberty (Calif.) High School. "He knows when it's playtime. He knows when it's work time. He just has a very good demeanor."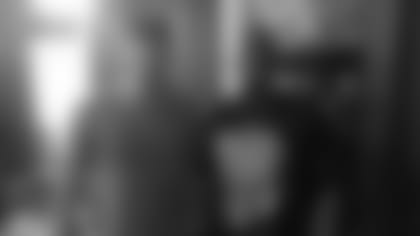 ---
---
'There's no better story than him'
Love wasn't the biggest player on the youth football scene in Bakersfield but he had serious skill. Even early on, Barnes took notice of Love's unquantifiable ability to mystify on a football field.
Barnes and Love grew up roughly seven minutes from each other. Introduced through their love of football, Barnes and Love built a strong bond at any early age that extended to their families.
"My family sees him as family and vice versa," Barnes said. "He was a small skinny kid but he's always been a high character guy. He's always been a baller in my eyes."
As talented as he was, Love was small. He came in around 5-foot-6 and 130 pounds as a high school freshman. Even when Love shot up in height, it happened so fast his body couldn't catch up.
Also a basketball player, Love didn't always have an easy time putting weight on but he kept after it. Once he settled in around 6-3, Love started to fill out and became the heartbeat of Liberty High School's offense.
"He's put so much into getting where he wants to be," Krys Barnes, high school teammate
Love was perfect for the school's spread offense. He threw for 4,078 yards and 42 touchdowns during his final two seasons and gained another 1,190 yards and 13 TDs on the ground.
That team was talented but also extremely close. To this day, Love, Barnes and Liberty running back Quincy Jountti (currently a redshirt senior at USC) share a group text chat together.
That's what made Liberty's Central Section Division I Championship Game so meaningful. A senior team captain with Barnes, Love threw for a career-high 296 yards and three TDs in a 56-21 win over Clovis High School, capturing the school's first California Interscholastic Federation title.
"Once he was a junior, senior, you saw the arm talent," Nixon said. "You saw the ability to make plays off-platform, those type of things. I think that's one of the biggest characteristics for him is he was never too high or too low and he never got too rattled."
As much time as the physical development took, Love's mental aptitude for the game and maturity were unparalleled. Having lost his father Orbin when he was just 14 years old, Love put everything he had into his two greatest loves – family and football.
When he needed to get bigger, Love lived in the weight room. If he needed to get smarter, Love locked himself in the film room and studied the playbook cover-to-cover.
By his senior year, Love knew the line concepts so well he could change blocking protections based on what the defense was showing pre-snap.
"He's put so much into getting where he wants to be," Barnes said. "The challenges he's overcome, there's no better story than him right now."
While Barnes emerged as a coveted four-star recruit, the college offers trickled in slowly for Love. A few Division I schools called but most struggled to see past his slender frame.
Nixon and his assistants pleaded with college coaches. "This guy's best football is still in front of him because he's not grown into his body yet," they would say. "When that comes into place, he's going to be a special talent." Most nodded and respectively went on their way.
Yost, an assistant at Washington State at the time, had Love on his radar but the Cougars had offers out to three other quarterbacks in his class. When he asked one of the recruiters about Love, Yost was told he's "going to get big, but right now he's like a baby deer."
In the end, Utah State was the only FBS program to move on Love. He took a visit with his mom and committed.
An early enrollee, Love put his first six months on campus to use. With proper dieting and a rigid strength-and-conditioning program, Love returned to Bakersfield that summer looking like a different man.
"I was like, 'Oh my gosh, you've grown up.' He had muscles and was filling out to be a big man," Nixon said. "The growth he had had from the time away, it was really fun to see."
---
---
From preparation to production
In a way, it's almost like Yost was destined to coach Love.
After Washington State, Yost had a one-year stint as passing-game coordinator and quarterbacks coach at Oregon in 2016. That was followed by an offer from Wells to join his staff at Utah State.
Upon hiring Yost as his offensive coordinator and quarterbacks coach, Wells sat down with him to look over the five quarterbacks on the Aggies' depth chart, including Love.
"We have a freshman we redshirted that's the most talented in the group," Wells told Yost. "He's really growing, getting bigger, strong. Quiet kid, but has really good arm talent."
The first thing Yost noticed was how Love was a self-starter, which was key because Utah State didn't hand out iPads for players to take back to their dorms. It was up to each guy to pay attention in meetings and put in the extra time around the facility to be ready every Saturday.
"When you watch him, you would think his heartrate is always at about 30. I mean it does not budge – good, bad or indifferent," David Yost, former position coach
And Love took that to heart. Even during his redshirt year, he would sneak into the film room to either study his own tape or that of the upcoming opponent.
In time, he started pulling in receivers and other teammates into the sessions with him. Love didn't advertise it to anybody, a characteristic Yost later sold to Packers Head Coach Matt LaFleur during the pre-draft process as one of the quarterback's greatest strengths.
"It's almost like he's thinking he's cheating on the test," Yost said. "Like, 'If I go in and watch the video ahead of time, I'll play better but I'm not going to let anyone know I'm doing it.'"
Because Love knew he wasn't a finished product. His body had filled out but he still had the baby deer qualities Yost had heard about when Love was coming out of high school.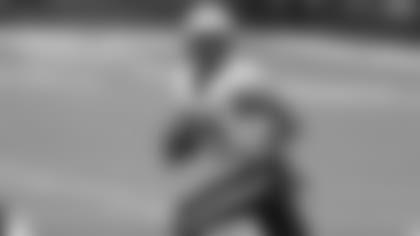 His running wasn't smooth and his footwork needed refinement. Love had a working-class arm and could put the ball anywhere he wanted on the field, but that confidence was a double-edged sword.
One time during two-a-days, Yost remembers Love rocketing a pass to a receiver running down the seam. The only problem was the linebacker standing in between Love and his target.
"He hits the linebacker right in the face," Yost said. "I'm like, 'What are you doing?' He goes, 'I was trying to get around him.' I said, 'Around him? You're going to bend it around the guy? That ain't going to work.'"
After some initial turbulence, Love blossomed with moments of pure greatness. The kid could extend plays with his feet, effortlessly change his arm angle and heave a ball 60 or 70 yards off-balance.
By his redshirt sophomore year in 2018, Love was the undisputed leader of an offense dominated by seniors. The bigger the game, the cooler his demeanor.
"I'm telling you, when you watch him, you would think his heartrate is always at about 30. I mean it does not budge – good, bad or indifferent," Yost said.
"When we started spring football (in 2018), we went from worrying about Jordan Love doing the right thing to, 'Well if the offense doesn't score that's my fault.'"
Love was at the peak of his powers that year. He threw for 3,567 yards with 32 touchdowns and only six interceptions on an 11-win Aggies team that dominated North Texas in the New Mexico Bowl.
In midst of the run, however, Wells was hired at Texas Tech. Yost would soon follow him south, with Utah State re-hiring Gary Anderson to replace Wells.
Love's numbers dipped this past year, while his interceptions spiked to 17. Watching from afar, Yost believes it had more to do with Love trying to do a little too much to make up for what Utah State had lost to graduation than anything else.
Love still threw for 3,402 yards and 20 touchdowns, powering a young Aggies team to seven wins and its third consecutive bowl game.
"It's not just that he's a good player – because I've been around guys who are good players but they didn't make anybody else better," Yost said. "He made the team better when he played, and I think that's what Green Bay will be so excited about as he moves forward."
---
---
Nothing given, everything earned
As the Yost family was celebrating Love's selection in Texas, Barnes was able to congratulate his longtime friend in-person back in Bakersfield on getting picked by the Packers.
Two days later, Barnes joined Love when he signed with Green Bay as an undrafted rookie. Afterward, the two celebrated by popping bottles of champagne together in a video posted on Barnes' Instagram account.
Barnes says he was destined for Green Bay regardless of whether the Packers drafted Love, but it's still nice to be reunited with his former teammate.
"To see all his hard work and everything he's battled and persevered through – and then to see him go in the first round – I was elated," Barnes said. "I know he's going to have a great career in the league. He's definitely going to do great things."
During the draft process, LaFleur reached out to Yost to ask about his former QB. The two coaches have known each other since 2014 when LaFleur and Yost each attended a throwing session for Jacob Eason.
"He will prepare himself like he's going to be the guy, even when everybody knows he's not," David Yost
After the first day of the draft, Yost shot LaFleur a congratulatory text. With NFL facilities still closed to coaches and players, the Packers have only gotten to know their first-round pick through Zoom interviews and meetings. But his film at Utah State doesn't lie.
"He was a pretty impressive athlete," offensive coordinator Nathaniel Hackett said. "His ability to move in the pocket and get on the move and make some dynamic throws were things that were really exciting."
For the past month, the question everyone has been asking is how Love will jive with Rodgers, but Yost doesn't anticipate that being an issue.
He's never met Rodgers and doesn't presume to know anything about him beyond what he sees on the field, but Yost does know Love. He knows his heart and he knows his work ethic.
Yost expects his former quarterback to be all ears and all business in Green Bay, as a first-round pick ready to prove he's a quarterback worth believing in.
"He will prepare himself like he's going to be the guy, even when everybody knows he's not," Yost said. "He'll put himself in position. He'll learn it.
"He will pick Aaron's brain to make himself better so whenever his opportunity does arrive – whenever that is – he's ready to go out and perform the best he can."