GREEN BAY—Julius Peppers is switching sides in the NFL's oldest rivalry. What changes might that create on the Packers defense?
That's the question on every Packers fan's mind following the announcement Peppers has signed a contract to play for Green Bay. Will Peppers remain a hand-on-the-ground defensive end? Will the Packers make the switch from a 3-4 to a 4-3 defense? Or will Peppers move to linebacker in the Packers' 3-4?
"I'm going to let Coach McCarthy deal with questions about the position and the scheme. I'm not really sure. We haven't talked in detail about what the plan is going to be for me, but I can say it's going to be something different," Peppers told packers.com on Saturday.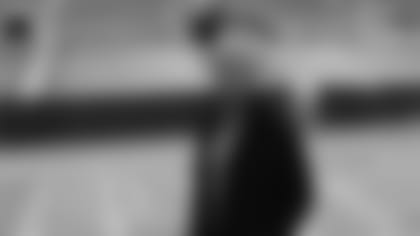 Something different? The plot thickens.
Peppers and the Packers agreed to a three-year contract that could take Peppers to the end of a career that began with him being selected second overall by the Carolina Panthers in the 2002 draft. Twelve years and 118½ sacks later, Peppers is hoping his third stop in the NFL will finally produce the Super Bowl title that's eluded him.
"The teams that have the good quarterbacks are the teams that win. That obviously factored into some of my decision making," Peppers said of joining Packers quarterback Aaron Rodgers. "I'm looking forward to playing with Aaron. As much as I disliked chasing him around, I'm excited to join him."
Win a championship with the Packers?
"That's the most important thing. I haven't won a championship. That's where my focus is. I feel like the team is set up to make a run and I feel I can help get it there," Peppers said.
At 34, Peppers is coming off a season he said "was not up to my personal standards." In 2013, Peppers recorded 7½ sacks. He was released by the Bears on March 11.
"I have a lot left in the tank. I have a lot left to give, a lot left to offer. I want to show people I can still play the game at a high level," he said.
"Expectations are not for me; stats don't necessarily have a lot of value in my book. You can have a great season without having great stats. My goal is to play football at a high level. I'm a pass rusher, so that's going to be a big part of what I can do. Play hard and have an impact in every game," Peppers added.
Peppers will be playing for Defensive Coordinator Dom Capers, who's known for his blitzing, 3-4 defensive scheme, but Capers coached the Jaguars defense in 1999 to lofty rankings from within a 4-3 alignment. It's important to note Tony Brackens enjoyed his best season as a pro that year, playing end in a 4-3 scheme that incorporated a lot of 3-4 principles.
"(Capers) likes to be versatile and do different things. That's something I've wanted to do my whole career," Peppers said.
"This team last year had a great offense, even when Aaron went down. The defense – I don't know what they were missing. I definitely feel I can help them get to an elite level. Everything's a perfect fit."