Cliff Christl started gathering oral histories with former Packers and others associated with the team in 2000 and will continue to gather them as Packers historian. Excerpts from those interviews will be periodically posted at *[www.packers.com
*](http://www.packers.com)
Ruth and Tony Canadeo were married for 60 years prior to Tony's death in 2003. A native of Green Bay, Ruth was 22 years old when she met Tony, a star halfback for the Packers from 1941-44 and again from 1946-52. Tony would have his No. 3 retired following his career and be inducted into the Pro Football Hall of Fame in 1974. Ruth, whose maiden name is Toonen, was a lifelong resident of Green Bay.
On meeting Tony:"I met (Tony) when the Packer Playdium was there (in downtown Green Bay). There was a bowling alley and the bar. That was right before the war and it was a place you could go without a date. You could go with a bunch of your girlfriends. I met Tony in 1942, maybe. I was on another date."
On working downtown: "I worked at the telephone company. We got married in 1943, so I probably worked there around 1940. When they put me on nights, I quit. I got a job working at a lawyer's office in the Minahan-McCormick Building. I had a bunch of girlfriends who worked downtown and we'd go (out) after work. Go to a movie sometimes and up (at the Packer Playdium). A lot of the guys were gone (because of the war). So there were a lot of women around."
On the atmosphere in the Playdium, which was owned by Don Hutson and located at 114. N. Adams St.:"It was just a bar and bowling alley. It was during wartime, too, and a lot of gals would go there because a lot of their boyfriends had been drafted. It was a great big circular or horseshoe bar. There were booths. It was usually very crowded. That's where you'd go if you wanted to meet somebody. You could go with a bunch of friends and not be afraid of anything. There wasn't dancing. There was music. Entertainment sometimes. A lot of girls would go there hoping to meet some of the ballplayers. And the doggone ballplayers would lie and say they weren't married."
On working at the Wisconsin Telephone Co., located next door to the Playdium at 112 N. Adams: "That building is still there. That red brick building. You used to have to go there to pay your telephone bill. The telephone operators worked on the third floor way back when it used to be, 'Number please.' You worked certain shifts. 'It was Howard or Adams? Number please? Line's busy.'"
On the Astor Hotel, located on N. Adams between Cherry and Pine streets and where most of the single players lived during the season, particularly in the 1930s and '40s:"It had a lobby. The desk was there. The bar was there. A lot of (the players) had rooms that overlooked Adams Street. They could look out their bedroom windows and watch what was going on. In fact, when I met Tony, he was staying there."
On whether the players were often visible around the Astor during football season:"Oh, sure. They used to watch the girls go by. When Tony was staying there, he used to say they'd watch the telephone operators walk by to go to lunch or to Oliver's. They'd whistle at them and stuff. I remember after I dated Tony a few times, he said, 'Oh, you girls used to go by there on purpose. Just so we could whistle at you.'"
On Sue Wallen, who ran the front desk of the Astor: "She was such a momma. She took such good care of them. She was just like a mother to them. She was a very nice lady. Pretty. She looked out for them. They'd come in late sometimes – kind of feeling good – and she'd bawl them out. I think a lot of times she kept money for them to make sure they didn't blow it. She really looked out for them. They loved her."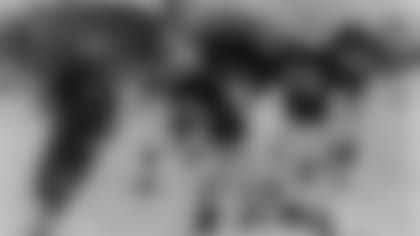 On where the players hung out during their off-time:"You know what? They hung around wherever there was somebody to talk to. They were pretty much up and down Adams. 'Watching all the Girls Go By' -- that song, you know. They'd be shooting the breeze. Gab with just regular people. Fans. That was back in the day when you'd see the ballplayers downtown and you knew them by name. Now, you don't see them anymore."
On other haunts near the Astor: "I think next door was a car dealership – Buick or something – and down the street was Bosse's News Depot. They knew the owner. Up and down that whole street. On the corner was Oliver's ice cream shop. They'd watch the girls from the telephone company. Those girls would go down to Oliver's and have their lunch. Across the street, I think there was a bar – the Loop Bar maybe – but that was more of a restaurant. They could go and eat there. A lot of them went over to the Y to eat."
On whether the players hung around the bars much:"You see, they weren't supposed to be in those bars. After a ballgame, it was different. But when they were having football practice, they weren't supposed to be out drinking and carousing."
On the atmosphere in Oliver's: "They had sandwiches, very good milk shakes and ice cream. It was a great place for an ice cream cone."
On whether the players went to the movies at the Bay and Orpheum theaters, just a few blocks from the Astor: "They certainly did. In fact, I think one of the first dates I had with Tony we went to a movie and I'll never forget, he fell asleep. Tony didn't have a car. So he'd say: 'How about going to a movie?' I'd meet him downtown and go to the movie. That was a good pastime for (the players)."
On Holzer's Corner Drug Store, around the corner from the Astor and a block down on Washington Street: "That was another place they liked the homemade pie."
On whether many of the players' wives lived at Rockwood Lodge when the Packers moved there in 1946: "I know a lot of them were out there. I remember Dick and Mugs Wildung being there. Bruce and Gloria Smith lived there. We were married and had a home. (Tony) went back and forth and hated it. Tony used to say it was a terrible, terrible field to practice on. He said it was so hard. He said it was awful."
On whether the wives liked living there: "They had little cottages. Mugs said they didn't really hate it. They'd get together. And she said one nice thing was they always had somebody to babysit their kids if they wanted to go somewhere."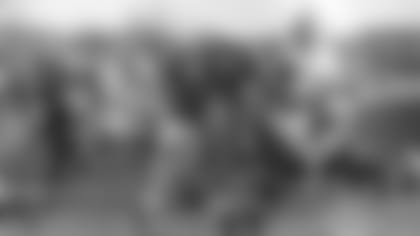 On the players leaving from the Chicago & North Western and Milwaukee Road depots when they left on road trips: "For road games, I'd go say goodbye and he'd be off and going. If you were a single, Curly didn't approve of going to those games. He wanted you to stay away from his ball team."
On Curly Lambeau, Tony's coach over his first eight seasons: "I was afraid of him. I really tried to stay out of his way. In fact, we were married during football season. We were married in Green Bay on Tony's day off and they lost the game after that. Curly said there will never be another wedding during football season."
On Gene Ronzani, Tony's coach his final three seasons: "Tony always felt he should have gotten a raise when Ronzani was coach. He had done pretty good stuff then. Ronzani wouldn't do it."
On Tony Canadeo Day, held in 1952, his final season and on retiring his number:"Back then, they didn't make a big deal of his retiring. They gave him some gifts. There was no such thing when Tony was playing where fans idolized ballplayers like they do now. They didn't collect autographs. They didn't ride bicycles to get to practice. It's an entirely new era where they'd do anything to get an autograph. Back then it was more a common man thing: What they read in the paper, kids collecting bubblegum cards…
(Note: Ruth said she didn't remember any ceremony involving the retirement of Tony's number.)
Ruth Canadeo died on April 5 at age 94. The excerpts for this oral history were taken from interviews conducted in 2008, 2010 and 2013.
For more from team historian Cliff Christl, click here.