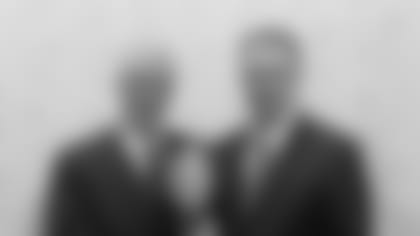 Packers Head Athletic Trainer Pepper Burruss (left) receives the Fain-Cain Memorial Award from Team Physician Dr. Patrick McKenzie.
GREEN BAY—To Packers Team Physician Dr. Patrick McKenzie, the order was backwards.
Two years ago, when Packers Head Athletic Trainer Pepper Burruss presented McKenzie with the Jerry "Hawk" Rhea Award as the league's physician of the year, McKenzie felt the equivalent trainers' honor, known as the Fain-Cain Memorial, should have gone to Burruss first.
The awards are presented annually at the scouting combine, with the Professional Football Athletic Trainers Society (PFATS) recognizing a top physician, and the NFL Physicians Society doing the same for a trainer.
"I was taken aback, and in my mind there was no way I should receive this award before Pep received his," McKenzie said. "Right before he announced my award, I leaned over to 'Flea' (Assistant Athletic Trainer Bryan Engel) and said, 'We have to get this for Pep.'"
They succeeded, as Burruss received the Fain-Cain Memorial as the league's outstanding trainer this year, having just completed his 20th season as the Packers' head trainer after 16 years as an assistant with the New York Jets.
"He's such a great stabilizing, thoughtful leader of our department, and to see him get recognized is one of the more satisfying things to experience professionally," McKenzie said. "I'm fortunate to work with him and it's very gratifying."
McKenzie, of course, presented Burruss with his award and was honored to return the favor from 2011. Speaking in front of a few hundred of the league's medical professionals, McKenzie cracked up the rather serious crowd with jokes about Burruss' penchant for collecting – on display in Burruss' office is every sideline pass from every game he's ever covered dating back to 1977 – and his desire to fix things.
"A great day for Pepper is to find out his car won't start or something in his house is broken," McKenzie said in his introduction. "It gives him an excuse to get out his tools and fix something."
Burruss has had plenty of "fixing" to do in recent years in the Lambeau Field training room. Beginning with the Super Bowl season of 2010, the Packers have dealt with an inordinate number of injuries going on three seasons now.
Crediting everyone on the Packers staff – which includes full-time assistants Engel, Kurt Fielding and Nate Weir, plus Associate Team Physician Dr. John Gray and multiple interns – for their diligence and hard work, Burruss said a given team's situation doesn't go unnoticed across the league.
"It gets people's attention," he said. "But you don't want the award to be 'the most injured' award."
It most certainly isn't, according to McKenzie. The Fain-Cain Memorial is named for Dr. Thomas E. Cain and Dr. Robert H. Fain, longtime team physicians for the former Houston Oilers. Both physicians were noted for their long-term commitments to the NFL and exemplary performances.
"It's an award that honors many years of achievement," McKenzie said. "It's a much bigger award than saying a trainer had one good year. As his peers, we're recognizing an outstanding career."
Burruss, a certified athletic trainer and physical therapist, is a member of the Wisconsin Athletic Trainers Association (WATA) Hall of Fame and was selected in 2010 by the NFL to represent PFATS on the league's head, neck and spine committee.
He joked that receiving awards like this only means he's "getting old and they're running out of people to give awards to," but all kidding aside, he's humbled by the recognition and truly appreciated the heartfelt words from McKenzie in front of his NFL colleagues.
"I'm blessed to be an individual with his name on this list," Burruss said. "It's a long list of my heroes who won this before me."