GREEN BAY – There might have been no better example of the matchup problems the Packers' offense could present to defenses this season than the 42nd and final pass Aaron Rodgers threw on Sunday against Seattle.
Facing a second-and-6 situation with 2 minutes and 45 seconds left in regulation, the Packers quarterback faked the play-action run to Ty Montgomery and rolled right to find a wide-open Martellus Bennett in the flat.
The former Pro Bowl tight end not only picked up the first down, but also another 20 yards on top of that to emphatically seal a 17-9 win for the Packers over their NFC rival.
"I was trying to score," Bennett smiled. "I'm always trying to score when I get the ball."
Sunday was Bennett's first exposure to playing a full game with Rodgers, who was in midseason form when it came to extended plays, and catching the Seahawks either offside or with too many players on the field.
There's still a learning curve in getting used to Rodgers' tempo, but it's something the 6-foot-6, 275-pound tight end is growing accustomed to. When his quarterback needed him the most Sunday, Bennett was right where he needed to be.
"It's almost like being on a fast break with the point guard," Bennett said. "Just learning how to play without the ball in my hand with a quarterback like that. I think it's going to take time to learn, but there's moments when he sees things and I see things."
It wasn't just Bennett, though. Rodgers was surgical in distributing the ball around against the Seahawks, with Randall Cobb (nine catches for 85 yards), Jordy Nelson (7-79 and a TD), Davante Adams (3-47) and Bennett (3-43) all getting involved in the passing game.
The Packers' offense succeeded in moving the ball against the Seahawks, converting on more than half of their third-down situations (9-for-16). Only once in its 10 offensive possessions was Green Bay forced to punt after a three-and-out.
The only thing missing in the first half was finishing drives, but after Mike Daniels' strip-sack at the start of the third quarter, the offense started to find its rhythm. Over the final two quarters, the Packers were able to use their array of offensive skill-position players to spread out Seattle's defense.
With Cobb, Bennett and running back Ty Montgomery helping to move the chains, Rodgers finally hit paydirt with a 32-yard touchdown pass to Nelson after he caught Seattle with 12 players on the field near the end of the third quarter.
"It was a long drive and we have to keep their guys on the field. That's our goal," said Nelson, who became the fourth Packers receiver to eclipse 500 career receptions Sunday. "They try to sub, it's one word and we all know what to do. It's worked for us multiple times over the years and will continue to work for us. It's something teams are prepared for now. They have to stay on the field. If not, we'll take advantage of it."
The Packers tacked on a Mason Crosby field goal with 8:01 left in the game to pull ahead by two scores and then ran out the final 6:17 off the clock thanks in part to Bennett's catch.
"That's what we wanted to do," Cobb said. "In that situation, go up by two scores and put our defense in great position to get a stop and allow us to take the field, hold onto the ball, move the sticks and run the clock out."
A little help from my friends: Prior to his game-ending catch, Bennett was flagged for unnecessary roughness for shoving Seattle linebacker K.J. Wright for what Bennett felt was an unnecessary hit on Rodgers.
Bennett, whose brother, Michael, plays for the Seahawks, said he doesn't have a problem with Wright or anyone on Seattle's roster, but is always ready to step up for his quarterback or any other teammates.
Rodgers had just picked up a first down off a scramble on third-and-4 at the time of the foul, so the Packers were still facing a first-and-10 situation after the penalty yards.
"That's my quarterback. I always have his back," Bennett said. "It was a bad penalty at that moment in time, but I thought it was a cheap shot. I saw it out of my peripheral, which isn't the best all the time.
"I just always protect the quarterback. I don't let anybody take a cheap shot on my guy. That's any guy on the team. I have everybody's back."
Spot start:** After playing all of eight offensive snaps during his entire rookie season a year ago, Kyle Murphy's number was called Sunday with starting right tackle Bryan Bulaga sidelined due to an ankle injury.
The former sixth-round pick was up to the challenge. While he had to acclimate himself to Seattle's bevy of stunts and twists, Murphy grew more comfortable as the game progressed.
In the end, the Packers' offensive line was able to stem the tide of Bulaga's absence.
"It was pretty exciting; I'm not going to lie," said Murphy of his first NFL start. "All of the scores were pretty fun to be a part of, but something like that (free play), that's kind of unexpected. Once we get the ball snapped you already know it's a positive play and then to make it, to get that cherry on top and get the touchdown is that much sweeter. I can't say enough how fun it was to be out there for that play and plenty of others."
A full serving:** The Packers said all offseason Montgomery was their starting running back and Head Coach Mike McCarthy certainly treated him as such against Seattle.
Montgomery carried the ball a career-high 19 times against the Seahawks, rushing for 54 yards and a touchdown in addition to four catches out of the backfield for 39 yards.
Perhaps his best play – a 20-yard reception in the fourth quarter – helped set up Crosby's 40-yard field goal that put the Packers ahead by two scores with 8 minutes remaining.
"It felt great to get those hard-fought runs," Montgomery said. "I like that. I like being the guy to be able to finish a game, get some catches, get some runs and keep the clock moving. That was huge."
Who knew? Seattle was without one of its starting cornerbacks after Jeremy Lane was ejected in the first quarter for throwing a punch at Davante Adams.
"I obviously didn't know he threw a punch because we were just scuffling," Adams said. "There was a lot going on and I didn't know if they saw it or what actually happened, but there was just a lot of hand-fighting going on."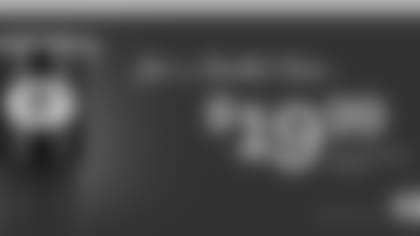 Just $19.99 with in-store purchase!