*As part of the Green Bay Packers' celebration of the 10th anniversary season of the Super Bowl XXXI Championship, Packers.com is running a series of stories about the people responsible for bringing the Vince Lombardi trophy back home to Titletown.
Wide receiver Derrick Mayes had a unique role on the Packers' Super Bowl XXXI championship team. Former college teammates Aaron Taylor and Lindsay Knapp watched out for the rookie second-round draft pick while veterans like Brett Favre, Andre Rison and Santana Dotson treated him like their little brother, even giving him a fraternal nickname that has endured.
"Being the baby of that family, it was totally new," Mayes said. "I was their 'Sugar Bear.'"
Since exiting stage left from the NFL in 2001, Mayes, 31, has become a veteran of the television and film world. After a short stint with the Kansas City Chiefs, Mayes shuttled between New York and Los Angeles. He aggressively networked, meeting luminaries like Ernie DiMassa, former producer of "The Oprah Winfrey Show." He also knew Regis Philbin's daughter, a former college classmate of Mayes.
Using those contacts and the expertise he learned as a television and film major at Notre Dame, Mayes has paved quite a career for himself. This past season he co-directed the BET reality show entitled "Ultimate Hustler." In the show, 16 contestants vied for the chance to work with hip-hop mogul, Roc-A-Fella CEO, and co-founder Damon Dash. Occupying the Donald Trump role, Dash delivered his own version of the show-ending "You're fired" line by yanking Roc-A Fella gold chains off the necks of the losers.
"It's basically the hip-hop generation of 'The Apprentice,'" Mayes said.
Mayes has started working on his most ambitious project, a full-length movie entitled PDR, an abbreviation for the Philadelphia Department of Recreation. The Lions Gate Film, starring Bernie Mac, Terrence Howard and Jada Pinkett Smith, tells the true story of the first black all-state swim team. Howard plays the coach of the early 1970s team, which swam at the recreation center because black schools did not have swimming pools in that era.
Mayes' film work also involves his football background. He produces "Irish Weekly," a show that chronicles Notre Dame sports and serves as the film component to his columns for Blue and Gold Illustrated. Those gigs for Notre Dame, where he periodically returns to speak to film and business students, resemble a passionate hobby more than a job.
"When it comes to the Notre Dame stuff, I'd do that for free," Mayes said. "I have such a genuine affinity for my school and my fellow colleagues, all the folks there that really got me my start."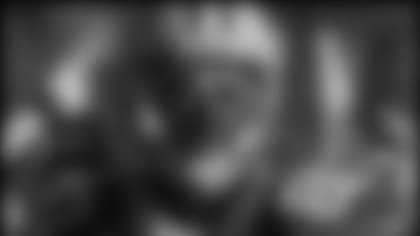 Whether in South Bend, Ind., New York or Los Angeles, people will recognize Mayes from his playing career. They remember his ability to snare the acrobatic grab. "For a short time, I definitely was the best pass catcher in the NFL," Mayes said. "I could catch anything that came to me." Fans also remember his 31/2 years with the Packers and his role on their 1996 Super Bowl championship team. He caught six passes for 46 yards and two touchdowns during that rookie season, but his production decreased once the Packers signed Rison that November.
Mayes lived with Rison and his former rapper wife, Lisa "Left Eye" Lopez. While Mayes made sure the capricious Rison showed up to practice each day, the eight-year veteran took the rookie under his wing. He even hung out with him to prevent him from participating in the annual Thanksgiving hoax, which dupes rookies into believing they will pick up turkeys for the rest of the team.
"He was looking out for me," Mayes said.
As much as Mayes enjoyed Rison's company, the added competition limited Mayes' playing time. The Packers deactivated Mayes for the playoffs and the Super Bowl. Mayes, however, would have become more disappointed if he had not been on the championship roster at all. And that was almost the case. After he dislocated his left shoulder during the third preseason game, the Packers considered sitting him for the season. But Mayes returned to play in seven games.
"What would've really, really probably stunk is if I sat out for the year," Mayes said. "Had I been on injured reserve, I would've been an unmentionable when it came to that Super Bowl team."
Instead Mayes remains an indelible part of that Super Bowl-winning squad, and maybe one day he will place an Academy Award next to his jewelry box, which contains his ring from Super Bowl XXXI.