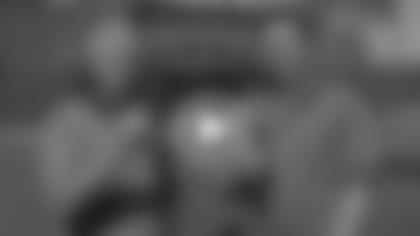 ](http://www.packers.com/media-center/videos/OTA-Practice-Review/b20e80eb-81a7-4ef3-a796-146b0b8e6839)

Packers Head Coach Mike McCarthy expects Donald Driver to bring "home" the Mirror Ball Trophy tonight, and then McCarthy will expect Driver to come home to Green Bay for OTA practices next week.
Driver, the Packers' longtime star wide receiver and one of the most popular players in Packers history, and his partner Peta Murgatroyd could be named tonight as winners of ABC-TV's "Dancing With The Stars" competition. Packers fans have no doubt voted for Driver en masse, but Packers fans are likely more interested in a verdict on Driver's future with the team.
"I'm looking for Donald to win tonight," McCarthy said on Tuesday. "I know he's excited about it. I had a chance to communicate with him. He's also excited to get back to Green Bay. I think he's in good shape, hopefully; we'll see what happens."
Pressed more on Driver's future with the team, McCarthy added: "I would anticipate he would be involved in the workouts next week."
With that, OTAs (Organized Team Activities) were officially underway in Green Bay. Rodgers and Matthews were there, Charles Woodson attended meetings but passed on the field work, first-round draft pick Nick Perry was a prominent fixture in the No. 1 defense, and a lot of young players tried to make a strong first impression in the first field work of the new year.
Everything about day one was a hit. A win by Driver would be icing on the cake.
"This is clearly the most experienced football team, in conjunction with the most talent, I've had a chance to coach, and that was my message to them this morning when we started. We've got until June 14 to get all of our scheme in, offense, defense and special teams. Today we got started," McCarthy said.
The action on the field seemed to energize everyone. It might've finally closed the book on the Packers' playoff loss to the Giants.
"The young players we've brought in have heightened the competition throughout our football team. I think that'll definitely be evident as we go through this learning phase of OTAs. The reality will be in place when we get to training camp," McCarthy said.
"This is going to be an extremely competitive training camp."
Perry (pictured) is immediately being challenged to provide the pass rush the team was seeking when it made him the 28th overall pick of the draft. Perry was the left outside linebacker with the first unit in practice on Tuesday, which caused star linebacker Clay Matthews to be moved to the right outside position.
"In Nick's specific case, yes, we want to look at the left side. Clay has played both sides now, so we want to make sure we continue to create targeting problems with Clay Matthews. Just like with any young player, you want to have a starting point, and right now we want to look and see how comfortable Nick is on the left side," McCarthy said.
"Nick will be given a chance to play early."
Quarterback Graham Harrell is another prominent player this spring, as Harrell hopes to establish himself firmly as Matt Flynn's heir to the backup job.
"This is an outstanding opportunity for Graham Harrell. That's stating the obvious, but I do like the body of work he's done to prepare for this opportunity. It's now for him to play and compete in these drills and show what he can do. We look to continue to improve the young guys and I look for Graham to take full advantage of this opportunity," McCarthy said.
One young player that announced his intentions to compete for a job is safety M.D. Jennings, who came out of nowhere last summer to make the roster as an undrafted free agent. On Tuesday, Jennings intercepted a pass and broke up another one, as starting safety Charlie Peprah watched from the sideline.
"It's been nice to watch him mature. He's an instinctive football player. He's been doing a good job of communicating and he has very good range," McCarthy said of Jennings.
"I like our young safeties."
Safety, of course, is expected to be a position of intense competition in training camp. It's a position to which Woodson might even migrate, should a young cornerback surface. To that end, Sam Shields turned in the play of the practice, an impressive interception of a deep pass intended for Jordy Nelson. Shields made the interception at the goal line while matching Nelson step for step.
"We have nine (OTA) practices and three mini-camp practices, 12 opportunities to learn your job. Frankly, if you don't know what's expected of you by June 14, your chances to make our football team drop drastically," McCarthy said. Related links