*As part of the Green Bay Packers' celebration of the 10th anniversary season of the Super Bowl XXXI Championship, Packers.com is running a series of stories about the people responsible for bringing the Vince Lombardi trophy back home to Titletown.
It wasn't something tangible. You couldn't touch it and you couldn't see it, either.
But Keith McKenzie knew it was there.
The 6-foot-2, 242-pound linebacker/defensive end, who played for the Green Bay Packers from 1996-99 and again in 2002, knew almost immediately that the 1996 season was going to be a special one.
It was during that season that the Packers went on to Super Bowl XXXI, defeating the New England Patriots 35-21. But it comes as somewhat of a surprise that one of McKenzie's fondest memories of that season happened to come from an exhibition contest.
"Obviously, when I think back to that season, I think of the Super Bowl," McKenzie, 32, recalled. "And before that, I got into the NFC Championship game and got a sack and I was only in there for three plays on defense and that was a fond memory.
"But that first preseason game was one that I remembered the most because I knew I was about to be part of something special. The team was that good and I knew I had to do whatever I could to make the team."
Of course, McKenzie did more than just make the team. Though he served as a backup pass rusher, he played a vital role on special teams. And because that particular unit had such a great impact on the Super Bowl victory itself, McKenzie is even prouder of his accomplishments with the Green and Gold.
Desmond Howard, the MVP of Super Bowl XXXI, gave the Packers a much-needed lift with a 99-yard kickoff return for a touchdown with 3:10 remaining in the third quarter. This was especially important because the Patriots had just scored on a Curtis Martin touchdown to cut the Packers lead to 27-21, which swung the momentum in New England's favor.
"We knew that we had to make something happen because they had just scored a touchdown and got back into the game," McKenzie explained. "You could see it in the eyes of everyone on the kickoff return team that, 'This is it, we've got to do it right now.' Desmond had been getting good returns all game, but we knew we had to break that one."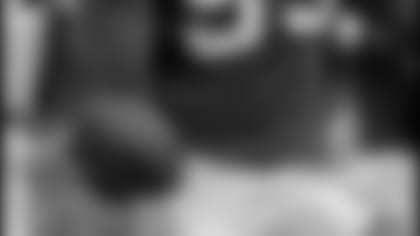 The Packers had a dynamic return game all season long and it was only fitting to McKenzie that the special teams shined in the Super Bowl as well. In fact, Howard finished with 244 combined punt and kickoff return yards and was the first special teams player to be named MVP of a Super Bowl. McKenzie said he'd never forget Howard's touchdown.
"That kickoff return was the biggest highlight of the whole game for me," McKenzie said. "I got a chance to play defense and I think I had the most tackles on special teams that day, but that selfless act of just blocking and making sure someone else could do what they had to do, that's what I really remember. I was excited and joyful to be a part of this guy becoming MVP."
And for how big that play was in the game, McKenzie said it represented even more than that.
"It was like the definition of what a team was supposed to do," McKenzie explained. "Everybody did what they had to do, everybody did their job at 100 percent and it just happened that that was one of the plays that sealed the game."
After short stints in Cleveland, Chicago and Buffalo, McKenzie has been out of football since 2003. He married Tamiko Parker in July and currently resides in Detroit, where he owns a real estate company called KDM Investments.
McKenzie said he still follows football, including the Packers, and it's his belief that winning a title in the NFL is one of the toughest accomplishments in all of professional sports.
"Not to take away anything from the other sports, but in baseball you have a World Series ring and you can get an NBA Championship ring, but it's not like a Super Bowl ring because a Super Bowl ring is a one-time deal," McKenzie explained.
"When you go for the championship in baseball, basketball, or hockey, you have seven games, and you have to beat the other team in four games. We only have one game. There is really no room for error. You have to bring your 'A' game and play your best game that day."
Fortunately for McKenzie and the Packers, Green Bay did just that in Super Bowl XXXI.