GREEN BAY—There was a lot Mike McCarthy liked about the Packers' first training camp practice of 2013. Most important, he liked the fact that it looked the way a practice is supposed to look.
"I liked the tempo, liked the pace," McCarthy said, adding that it was rough in spots and he's not "jumping for joy," but he felt the more productive OTA sessions from the spring have gotten the Packers off to a better start.
"This team learned how to practice better, faster, harder with the tempo that's necessary to train, and I thought it carried over to today."
The roster was a little thinner than expected, though, with 10 players not practicing.
Unexpectedly on the injury list were cornerback Casey Hayward (hamstring) and defensive end Mike Neal (abdomen), who both could be out a couple of weeks, according to McCarthy.
Also, running back DuJuan Harris, who missed OTAs after having a cyst near his lung removed, now has a knee injury and could be out a week or two.
Others missing practice included cornerback Davon House (illness), linebacker Jamari Lattimore (illness) and safety Chaz Powell (foot).
As expected, defensive lineman Jerel Worthy (knee) and offensive tackle Derek Sherrod (leg) remain out, but McCarthy said Sherrod is "much further along" than in the spring, when he was able to do some drill work. Rules prevent Sherrod from doing any drill work in camp, however, until he passes his physical.
Safety Sean Richardson (neck) also remains out, with various tests being done over the past couple of days, McCarthy said. Rookie offensive lineman JC Tretter, who broke his ankle during OTAs, will not be ready for the start of the season.
As for the action on the field, rookie cornerback Micah Hyde had an impressive first day. During team (11-on-11) work, he broke up a deep pass from B.J. Coleman intended for Sederrik Cunningham, and then in 7-on-7, he jumped an out route to Randall Cobb and swatted the ball away.
The only blemish on Hyde's great day was on the final play of practice, when James Jones beat him to the corner to haul in a lob from Aaron Rodgers for a touchdown during no-huddle work.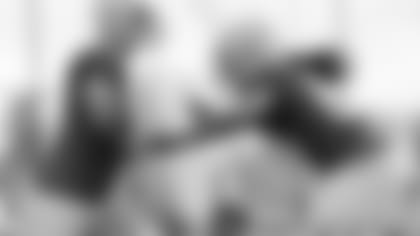 "If you'd ask me who was the one player who jumped out to me, I'd say it was Micah," McCarthy said. "That's something that you saw on his college film at Iowa. His ability to play the football, he has excellent ball skills, he's a very good anticipator."
The kicking competition also got underway, with Giorgio Tavecchio doing one better than Mason Crosby. With both kickers trying a series of kicks from 33, 36, 44, 50, 53 and 53 yards, Tavecchio was 5-of-6, missing only his first try from 53, while Crosby was 4-of-6, missing from 50 and 53 before hitting his final 53-yarder.
"We want to make sure we have plenty of information," McCarthy said of the kickers, suggesting there will be more head-to-head duels like that as camp continues. "The reps will be higher."
Practice also featured three two-minute breaks that have been inserted into the schedule to simulate television timeouts during games. Called a "re-gen" period, the players take a break, get a drink and then proceeded with more 11-on-11 work, generally the most intense portions of practice. Additional coverage - July 26