GREEN BAY – As the Packers look to crank up their edge-rushing production in 2019, new outside linebackers coach Mike Smith probably won't talk much about sacks.
He has a different, though strongly related, focus in mind.
"I'm a big believer in it and you're going to see – in all my drills – stressing get the ball out," Smith said the first day he met the Green Bay media. "With today's rules, you can't hit the quarterback low, you can't hit him high, can't put your weight on him. It's tough. So our big thing last year was get the ball out."
That was in Kansas City, and the Chiefs were exceptional at it. Edge rushers Dee Ford and Justin Houston combined to force 12 fumbles in 2018, more than half of Kansas City's team total of 23. For comparison's sake, the Packers forced only nine fumbles last season, just two by outside linebackers.
Last year was Smith's first coaching the talented KC pair, after two years as the Chiefs' defensive line coach. Ford, in his fifth year in the league, forced a league-best seven fumbles after having just two in his career prior to 2018. Houston added five, when only once in his previous seven years in the league did he have more than one.
Smith, a former linebacker himself, speaks of playing the game with a "dominant thought," and then translating that thought into a habit on the field. He noted as Kansas City's run to the AFC title game progressed last season, film clips showed Ford and Houston getting their hands up to go after the ball as soon as they came off the edge.
Smith got "goose bumps" watching those clips because there's nothing a coach takes more pride in than seeing what he's emphasizing show up on the game field. It's the same mentality he plans to bring to the Packers working under his mentor, defensive coordinator Mike Pettine.
"We stressed it and it was a big thing in our meeting," Smith said of his Chiefs group last year. "We didn't talk about sacks in our meeting. I care about affecting the quarterback – pressures, hits, all that stuff. I think you get caught up in all these guys trying to get a sack every play. I want the ball out, and those guys in my room really bought into it.
"We led the league. I don't think it was even close."
Of course, forcing a quarterback to fumble in the backfield also counts statistically as a sack, so Ford (a career-high 13) and Houston (nine) got their share of those, too.
The personnel to whom Smith will be directing his message is a bit uncertain at the moment. Clay Matthews is a pending free agent and Nick Perry is coming off another injury-plagued year. Kyler Fackrell recorded his first double-digit sack season and will be entering his fourth year in the league, while Reggie Gilbert was a regular rotational player for the first time in his career.
Both the free-agent market and draft are expected to have impact edge rushers to choose from, so there's certain to be some new Packers under Smith's charge. However it shakes out, working for Pettine again is already enough to get Smith excited about his new job.
The two go back a long way. Pettine was Smith's outside linebackers coach when he played for the Ravens in 2005-06. Unfortunately, when Smith made the first start of his career in place of an injured Ray Lewis, it was his last.
A nasty shoulder injury on just the second play of the game eventually required four surgeries, and Smith never played again. He credits Pettine with coming to him "like a father or big brother" to work him through the inevitable anger and depression that came with such an abrupt end to his career, and to get him thinking about coaching.
"For whatever reason, we had that bond," Smith said. "I think it's a big thing. Everybody asks how you get certain guys to play. You get players that trust you, and you trust in them, and that's how me and Mike were. We were really close at that time."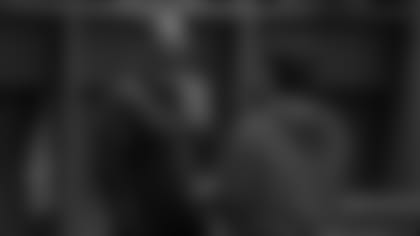 Soon enough Pettine was named the defensive coordinator for the Jets, and Smith was hired as a coaching intern. They worked together in New York for three years before moving on to different paths following the 2012 season.
With coaching changes occurring in both Green Bay and Kansas City this winter (the Chiefs dismissed defensive coordinator Bob Sutton after the overtime loss to the Patriots in the AFC Championship), Pettine pushed for Smith as new Head Coach Matt LaFleur was building his first Packers staff.
"He's passionate, loves football," Pettine said of Smith. "He's going to show them very detailed (ways) of how to do it. And then he's going to hold them accountable to it. But he has a great way with the players, a great demeanor. He's smart, he's tough-minded.
"He's not a guy that's just going to say, 'I'm yelling, therefore I'm coaching.' So when he does get after a guy, it has some meaning. When you look at coaches, it's never really one thing. I just call it like an 'it' factor, and Mike's got it. That's why I'm obviously thrilled to get him here."
The feeling is mutual. Smith joked that he'd have taken the offer to work for Pettine again for free, quickly adding, "But don't tell him that."
"We were very close from the very beginning," Smith said. "You can see with Mike why players want to play hard for him, and they want to be around him and play in this system. You can have a lot of fun and a lot of success. I'm fortunate to have been with him from the beginning, just to see his knowledge.
"He knew that football meant something to me, and it's still the same today. I know exactly the way Mike wants it taught, in all aspects of the game, and he knows that. I'm glad he convinced me to get into coaching."