On the first Saturday of every month, Mark will write about a topic of interest to Packers fans and the organization, and then answer five fan questions. Fans are encouraged to email Mark with their name and hometown at:MurphyTakes5@packers.com.
The NFL Scouting Combine has traditionally been the start of the NFL's offseason. It has been held in Indianapolis for decades and runs very smoothly. Downtown Indianapolis is designed perfectly for the combine, with all venues within walking distance (without having to go outside). Like all aspects of the NFL, the combine has grown over the years, particularly media coverage of it. This year, the schedule was altered for television purposes to put a number of the workouts in prime time. With a strong class of rookie quarterbacks this year, there was heightened interest in the combine.
The next big aspect of the offseason is free agency. This year's free agency activities should be fascinating with several high-profile quarterbacks on the market, including Tom Brady, who is a free agent for the first time in his career. This year's offseason is complicated by the possibility of a new Collective Bargaining Agreement (CBA). The owners and the NFLPA Board of Representatives both recently voted in favor of the negotiated CBA and the players now have a week to vote to ratify the agreement. Club executives are challenged in their planning in not knowing if the rules under the 2011 CBA will still apply or if the new CBA will be voted in.
The highlight of the offseason is the NFL Draft. It has grown to become not only a major media event, but also a huge attraction. Last year over 650,000 people attended the draft in Nashville. Two weeks ago, a report surfaced stating that Green Bay would host the draft in 2022. Unfortunately, the report was incorrect, but we remain excited about the possibility of hosting the draft. We are working hard to bring the draft to Green Bay and have applied to host it in 2022 or 2024 and beyond. The owners will vote on the site for the 2022 draft at their May meeting.
Now, on to your questions . . .
Mark, I have been waiting months for the Packers' Legacy DVD. Now I am out of luck because it is only offered in Blu-ray. Why?
We're also excited about Legacy, Robert. I've seen several parts of the documentary and think our fans are going to love it. Cliff Christl, our historian, and the rest of the documentary team did a great job digging up information about the organization that even the most avid fans don't know. We chose Blu-ray because DVD is a format that is being phased out. Also, Blu-ray can hold more content than DVDs and the video and audio quality is better. You are not completely out of luck, though, Robert. Connected TV is the other (free) option and our app can be found on Apple TV, Roku and Amazon Fire TV devices.
What's up, Mark Murphy? I'm from Milwaukee, and I'm a big fan of the Green Bay Packers and I'm happy that Lambeau Field is in Green Bay. I know Milwaukee is kinda small for an NFL Stadium and really doesn't have a lot of fan base but I wanted to know if you can please, please bring the Green Bay Packers to Milwaukee. I think I know just a good area to put an NFL stadium in Milwaukee. In Milwaukee we have the Bucks and the Brewers. We just need our own NFL team to cheer for in Milwaukee. If the Green Bay Packers can come to Milwaukee, may you please, please build an NFL stadium something like the Mercedes-Benz Stadium in Atlanta and the two new NFL stadiums that are getting built in Los Angeles and Las Vegas. If the Packers can't come to Milwaukee may you please, please build a new NFL stadium for the Packers in Green Bay, Wisconsin, to make the stadium look something like the Mercedes-Benz in Atlanta and the two new stadiums that are getting built in Los Angeles and Las Vegas. Thank you.
There's a lot to digest here, D.J. First, we view ourselves as the home team of all of Wisconsin, and certainly Milwaukee. We played games in Milwaukee up until 1994 and currently have Milwaukee season ticket holders. I view Lambeau Field as probably the best asset we have as an organization. It is an iconic stadium and watching a game there is on the bucket list of most football fans. The new stadiums are nice, but I don't see us building a new stadium in the near or long term in Milwaukee or Green Bay. We continue to invest substantially in Lambeau Field (more than $750 million over the last 17 years) to ensure that the stadium remains in great shape and has the modern amenities that fans expect.
Tanner from Oklahoma City
I've watched a couple XFL games, and while the quality of play isn't to NFL level, I still find it very entertaining, especially this time of year. I am liking the rule differences that make the game more exciting, move faster, and (it seems) keep players safe. Are you watching the XFL, and what are the chances the NFL will adopt some of the rule changes the XFL is testing out?
I have been watching the XFL, Tanner. It's been fun to watch some of our former players, and I have been particularly interested in the various rule changes that the league has adopted. The kickoff rules that they've implemented are especially interesting – it looks like they've found a way to keep the return in the game, while making the play safer. I also think their three extra point options make for some challenging coaching decisions. I don't anticipate adopting any of the XFL rules immediately, but I do think that we will monitor them closely. Oliver Luck, the commissioner of the XFL, has a great football background and is very respected. I give him credit for being willing to experiment with different rules. These could be helpful to the game at all levels.
So I am a season ticket holder for the Gold package. With all the talk of going to one preseason game, it has me worried. I hope you don't stick the preseason game with one package or the other. I think it would be fair if we would rotate back and forth. I really think the green package should get it and we can have three regular-season games since we used to have four games and one was taken from us. It seems like the gold package never gets treated the same as the green package. Please let me know what your plans are as I think this will be great to go to one preseason. Thank you Mr. Murphy for your time and looking forward to next year.
Thanks for the question, Frank. With the proposed CBA giving the owners the right to go to 17 regular-season games in 2021, this could become an issue. I agree with you, I think the fairest way to handle this would be to alternate the one preseason game between the two packages (every other year we would only have one home preseason game). Nothing has been finalized, though, and won't be until a decision is made to go to 17 regular-season games.
Hello Mr. Murphy, it is a true honor to talk with you. My question is in regards to Paul Hornung. I believe back in 1967, Vince Lombardi "unofficially" retired Hornung's #5. However, there has never been a ceremony to put his name and number on the wall of Lambeau Field. Do you feel Mr. Hornung deserves this honor and do you ever see the Packers putting his No. 5 up on the Lambeau Field façade? Thank you.
Great question, David. Paul Hornung was certainly one of the greatest players in our history. He was an extremely versatile player (who was also an excellent kicker) and helped us win several championships. The standard for retiring a player's number from a team with our history and tradition is very high. Also, I am very reluctant to go back and make decisions like this regarding players who played so long ago. My view is that the decision to retire a number should be made by the administration that was in place when he was playing (or in the immediately following years).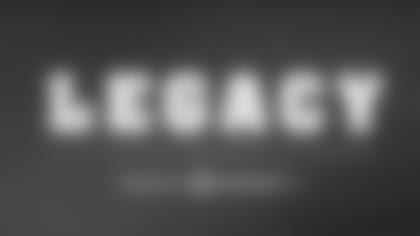 Watch the Documentary
The 10-part documentary series, presented by Associated Bank, is now available on Apple TV, Amazon Fire TV, Roku